North Hill (And Bill Littlefield) Go To The Track
Play
This article is more than 4 years old.
This story originally aired in August of 2010. This week it appears again as we celebrate Bill Littlefield's 25 years hosting Only A Game. 
---
It is a hot, midweek afternoon, maybe an hour before post time for the first race. In the lot outside Suffolk Downs, the thoroughbred track in East Boston, you can park anywhere you like. You could park a 727 anywhere you liked.
For this reason, among others, Suffolk is happy to welcome a small busload of residents from North Hill, a retirement community a little southwest of Boston. And the men and women from North Hill couldn't be happier to be at the track, though not, perhaps, for the most predictable of reasons.
"Getting together and eating together, is very nice," Mabel Richardson tells me as we wait together for the elevator that will take us to the Turf Club, a hotel function room-sort of a place on the third floor of the grandstand.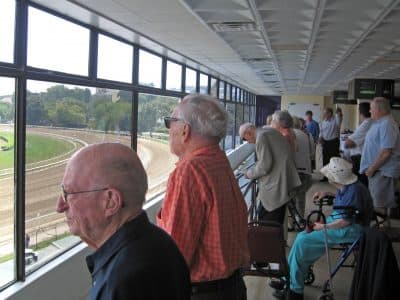 Once there, the seniors proceed to the table where they'll dine. Beside each plate there is a program listing the day's entries. Not entrees. Entries. Through the glass wall a few yards away, they can see the track. Several mounted television sets feature replays of the previous day's races and the morning line odds for today's card. On the other side of the room, two paramutual clerks wait politely — if impassively — to take bets.
Among the North Hill residents studying the form most closely is John Clapp, who is 89.
"I saw Seabiscuit win the Mass Cap here," he tells me.
That would have been in 1937. He also tells me that he played golf with Sam Snead and saw Babe Ruth hit in New York — and at Braves Field, before Boston lost that team to Milwaukee. Then Mr. Clapp tries to send me on my way.
"Get some of the more interesting people than me," he says.
"You saw Babe Ruth. Come on. How many more interesting people can there be?" I ask him.
"Well," he says, "I can remember they had the knothole gang in those days. We sat in the left field pavilion in Braves Field and saw a lot of games. I think it was a dime."
And speaking of cash, to John Clapp's left, Leonard Greenbaum is carefully considering what to do with two dollars. I interrupt his concentration to ask him how he picks horses.
"That is a dangerous question," he says, "because an intelligent answer it's not going to get."
After some coaxing, Mr. Greenbaum reveals that in first race he likes Darn Proud, going off at 5–2. When I point out to him that he isn't going to win much betting favorites, Mr. Greenbaum is undeterred.
"I'm not going to lose too much, either," he says with a grin. "That's the theory of my financial management. It's not what I expect to win, it's how to limit my losses."
My own pick in the first race, a $12,500 claimer, is the lightly regarded Why O My. I like him for finishing second in his last test at 135–1. Why shouldn't he win this time at 8–1? I ask the studious Mr. Greenbaum what he thinks of my reasoning.
"I think you're a loser," he says. "Look, it's wonderful to hit a longshot, but you can go broke waiting for a long shot to win. They're longshots for a reason."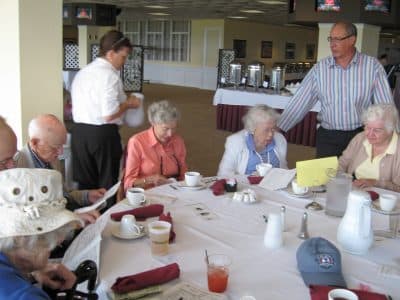 As it turns out, it will be fellow North Hill resident Mabel Richardson who puts Leonard Greenbaum's reasoning to good use in the first race. She bets the 6–2 exacta, pairing two favorites, Wedding Bells Soon and the aforementioned Darn Proud. But I don't know that as I watch the finish, which requires a photo, with Mr. Greenbaum.
"I couldn't tell between the two and the six," he says. "We'll stand here and sweat it out."
When I see the official sign flash on the board, I have to deliver the bad news.
"It's the six. Son of a gun," Leonard Greenbaum mutters. "That busts me."
"Well," I tell him, "you look like a guy who'll rise to bet again."
"Oh, yeah, absolutely," he says. "I've brought resources with me."
As Leonard Greenbaum tries to forget the past and consider the future, I overhear Mabel Richardson quietly mention to nobody in particular that since both her horses came in, she's $31.80 to the good.
"You got a new car you're looking at?" I ask her.
"Oh, sure," she says. "Maybe a new video."
"Women are all over the place," Leonard Greenbaum mutters. "Can't escape you women, even at the race track."
Mabel Richardson piles her winnings to the left of her butter plate. Most of her companions, including Leonard Greenbaum, have nothing to show for their bets on the first race but worthless tickets. Since she has previously told me that she'd be thrilled to win enough to pay for the outing, I have to ask Ms. Richardson if she's planning to hold on to what she's won … or perhaps try to triple it.
"I don't expect to win like that again," she says.
John Clapp is among the North Hill residents taking a similar approach to this day at the races.
"I don't expect to win money," he tells me. "I'm here because of a hell of a good time with a lot of nice people, friends, and that's why I'm here. All I can say is, any time we get a chance to get out with friends and do things like this, that's what counts."
Perhaps so. Or perhaps that's just the sort of thing one says after losing two dollars on Is That Blue. Mr. Clapp's contention leads me to wonder how often people coming to Suffolk from places like North Hill leave with money in their pockets. Dominic Terlizzi, the Director of Group Sales at the track, seems the right guy to ask.
"Some of the groups do very well," he tells me. "They go home with a little money. I mean, it's not gonna take a Brinks truck to take you to the bus, but at least it's something.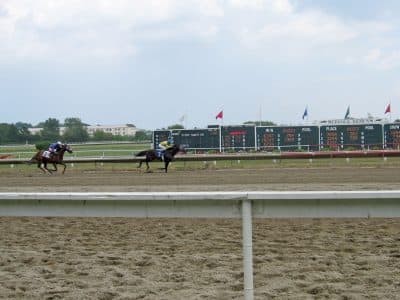 "One lady who was here, I kept watching her, and I see her counting money, so finally I go up and say, 'You're doing quite well.' She says, 'Yeah, I've been betting every horse to win.' "
That's a strategy that wouldn't have worked especially well on this day, when form seems to be prevailing. In fact, for Leonard Greenbaum, no strategy seems be working, which is perhaps why he's suddenly moved to recall another day at the track some decades ago, with which he calls the whole enterprise into question.
"One night I was at Roosevelt Raceway, the trotter track out on Long Island," he says. "And there was a horse there at 12–1. And for some reason I'm watching the tote board, and the odds plunged from 12 to 10 to 9 to 2–1. And those were the days when the trotters drew 15,000, 18,000. And a lot of people saw it.
"The race started, this horse took off like he had a rocket up his ass. And everybody in the crowd started to boo, because somebody knew this horse was set to win. And when I saw those plunging odds, I knew something was happening. And when he won — right from the start to the finish, he was ahead — and that kind of soured me on the honesty of racing, to be honest with you."
Skepticism aside, there's also room for sentiment on this particular racing day. In honor of Mr. Greenbaum and his companions, the third race has been named The North Hill. Imogene Fish, who's enjoying the outing with her husband, Ken, is tapped by Dominic Terlizzi to descend from the Turf Club to the paddock for a ceremony when the race is over. Perhaps it's because she is among the most mobile of the visitors in her party, but perhaps it's because of her resume: 58 years ago, Imogene Fish skied in the Olympics at Oslo.
In the winner's circle, as the track photographer records the moment for posterity, Mrs. Fish presents a silver bowl to the winning jockey in The North Hill, Carlos Quiñones, who gallantly presents it right back to her. I ask Mrs. Fish if she expected to go home with a trophy.
"I did not," she says with a smile. "I thought those days were gone."
As we left the winner's circle, Imogene Fish smiled and said, "It's been a great day for us." As it turned out, it was an especially great day for hunch bettors in the North Hill group who still had money to wager by post time of the seventh race. The five horse in that one, ridden by the same Carlos Quiñones who'd sat atop the winner in The North Hill, brought home Grandma Me Too, paying $10.60.
Grandma Me Too on North Hill Day at the track. How'd I miss that one?
This segment aired on July 28, 2018.