Briana Scurry, Sports Talk Radio, Ashe And Connors
48:19
Play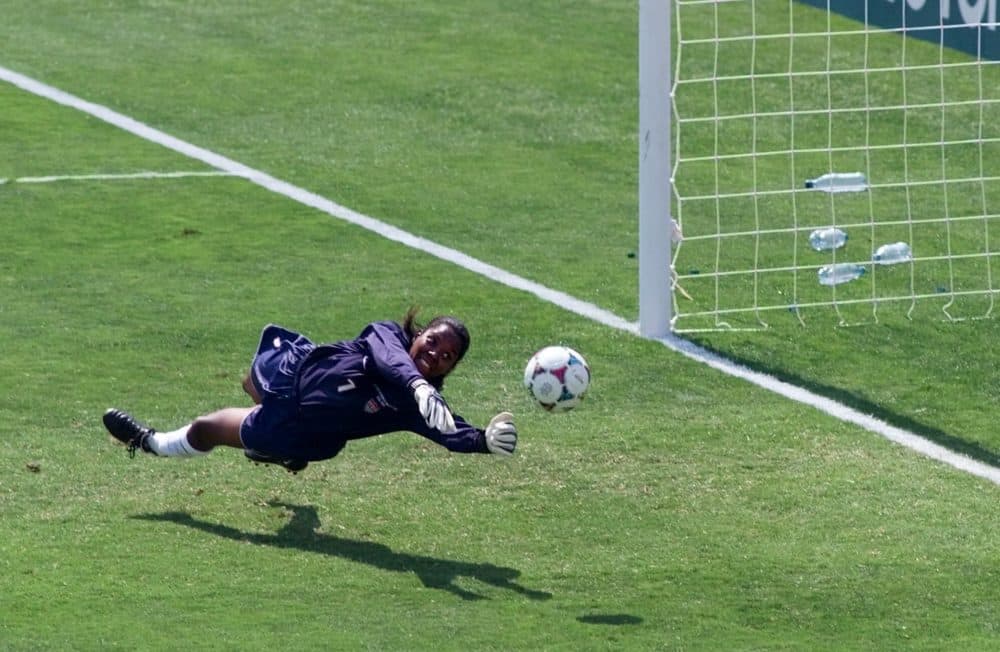 This article is more than 2 years old.
The lasting image from the 1999 Women's World Cup belongs to Brandi Chastain. This week on Only A Game, Team USA goalkeeper Briana Scurry speculates on what would have happened if it was her image — making the save — that got the attention.  Plus, why sports talk radio doesn't want female listeners. And the story of Arthur Ashe's momentous upset over Jimmy Connors at the 1975 Wimbledon final. Join us!
Subscribe to the Only A Game podcast on Apple Podcasts, NPR One or Stitcher.
---
Brandi Or Briana: A Question Of What Might Have Been
The 1999 Women's World Cup will forever be associated with the iconic image of Brandi Chastain in her sports bra. But reporter Olivia Christian has always wondered what would have happened if goalkeeper Briana Scurry's image was the one that was celebrated.
3 Stories: Earl Thomas Injury, Eric Reid, Christiano Ronaldo
Independent investigative journalist Jessica Luther and SB Nation's Tyler Tynes join Howard Bryant.
Sports Talk Radio Doesn't Want Women (But TV Does!)
Depending on the market, as much as 90 percent of sports talk radio listeners are men. Why aren't more women tuning in? The answer is more complicated than you might think.
Charlie Pierce: The Week In Sports
Howard Bryant and Only A Game analyst Charlie Pierce discuss the evils of MLB's one-game playoff. Also, a new television deal for women's tennis. And no talk about the Cleveland Browns. We promise ... sort of.
When Ashe's Feud With Connors Took Centre Court At Wimbledon
Jimmy Connors entered the 1975 Wimbledon final having retained the national No. 1 ranking for over a year straight. But his opponent, Arthur Ashe, was playing for more than a trophy.
This program aired on October 6, 2018.