How One College Athlete Is Getting Out The Vote
06:12
Play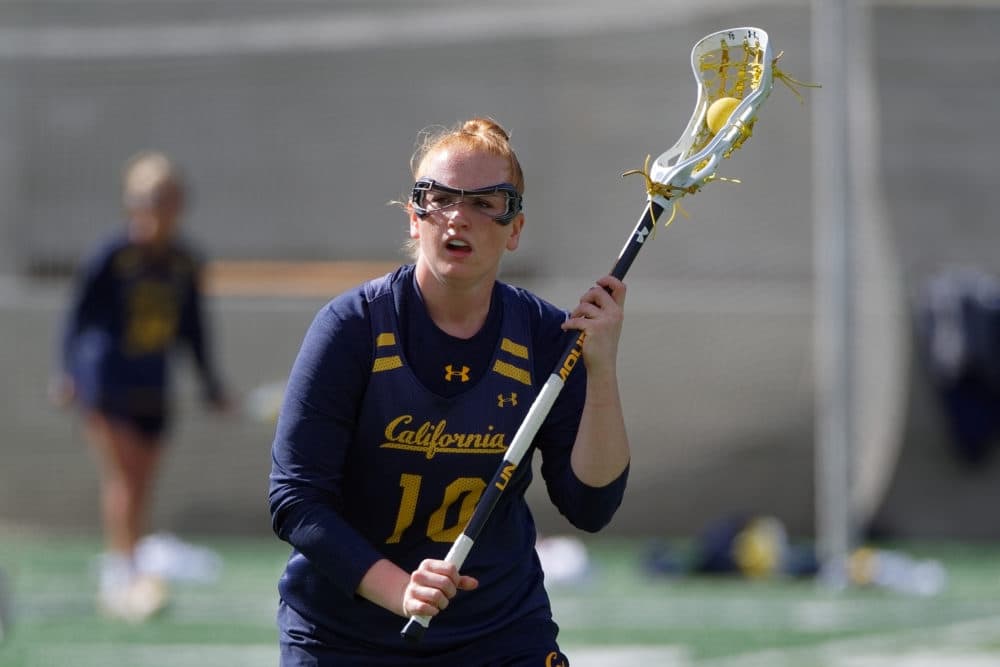 This article is more than 2 years old.
In her freshman season, Madison Roberts had an immediate impact on the University of California-Berkeley women's lacrosse team.
"I'm a bit of a world-class hair braider," Madison says. "And if you've ever played on a women's athletic team, this is a very crucial skill to have around." 
As a sophomore, though, Madison began to think more about her role off the field.
"If I'm going to have to braid hair, I'm going to make it count for something," Madison says.
It Runs In The Family
Gail Roberts says her daughter Madison has always brought a sense of activism to the lacrosse field.
"You know, everyone would bring a bunch of [disposable] water bottles," Gail says. "Sometimes people would leave them on the field. She was very conscious of that and picking them up after the games. And she would say, you know, 'Let's get a really good water bottle.' If you're unhappy with something, she would say, 'OK, do something about it.' "
Gail says social consciousness runs in the family. Her own father taught her the importance of voting, and she passed those lessons on to Madison and her siblings.
"Back when they were little, there was still a voting booth that had a curtain," Gail says. "And she'd be, like, 'Can I go with you? Can I come with you?' And so would her twin brother and her other siblings. But she, particularly, I think, really enjoyed it. I'd lift them up and read off the names, who I planned to vote for and that it was important just to vote. And she would pull the lever or hit the button for me. And they would give her a little sticker: 'I voted.' You know, it was very sweet and very touching." 
"If I'm going to have to braid hair, I'm going to make it count for something."

Madison Roberts
Madison continued to learn about civic engagement through extracurriculars in high school. When she was 18, she spent the day of the 2014 midterm elections volunteering at her precinct.
"She loved it," Gail says. "She came home really jazzed about — 'The people were great, and it was so neat to see a big turnout ...' Very much a positive thing for her."
So when she got tired of braiding hair for her college teammates, Madison took a new approach.
"I was like, 'You know, I'm a sophomore now. I don't have to just braid hair,' " Madison says. "I remember us just being at a fall-ball tournament in Seattle, and it was pouring rain outside. And I was, like, 'Yeah, I'll braid your hair, but you have to prove to me that you're registered to vote. And if you already are, go ask a teammate to register. And then I'll do it.' "
Cal Lacrosse Registers
Madison's teammates didn't seem to think much of it at the time. Madison was known for this kind of thing. But this fall, she decided to ramp up her voter registration efforts. She asked her head coach what more she could do.
"She was, like, 'Put together a presentation, show me what you're going to do, and I'll give you time on Friday,' " Madison says. "We all gathered in our locker room. I told everyone to bring their laptop."
Madison took a poll at the start of the team meeting. She found that only about 40 percent of her teammates were registered to vote.
"And, honestly, that's not out of the ordinary for a group of young women 18–22," Madison says. "So I wasn't shocked by it. I more felt excited that I had this opportunity to make an impact on 60 percent of my team."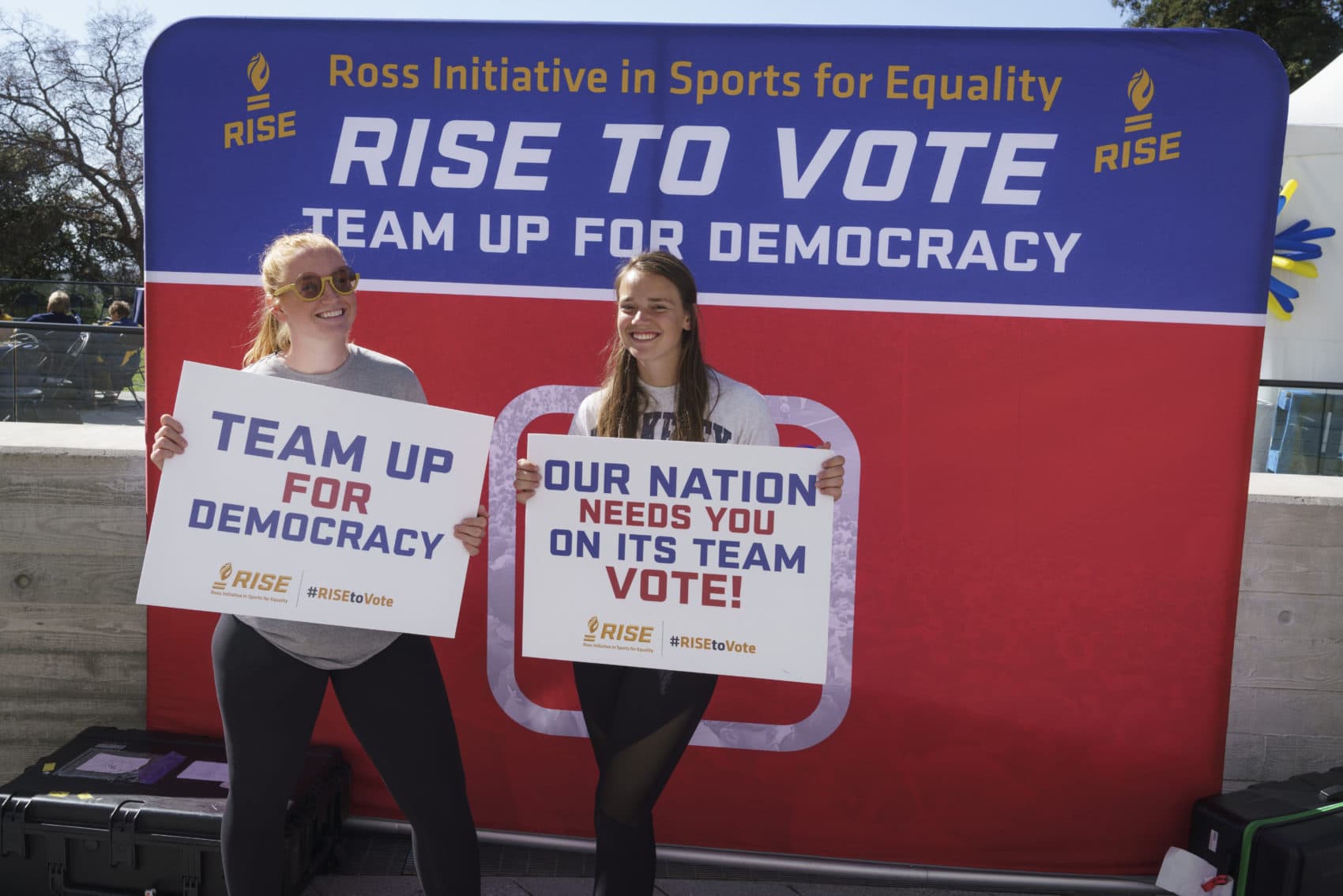 Madison began with a disclaimer: this wasn't politically motivated.
"I could care less what your opinion is so much as I want you to have one and feel invested and feel motivated to use your voice," Madison says.
She showed her team data from recent elections and explained that while young people make up a third of the electorate, less than half showed up to vote in the most recent national election.
"From there, I shared the links that people needed for every single state," Madison says. "I think within 30 minutes, I had all 35 of my teammates either registered to vote, or, if they were already registered, they got time to print their absentee ballots. And I got Cal Athletics to reimburse me to buy stamps and envelopes so people were able to send those out.
"They were, like, 'Honestly, I wouldn't have done this without you.' I realized that if I just get hands on with people and walk them through this — show them the right links — they're going to do the right thing and move in the right direction." 
A Broader Impact
Madison reached out to the rest of the head coaches at Cal. Several of them invited her to speak to their teams about the importance of voting.
Since then, she's also organized registration tables at Cal volleyball and football games. She's often seen walking around campus wearing her Cal Athletics backpack.
"Whenever I'm wearing my gear, I'm very conscious of the community that I'm representing — and not perpetrating negative stereotypes about dumb jocks," Madison says. "The best way I can think of to counter those stereotypes is by just being the opposite of them."
Madison has lacrosse practice and conditioning for several hours every day. She goes to class, does her schoolwork, interns with a bike-share program and helps on a research project about low-income housing. And on top of all that, she's gone all in on getting out the vote on campus.
"When something matters to you, you make time for it," Madison says. "And I really want to see kids my age feel empowered and feel like their voice matters and get them activated.
"We are a little bit more invested in what's happening right now. But I think we're super likely to go post about it on social media or complain about it to a friend and then not actually do something about it. And here, our political system is set up to give you a voice. And how cool is that?" 
Depending on where you live, there may still be time for you to register to vote. And if you are registered, head to the polls on Tuesday to cast your ballot.
This segment aired on November 3, 2018.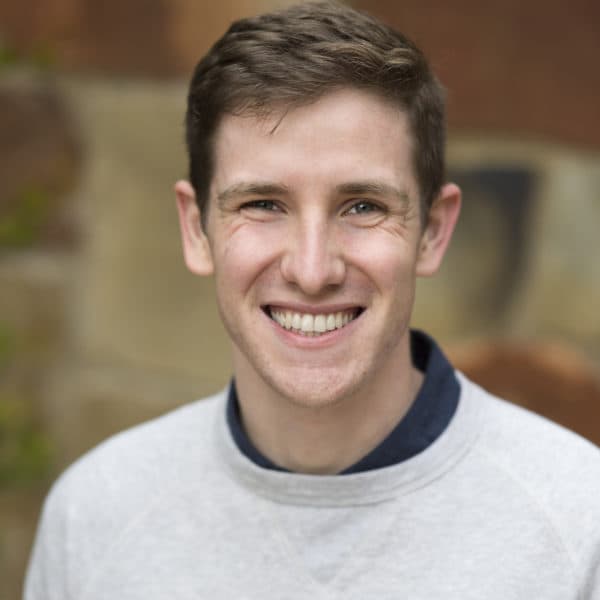 Matthew Stock Assistant Producer, Only A Game
Matthew is an assistant producer at Only A Game.