'Bricklayer' Bill Kennedy's Most Useful Marathon Prize
Play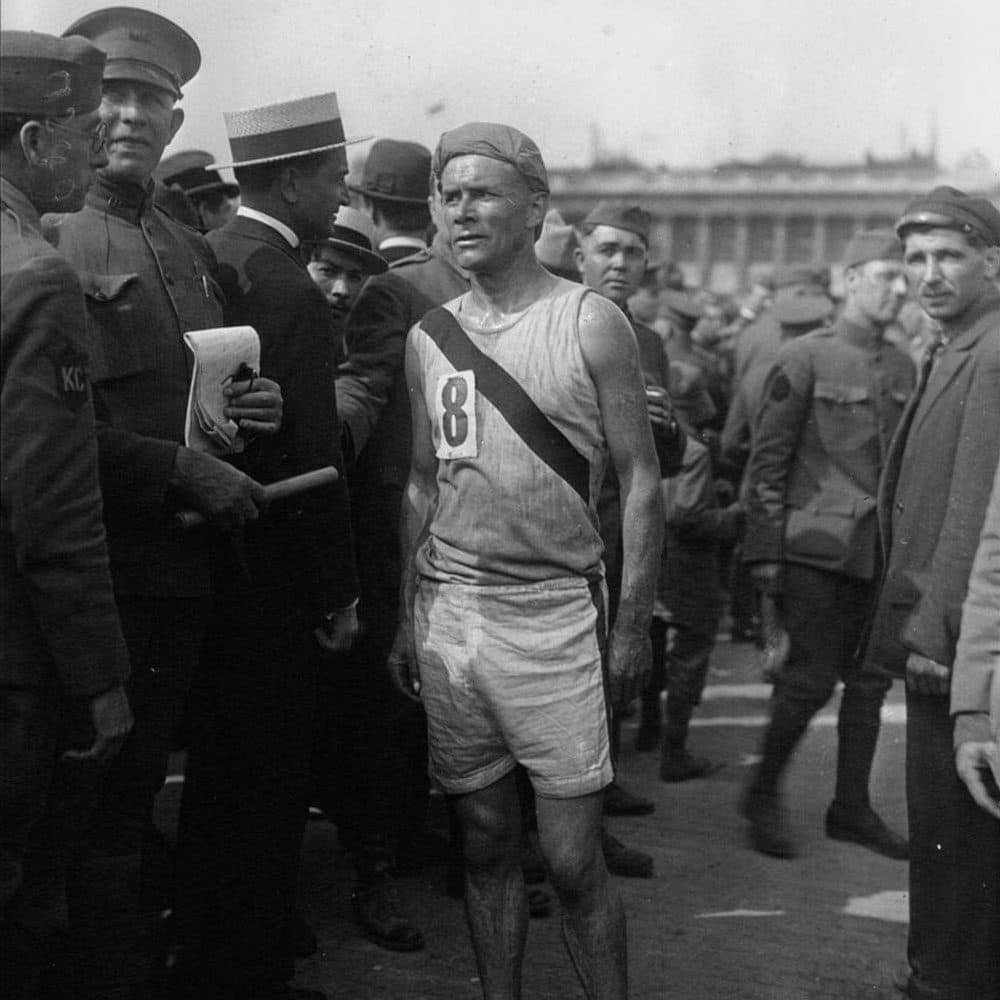 This article is more than 3 years old.
This story is part of Only A Game's Thanksgiving Leftovers Show. Find the full episode here.
---
In 1909, Bill Kennedy fell from the top of the Des Moines Coliseum.
The building was under construction. Bill was a bricklayer. He fell five stories — 65 feet. Luckily for him, he landed on a bystander. The bystander died. Bill survived.
In the memoir he'd later write, Bill didn't describe how he felt when he was saved from certain death by causing the death of another man. He only said, "My number wasn't up that day."
"And the next paragraph he says, 'After I recovered, I realized I was fit enough to keep running.' That was pretty much his first concern," says Patrick Kennedy, Bill's great-grandnephew.

Later in life, Bill Kennedy — no relation to those other Kennedys — would become a rather famous marathoner. He'd win the Boston Marathon and travel the world for his sport.
But in 1909, Bill was 25, and he had more pressing matters to attend to. He was engaged to the oldest daughter of a woman who owned a boarding house in St. Louis.
"But when Bill returned, he found that the oldest daughter, who was named Nellie, had gotten married to someone else and had left the home," says Lawrence Kennedy, Patrick's father and Bill's grandnephew.
Lawrence says Bill was feeling down over losing the woman he believed to be the love of his life.
So he did what any jilted lover who fell off the roof of a coliseum and survived by causing the death of a bystander might do. He married Nellie's sister.
"And that was Jessie," Lawrence says.
"She always complained because the ring he gave her wasn't as big as the one he'd given her older sister," Patrick laughs.
Bill and Jessie had two daughters. And, maybe because the couple didn't get along too well, Jessie had no objection to Bill taking off on long trips to run marathons. He'd ride the rails and sleep in train stations. He'd find a bricklaying job so that he'd have some money to take home afterward the race.
So, Jessie was OK with it. There's just one aspect of Bill's sport that Jessie could not abide.
"Jessie had said to him, 'If you bring home another silver cup, I'm going to hit you with it,' " Patrick says.
Marathons were strictly amateur back then. No cash prizes. But that doesn't mean the winners went home empty-handed. Patrick learned about this one race where Jessie's warning came into play.
"Yeah, it was the Yonkers Marathon," Patrick says. "It was a bitterly cold day."
It was two days before Christmas. The winner had already crossed the finish line — his feet torn and bleeding from having been cut by jagged ice — by the time Bill entered the Empire City Raceway for the final mile of the marathon.
"He was running in fifth place," Patrick says. "And as he entered the stadium, a friend of his called out and said, 'Slow down.' "
The fifth place prize was a camera. The sixth place prize was a set of silverware.
"I didn't want the camera," Bill wrote in his memoir. "You'd have to buy film for it."
"Whereas Jessie would probably like the silverware," Patrick says. "That was a silver item she could actually use. So he proceeded to fall and kinda wait there for the guy who was in sixth place to catch up to him."
As the Tribune would later report …
To all urging and pleading, he refused to go on, and waited for [Joseph] Carr, who was half a mile behind, to overtake him. It was a long, cold wait out there in the backstretch.
"He waited and waited," Patrick says. "And, after a while, he stood up and apparently started to run backwards."
"Jessie had said to him, 'If you bring home another silver cup, I'm going to hit you with it.' "

Patrick Kennedy
Finally, Joseph Carr, the sixth-place runner, came into view. The Tribune reports:
Carr seemed none too eager to overtake Kennedy, but he was too cold to follow the Chicago man's tactics, and a quarter of a mile from the finish line passed him.
"And then Bill kinda trotted along behind him," Patrick says. "But he still had to cut his stride — the guy was just slower than he was, so he had to cut his stride. So he kept stopping and tying his shoelace and stopping and tying another shoelace."
"I mean, I can just picture this," Lawrence says. "There was nothing sneaky about it. It just seemed so typical. He knew what he wanted, and he was going to get that."
Bill came in sixth place. He took the silverware home to Jessie. There's no record of whether she was pleased.
But there is a record of something else. After Bill's death, Jessie didn't keep his most prized possession: the trophy he received for winning the 1917 Boston Marathon. Instead, that silver cup was kept by Jessie's older sister, Nellie. It was proudly displayed in the front room of her home for the rest of her life.
There's much more from Bill Kennedy's life in the book written by Patrick and Lawrence Kennedy. It's called "Bricklayer Bill: The Untold Story of the Workingman's Boston Marathon."
Our original story on Bill Kennedy aired on April 14, 2018. 
This segment aired on November 24, 2018.