In Arizona, Worries Of 'Legalized Discrimination'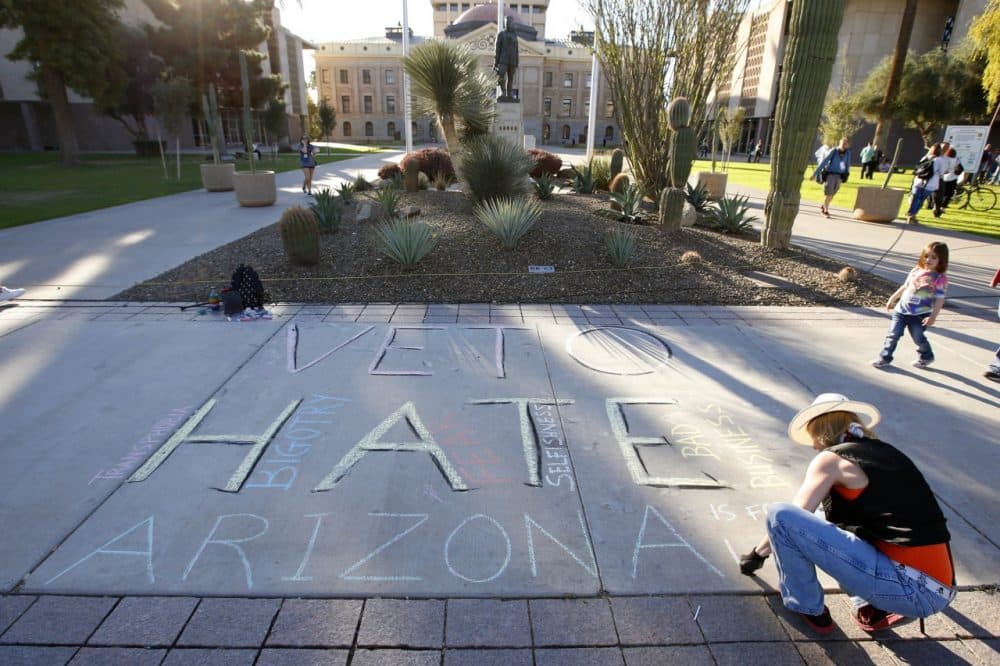 This article is more than 6 years old.
While sources have been crossed throughout the day on whether Arizona Gov. Jan Brewer (R) will sign or veto a controversial state law that permits businesses to refuse to serve LGBT customers, the mood on the ground in the Grand Canyon State is anything but quiet.
Our conversation with reporter Fernanda Echavarri of Arizona Public Media gave us a good understanding of the mood on the ground in Tuscon, Phoenix and beyond. While the verdict is still out as to whether or not the Governor will sign the bill, it's definitely true that people in Arizona have a lot to say about it.
Tom Asbhrook: Joining me now from Tuscon, Arizona is Fernanda Echavarri. Reporter for Arizona Public Media. Fernanda, thank you very much for being with us today.

Fernanda Echavarri: Hi, Tom, thanks for having me.

TA: Boy, your state is right in the middle of all this right now. As we speak, we're hearing word, reports from people near your Arizona Governor, Jan Brewer, that she may veto. She hasn't done that yet. Where's the pressure coming for her to veto, Fernanda?

FE: Well, the pressure is coming from just about everybody but a small amount of people that are near the Governor right now. The Governor is expected to be back in Arizona today, and as you said she has five days to veto the bill, sign it into law or do nothing. She typically makes her decisions later in the day, and even later in the week. So we're not really sure what to expect. She has said very little. On Friday she called the legislation "controversial." And the two state Senators that we have in Arizona, John McCain and Jeff Flake, have urged her to veto the bill. Same with even some members of the legislature that actually voted for the bill have now changed their minds and said that they were rushed, that this is not good legislation and that they are asking the Governor to veto the bill. The same pressure is coming from the business community – the Arizona Chamber of Commerce and Industry, even Apple: they were expected to open a plant here in Arizona, and now they've come out to say that they don't support the bill and that the plant could be at risk. American Airlines, the Arizona Super Bowl Committee. And even some religious organizations. I spoke with a couple of pastors here in Tucson who said that this is not a religious bill, 'This is using religion to extend bigotry,' was the quote from one of the pastors I spoke with.

TA: The Super Bowl Committee, Arizona has the Super Bowl coming down the line, and I suppose that's about fear that it might not end up coming. A couple years back, you had controversial immigration legislation there in Arizona that ended up costing millions to the economy over a boycott, by tourists and businesses then. Take us back, Fernanda, to the origin of this legislation. Who was pushing it? How did it come before the Arizona State Legislature, and what was the vote like there?

FE: Well this came from a Republican Representative and Republican Senators here in Arizona. I actually spoke with Senator Al Melvin, who represents a district here in Tucson, and he supports the bill. He was one of the all but three Republicans in the state legislature who voted for the bill. He says that this is not that big of a deal. That this simply modifies the definition of exercise of religion and it is protecting everybody's religion. And he actually says that this bill was a response to what he called 'attacks on Conservatives, and the way of life for Conservative Americans.' He says, 'First they came for the Boy Scouts, then the military with Don't Ask Don't Tell.' This is a way of protecting Arizona businesses. Senator Melvin actually gave the example of other states where bakery shop owners or flower shop owners have been forced, his words, into participating in gay marriages when they didn't want to. So he says that this law was written or this bill was written to protect those people from having to do things that go against their religion.

---

TA: Fernanda, how do most Arizonans understand this legislation? The first we heard was this would make it possible for an individual or a business owner to say, 'No, I don't wanna serve you because my religious beliefs don't approve of your lifestyle.' Now there's all kinds of sort of wobbling around on the very meaning of it. Is that your understanding of the legislation? That it would let Arizonans, if signed by the Governor, decline service to gay customers?

FE: Yes that's how it's being understood here. And actually, I covered a protest here on Friday where almost 300 people marched to the state building here in Tucson and I know the same happened in  the state capitol in Phoenix. And critics are saying that the language in the bill is too vague. It doesn't actually say 'refuse service to Gay, Lesbian, Bisexual or Transsexual People.' And because of the language, people are taking it to mean that any business owner can refuse to service to somebody of another religion, of unmarried women with children, people of different races because of the broad language in the legislation. But absolutely, the main focus has been the LGBT community. People here in Tucson are seeing it as a way to legalize discrimination. I spoke with a lesbian couple during the march on Friday and they said, 'You know, discrimination happens. We are given poor service sometimes because people assume we're gay. But now, this is making it legal. This is giving these businesses sort of a legal shield to continue to discriminate.' That's how the two women say that and that seems to be the case for a lot of people here in Tucson.
What do you make of the legislation in Arizona? Does it provide for religious freedom in public life? Or insert a legal defense for broad-based discrimination? Let