Post-Crimea Vote: The West Vs. Russia?
Play
This article is more than 9 years old.
Crimeans have voted to leave Ukraine and join Russia.  Now come the sanctions, the counter-sanctions --and the  big questions on where the stand-off ends.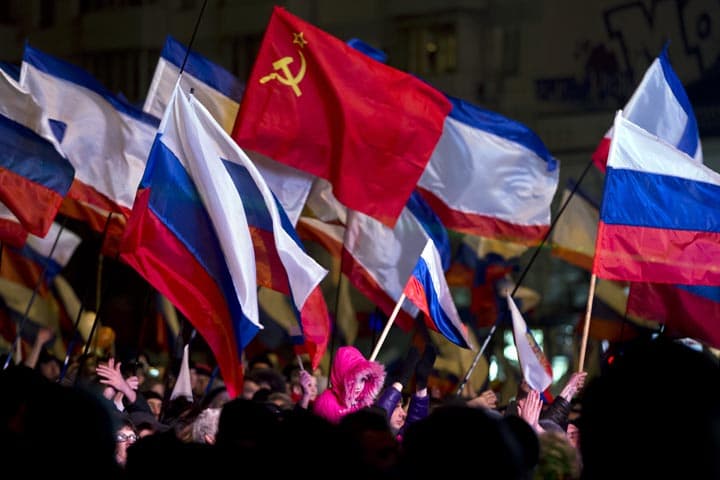 Russia is taking back Crimea. Day by day, hour by hour. Today, Vladimir Putin saying Crimea has "always been an integral part of Russia in the hearts and minds of people." And pushing for annexation. From Washington and Europe — sanctions. On a couple a dozen Russians. Big talk about how a Crimean annexation will never be recognized. But the bigger conversation is about how far Russia may go now. Where a real line may be. And what's happening to to the post-Cold War world right now. This hour On Point: Russia, the West and the view from Crimea.
-- Tom Ashbrook
Guests
Guy Chazan, energy editor for the Financial Times. (@GuyChazan)
Gwendolyn Sasse, professor of politicsa dn international relations at Oxford University. Author of "The Crimea Question: Identity, Transition and Conflict," "Europeanization and Reorganization In the EU's Enlargement to Central and Eastern Europe: The Myth of Conditionality" and "Ethnicity and Territory in the Former Soviet Union: Regions in Conflict." (@GwendolynSasse)
Michael McFaul, senior fellow at the Hoover Institution at Stanford University. Former U.S. Ambassador to Russia. (@McFaul)
Eugene Rumer, director of the Russia and Eurasia Program at the Carnegie Endowment for International Peace. (@Eugene_Rumer)
From Tom's Reading List
The Wall Street Journal: U.S., EU Slap Sanctions on Targeted Russians, Ukrainians — "The U.S. and European Union enacted their first sanctions Monday against Russian and Ukrainian officials in response to Moscow's military intervention in Crimea, a coordinated action that the West warned is likely to expand in scope."
Washington Post: Ukraine activates reserves following Sunday vote --"With some of his troops surrounded on Crimean bases by Russian forces, Ukrainian defense minister Ihor Tenyukh said the country would not back down even as the gears moved toward an apparent separation of Crimea from the rest of Ukraine. Following Sunday's referendum, Crimean officials were to present a formal request in Moscow to become part of Russia, and the Russian parliament is scheduled to consider the matter this week."
POLITICO Magainze: Is Putin Having a Brezhnev Moment? — "No analogy is perfect, but my gut tells me that historians will regard Putin's reckless decision to invade Crimea much like Brezhnev's mistake in Afghanistan—as the beginning of the end. The Soviet system in 1979 had a much stronger foundation than Putin's. The Communist Party was a very strong institution, and the leadership could trot out any number of achievements, from defeating Nazi Germany to achieving nuclear and military parity with the United States, to justify the system's legitimacy."
This program aired on March 18, 2014.