Week In The News: Kerry To Israel, Mixed Messages On Obamacare, MH 17 Investigation
Play
This article is more than 8 years old.
With Guest Host John Harwood.
Secretary of State Kerry to Israel. Obamacare back in the courts. Mourning as remains of Malaysia Flight 17 victims come home.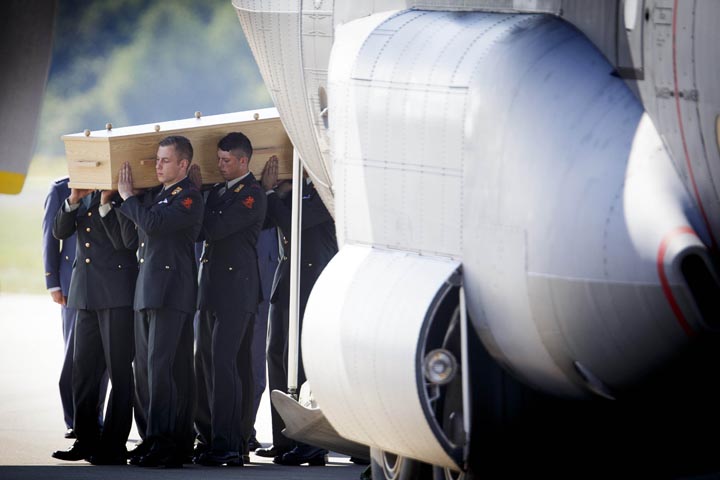 The civil war in Ukraine – and no sign that Russia is backing away yet. The mounting death toll in Gaza, even as U.S. efforts to arrange a cease-fire intensify. Conflicting appeals court rulings on Obamacare, leaving the Supreme Court with another huge decision. Texas plans to send National Guard troops to the  border, but Congress still hasn't acted. President Obama moves to extend workplace protections to gay and transgender federal workers. And we say goodbye to James Garner. This hour, On Point: Our weekly news roundtable goes behind the headlines.
-- John Harwood
Guests
Peter Baker, White House correspondent for the New York Times. Author of "Days of Fire: Bush and Cheney In The White House." (@peterbakernyt)
Nicole Gaouette, US foreign policy correspondent for Bloomberg News. (@nicolegaouette)
Jack Beatty, On Point news analyst.
From The Reading List
New York Times: Crises Cascade and Converge, Testing Obama — "Rarely has a president been confronted with so many seemingly disparate foreign policy crises all at once — in Ukraine, Israel, Syria, Iraq,Afghanistan and elsewhere — but making the current upheaval more complicated for Mr. Obama is the seemingly interlocking nature of them all."
Bloomberg: U.S. Stops Short of Finding Russian Role in MH17 Crash — "One of the officials described as solid the theory that a Russian-made SA-11 missile hit the plane and said it happened under conditions that Russia helped create. All three, speaking on condition of anonymity to discuss intelligence findings, stopped short of claiming Russia played a direct role."
CNN: Another botched execution? Inmate gasps during two-hour execution — "Wood was the latest American death row inmate to argue that an anesthetic recently introduced in some states' execution protocols could fail to sufficiently knock out the inmate ahead of the lethal drugs, subjecting the person to an agonizing death. Wood claimed among other things that the state was going to use an 'experimental' drug protocol of midazolam and hydromorphone."
This program aired on July 25, 2014.