How Deep Is The American West's Water Challenge?
Play
This article is more than 8 years old.
With Guest Host Meghna Chakrabarti.
A NASA study says the water problem in the American is deeper than we thought. We'll look at the West's deep water challenge.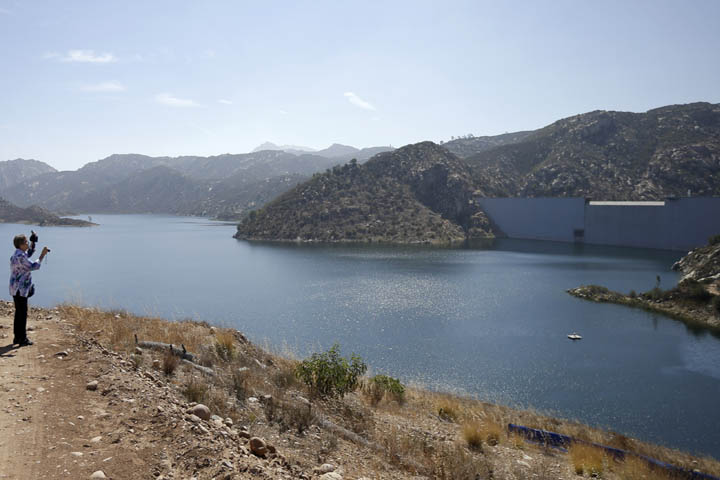 If you've been to Lake Mead you've seen it. Prolonged drought in the West has driven the country's largest reservoir to its lowest level in memory. But the true crisis lies below the Colorado Basin bedrock. More than 75% of the water lost in the last nine years came from groundwater supplies. And it may never come back. That's water for 40 million Americans. Water for 4 million acres of farmland. Without drastic action, the water crisis may permanently change the Western way of life.  This hour, On Point: groundwater crisis in the western U.S.
Guests
Jay Famiglietti, professor of earth system science at the University of California, Irvine, and senior water scientist at NASA's Jet Propulsion Laboratory in Pasadena, CA. (@JayFamiglietti)
Sandra Postel, director of the independent Global Water Policy Project. Co-creator of Change the Course, a freshwater conservation and restoration campaign. National Geographic Freshwater Fellow.
Mike Wade, executive director of the California Farm Water Coalition. (@farmwater)
From Tom's Reading List
NASA: Satellite Study Reveals Parched U.S. West Using Up Underground Water -- "A new study by NASA and University of California, Irvine, scientists finds more than 75 percent of the water loss in the drought-stricken Colorado River Basin since late 2004 came from underground resources. The extent of groundwater loss may pose a greater threat to the water supply of the western United States than previously thought."
Los Angeles Times: California breaks drought record as 58% of state hits driest level — "More than half of California is now under the most severe level of drought for the first time since the federal government began issuing regular drought reports in the late 1990s, according to new data released Thursday."
TIME: Unprecedented California Drought Restrictions Go Into Effect — "The new rules — the first statewide curbs on water use since the current drought began nearly three years ago — can lead to fines of up to $500 per day for using a hose to clean a sidewalk, running ornamental fountains that do not recirculate water and other wasteful behaviors. The regulations will be in effect for 270 days, unless they are repealed earlier."
This program aired on August 4, 2014.