NCAA Vote: Are College Sports Going Pro?
Play
This article is more than 8 years old.
The NCAA opening the way to bigger money, bigger recruiting, bigger everything in top tier college sports: creating, almost, a "pro" tier.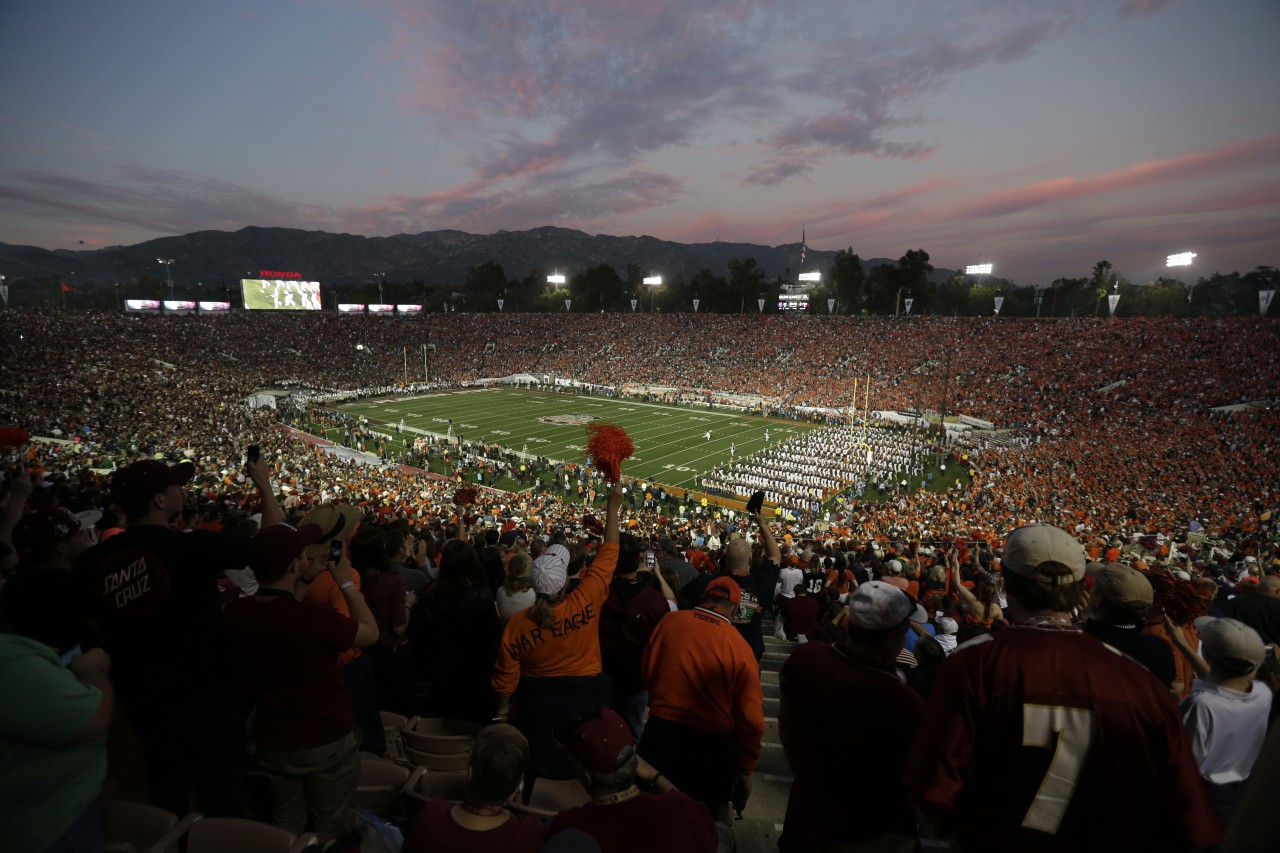 For years, college sports have grown bigger and richer and more expensive – especially at the top.  The big schools.  The powerhouses.  Yesterday in Indianapolis, the NCAA cut those schools loose to make their own rules on how big-time college sports will run.  With more cash for college athletes.  More freedom for recruiters to go after top prospects.  More acknowledgement of a college sports aristocracy.  Will it take the Big Five conferences semi-pro?  Are they there already?  Is it the end for Cinderella stories?  This hour, On Point:  New rules for college sports.
- Tom Ashbrook
Guests
Armen Keteyian, 60 Minutes sports correspondent and CBS News correspondent. Co-author of "The System: The Glory and Scandal of Big-Time College Football." (@ArmenKeteyian)
B.J. Schechter, college football editor at Sports Illustrated. (@bjschecter)
Morgan Burke, athletic director at Purdue University. Member of the NCAA Leadership Council. (@MorganJBurke)
Peg Bradley-Doppes, vice chancellor for athletics at the University of Denver.
From Tom's Reading List
ESPN: NCAA board votes to allow autonomy -- "The NCAA Division I board of directors on Thursday voted 16-2 to allow the schools in the top five conferences to write many of their own rules. The autonomy measures — which the power conferences had all but demanded — will permit those leagues to decide on things such as cost-of-attendance stipends and insurance benefits for players, staff sizes, recruiting rules and mandatory hours spent on individual sports."
USA Today: NCAA Board vote only the beginning of autonomy debate — "But for all the historic implications of Thursday's vote, which will open the door for substantial changes in what schools can provide college athletes, in reality it is just one step in a process that will still have several to go before new policies are put in place."
The Atlantic: NCAA to Congress: Change Is Coming -- "Senators from both parties worried that extended benefits for college athletes, while necessary and overdue, would undermine their special status. "I think the law here is headed in a very unfortunate direction … of regarding athletes at universities more and more as employees," stated Democratic Senator Richard Blumenthal of Connecticut"
This program aired on August 8, 2014.