For The U.S., Intervention Or Restraint In Iraq
Resume
More US troops bound for Iraq. We'll look at the big question of American intervention or restraint on the global stage.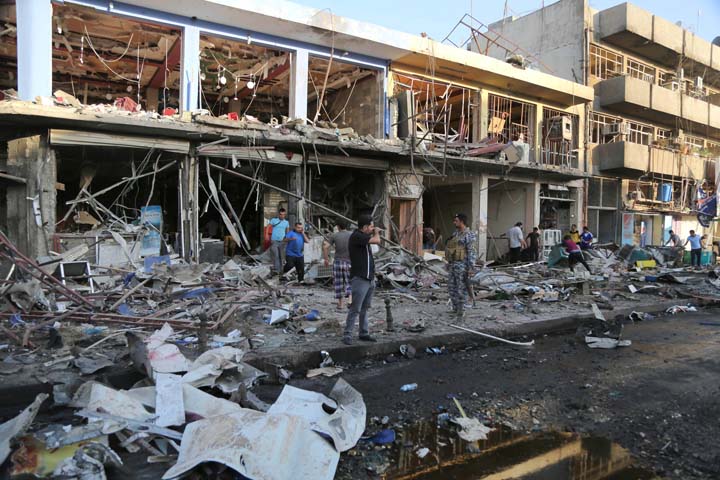 The Pentagon says today that the worst of the humanitarian crisis in Iraq – the poor Yazidis trapped on Mt. Sinjar – has passed.  That the siege of the mountain has been broken by US airstrikes.  So now what for the US in Iraq?  ISIS, or the Islamic State, has continued to grab turf, slaughter Iraqis, extend its domain.  President Obama has said Washington might get more involved if Baghdad changed its government.  That's sort of happening.  Are we going to do battle with the Islamic State?  Or not?  This hour On Point:  American power now, and what to do – or not do – in Iraq.
-- Tom Ashbrook
Guests
Dion Nissenbaum, national security reporter for The Wall Street Journal. (@DionNissenbaum)
Barry Posen, Ford International Professor of political science at the Massachusetts Institute of Technology. Author of the new book, "Restraint: A New Foundation for U.S. Grand Strategy." Also author of "Inadvertent Escalation: Conventional War and Nuclear Risks."
Kori Schake, research fellow at Stanford University's Hoover Institution.
From Tom's Reading List
The Atlantic: Hillary Clinton: 'Failure' to Help Syrian Rebels Led to the Rise of ISIS — "During a discussion about the dangers of jihadism (a topic that has her 'hepped-up,' she told me moments after she greeted me at her office in New York) and of the sort of resurgent nationalism seen in Russia today, I noted that Americans are quite wary right now of international commitment-making. Clinton responded by arguing that there is a happy medium between bellicose posturing (of the sort she associated with the George W. Bush administration) and its opposite, a focus on withdrawal."
Washington Post: U.S. needs a discussion on when, not whether, to use force — "Was the Iraq war the greatest strategic error in recent decades, as some pundits have suggested recently? The simple answer is no. That honor belongs to the failure to take action against al-Qaeda and Osama bin Laden before the attacks that killed nearly 3,000 Americans on U.S. soil on Sept. 11, 2001. "
The Wall Street Journal: Obama Seeks 'Lasting Solution' for Iraqi Refugees — "The White House hasn't decided on a course, though one possible option is a rescue mission, a move that would risk putting American forces in direct confrontation with Sunni fighters for the Islamic State. Since last week, the U.S. has through a campaign of airstrikes and airdrops sought to halt the militants' advance on the Kurdish city of Erbil and relieve Yazidis trapped by the fighting on a barren mountain range."
Read An Excerpt Of "Restraint" By Barry Posen
This program aired on August 14, 2014.