Back To School With The Educational App Boom
Resume
Educational apps are all over these days. How are they working for the education of our children? Plus: why our kids need more sleep.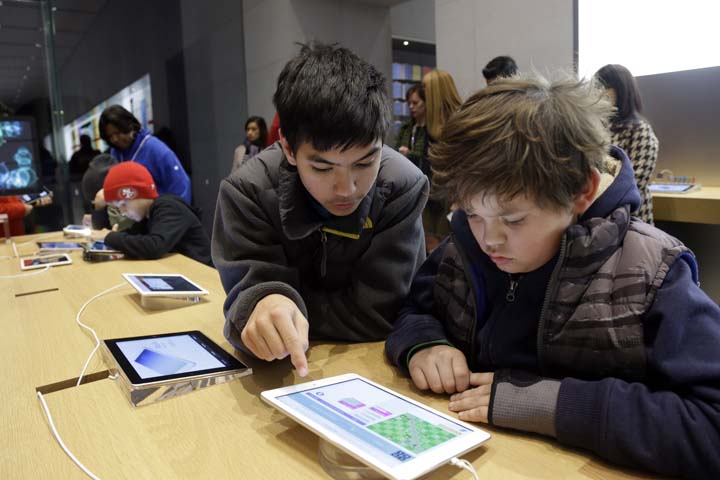 The new school year is revved and revving up all over now.  Backpacks, notebooks, new sneakers - and technology.  At home and in the classroom, educational apps are all over now.  Apps for babies.  Apps for toddlers.  Apps for kids in school.  We've got The Three Little Pigs and Monster Physics.  Frog Dissection and Duolingo.  Apps for the classroom, and for home, and apps for teachers to communicate with home.  Is it all rocketing our children ahead in learning?  This hour On Point:  In school and out, wading deep into the age of educational apps.
-- Tom Ashbrook
Guests
Betsy Corcoran, CEO and editor at EdSurge. (@betsy_)
Lisa Guernsey, director of the Early Education Initiative at the New America Foundation. Author of "Screen Time: How Electronic Media — From Baby Videos to Educational Software — Affects Your Young Child." (@LisaGuernsey)
Annie Murphy Paul, educational consultant and author of the forthcoming book, "Brilliant: The New Science of Smart." (@anniemurphypaul)
From Tom's Reading List
The Wall Street Journal: Smart Phones for Smart Kids -- "For years entrepreneurs and educators have been pushing to bring education technology into the classroom, but adoption has often been slow. Now the education tech landscape is shifting toward mobile devices and new, free and easy-to-use services. The impact is enormous: This year more than 750 million educational apps for mobile devices will be installed world-wide."
School Library Journal: Too Soon for Technology? — "Even the most experienced librarians and educators may find themselves flummoxed by the recent profusion of digital resources intended for the youngest users: preschoolers. The number of websites, apps, and ebooks for children under five has grown exponentially, leading librarians, teachers, and parents to wrestle with new questions about which digital offerings are appropriate and when."
The Atlantic:Why Some Schools Are Selling All Their iPads -- "iPads have so far been a gadget of choice at both ends of the economic spectrum: in wealthier schools with ample resources and demand from parents, and in low-income schools that receive federal grants to improve student success rates. Last fall, enthusiasm for the Apple device peaked when Los Angeles Unified Schools, the second largest system in the nation, began a rollout out of iPads to every student."
Our Kids Need More Sleep
Dr. Judith Owens, pediatrician and director of sleep medicine at Children's National Health System.
Pediatrics: School Start Times for Adolescents — "Although a number offactors, including biological changes in sleep associated with puberty, lifestyle choices, and academic demands, negatively affect middle and high school students' ability to obtain sufficient sleep, the evidence strongly implicates earlier school start times (ie, before 8:30 AM) as a key modifiable contributor to insufficient sleep, as well as circadian rhythm disruption, in this population. Furthermore, a substantial body of research has now demonstrated that delaying school start times is an effective countermeasure to chronic sleep loss and has a wide range of potential benefits to students with regard to physical and mental health, safety, and academic achievement."
This program aired on August 26, 2014.