A Stagnant Europe Faces Russian Threat
Play
This article is more than 8 years old.
Europe stumbling – economically, and maybe more – as a new challenge rises from Russia.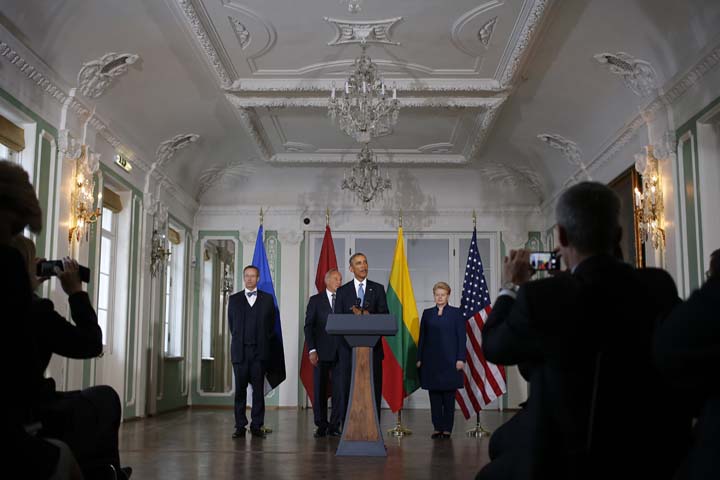 Tough talk from President Obama yesterday in Estonia about the trans-Atlantic alliance, the inviolability of NATO, the US partnership with Europe – now in the face of Russian challenge – that will never die.  Today, the NATO leaders sitting down in Wales to nail their response to Russia's push in Ukraine.  But how strong is the European pillar of NATO these days?  The US has its own problems, but Europe's looks deeper.  An economy backsliding.  The EU off its stride.  The Euro in trouble.  This is half "the West?"  This hour On Point:  Europe struggling as a new challenge rises from Russia.
-- Tom Ashbrook
Guests
Griff Witte, London bureau chief for the Washington Post. (@griffwitte)
Scheherazade Rehman, professor of international finance at George Washington University's school of business. Director of the GWU EU Research Center. (@Prof_Rehman)
Elaine Moore, capital markets correspondent for the Financial Times. (@ElaineDMoore)
Stefani Weiss, project manager at Bertelsmann Stiftung, a German think tank. (@WeissStefani)
From Tom's Reading List
New York Times: U.S. and Europe Are Struggling With Response to a Bold Russia — "American and European officials are struggling to devise a response as Russia bears down on Ukraine, searching for new measures that will have more impact than the economic sanctions imposed so far, without risking major damage to their own industries or a military escalation that could spiral out of control."
NBC News: Why Europe Might Balk At Backing Sanctions Against Russia — "Russia is the E.U.'s third largest trading partner, behind China and the United States. The continent's largest economy, Germany, exported $38.3 billion worth to Russia in 2013. These exports to Russia are dominated by machinery and transport equipment, chemicals, medicines and agricultural products."
The Economist: That sinking feeling (again) -- "In recent weeks the countries of the euro zone have begun to take in water once again. Their collective GDP stagnated in the second quarter: Italy fell back into outright recession, French GDP was flat and even mighty Germany saw an unexpectedly large fall in output. The third quarter looks pretty unhealthy, partly because the euro zone will suffer an extra drag from Western sanctions on Russia."
This program aired on September 4, 2014.