The World's Response To The Ebola Epidemic
Resume
An urgent plea for more help to slow the epidemic of Ebola in West Africa.  We look at the exploding challenge.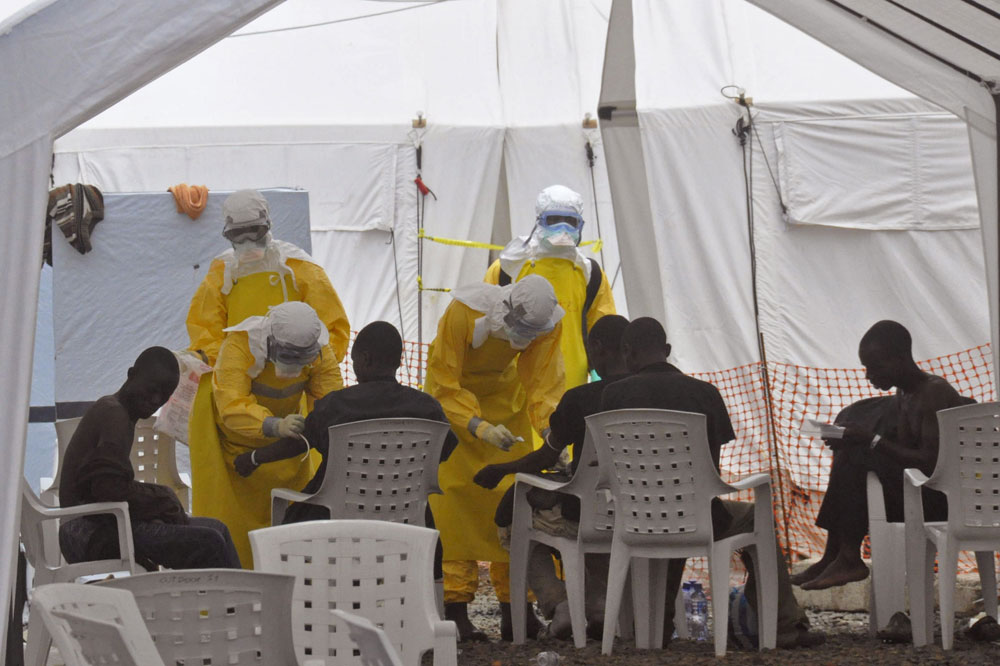 The Ebola crisis in West Africa is hurtling now from bad to nightmare, with the world just beginning to wake up and respond.  A terribly lethal disease that is easily contained in small numbers, but hellishly hard in big numbers is now headed into big numbers.  Maybe 20,000 infections.  Maybe far more.  The US military is headed in to help.  UN troops and supplies may follow.  Africa's economy is clutching up with fear.  Health officials say we're losing the containment battle.  A "global security disaster," says one. This hour, On Point:  Ebola ratchets up.
- Tom Ashbrook
Guests
Drew Hinshaw, covers West Africa for the Wall Street Journal. (@drewfhinshaw)
Brice de le Vingne, Director of Operations at Doctors Without Borders, where he is overseeing the Ebola response.
Lawrence Gostin, professor of global health law and director of the Institute for National and Global Health Law at Georgetown Law School. Director of the World Health Organization Collaborating Center on Public Health Law and Human Rights. (@lgostin)
From Tom's Reading List
BBC: Ebola response lethally inadequate, says MSF — "A global military intervention is needed to curb the largest ever Ebola outbreak, according to the medical charity Medecins Sans Frontieres. In a damning criticism of world leaders, it says the global response has so far been 'lethally inadequate'."
The Wall Street Journal: Deadly Disappointment Awaits at Ebola Clinics Due to Lack of Space — "Taxis, ambulances, and even men pushing their sick in wheelbarrows are crisscrossing Monrovia, looking for an open bed in West Africa's overbooked Ebola clinics, health-care workers say. Sometimes they get in, through persistence and good timing. Mostly they don't."
The Washington Post: Obama: U.S. military to provide equipment, resources to battle Ebola epidemic in Africa — "President Obama said Sunday that the U.S. military will begin aiding what has been a chaotic and ineffective response to the Ebola epidemic in West Africa, arguing that it represents a serious national security concern."
Closing Segment: Rare Respiratory Virus Threatening Kids Across U.S.
Dr. William Schaffner, chairman  of the department of preventative medicine at Vanderbilt School of Medicine.
This program aired on September 9, 2014.