Understanding Our Wild World Markets
Play
This article is more than 8 years old.
The global economic wobble. Europe weakness. China fears. Wild markets. We'll lay out the global economy now.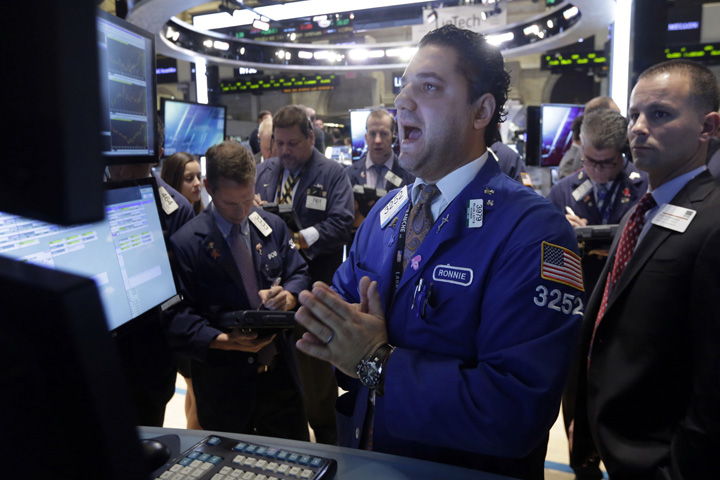 The wild stock markets of the last couple weeks are just a taste of the worry out there over the global economy.  Your nest egg may be all over the place lately.  So are the economies that float the world.  Europe, a mess, with even the once-immovable Germany facing trouble.  China?  It's been so hot for so long and now people see risk there.  Slower growth.  Overcapacity.  Debt.  Ironically, right now it's the USA that looks like the global anchor, despite American worries at home.  Yikes!  We're it?  This hour On Point:  Big wobbles and where this goes.  The global economy and you.
-- Tom Ashbrook
Guests
Martin Wolf, chief economics commentator at The Finanical Times. Author of the new book, "The Shifts and the Shocks: What We've Learned — and Have Still to Learn — from the Financial Crisis." Also author of "Why Globalization Works" and "Fixing Global Finance." (@martinwolf_)
Eswar Prasad, professor of trade policy at Cornell University. Senior fellow at the Brookings Institution. Research associate at the National Bureau of Economic Research. Author of "The Dollar Trap" and co-author of "Emerging Markets." (@EswarSPrasad)
From Tom's Reading List
The Wall Street Journal: U.S. Stocks Surge; Nasdaq Up 2.4% -- The Dow industrials roared back into positive territory for 2014, as strong earnings from Apple Inc. ignited a technology-sector rally and powered U.S. stocks to their third daily gain in a row. News that the European Central Bank was considering buying corporate bonds helped offset the disappointment from poor Coca-Cola Co. earnings and a second consecutive decline in shares of International Business Machines Corp. Apple's report propelled the S&P 500 and the Nasdaq to their biggest one-day point jumps since late 2011."
Reuters: Data shows U.S. economy's pulse is still strong — "The number of Americans filing new claims for jobless benefits fell to a 14-year low last week and industrial output rose sharply in September, positive signals that helped ease fears over the economic outlook. Initial claims for state unemployment benefits dropped 23,000 to 264,000, the lowest level since 2000, the Labor Department said on Thursday."
Financial Times: A shaky recovery is running out of steam -- "The global economic recovery has stalled and become unbalanced, with the U.S. now the sole major economy still showing signs of strength. Growth in China and many other major emerging markets seems to be losing momentum. The world economy is now being powered along essentially by one engine, with the U.S. business cycle at least temporarily delinking from the rest of the world."
This program aired on October 23, 2014.