Ray Rice, Domestic Abuse And The Problem With The NFL
Resume
With guest host Jane Clayson.
Football firestorm: Ray Rice reinstated. Speaking out and blasting Roger Goodell.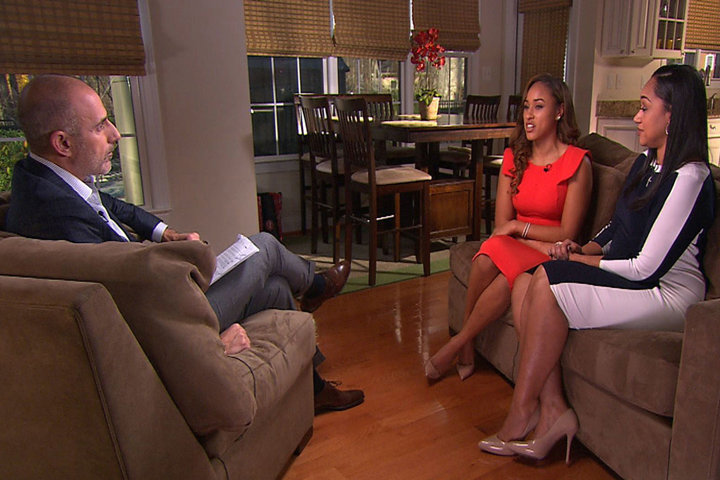 Ray Rice has been reinstated to the NFL on appeal. Now Rice and his wife Janay are appealing to the public to give him a second chance. It was the "only time he ever hit me, " says Janay.  "My wife is an angel. I take full responsibility for my actions," says Ray. The elevator incident in Atlantic City sparked a national conversation about domestic violence in the NFL and beyond. Deep conversations about why men hit.  And why women stay. This hour On Point: Ray and Janay Rice and the many unknown faces of domestic abuse.
-- Jane Clayson
Guests
Jemele Hill, columnist for ESPN, co-host of ESPN 2's "Numbers Never Lie". (@jemelehill)
David Steele, NFL columnist for SportingNews.com. (@david_c_steele)
Sandy Banks, columnist for the Los Angeles Times. (@sandybankslat)
Emily Rothman, associate professor of community health sciences at the Boston University School of Public Health.
From The Reading List
ESPN: Janay Rice, in her own words -- "The video didn't make me rethink our relationship, but I did want more of an explanation from him. I asked him why he left me on the floor like that. I asked him how he felt when he saw that I was unconscious. He told me he was in shock. I asked him what happened when we got out of the elevator. He told me he was terrified because security was there. I asked him how he felt seeing me like that. He said he was thinking, 'What did I just do?' I didn't watch the video again. I knew that every time I went online, I was going to see a picture of it, a clip of it, something. So I stopped searching for anything. If I saw Ray on his phone for too long, I'd ask him what he was looking at and tell him to stop searching for stories about it."
Grantland: Tough Talk — "Far from providing a forum for a valuable conversation about domestic abuse, the Rice scandal turned into a debacle of talk, a catastrophe of failed comment. One of the horrors of the story, for almost everyone who followed it, was what it made other people say. This started with Rice himself, who, at a press conference in May that followed his indictment on third-degree aggravated assault charges, first apologized, bafflingly, 'for the situation my wife and I were in.' Then he unfurled perhaps the least appropriate redemption koan in the history of organized sports: 'I won't call myself a failure.'"
Los Angeles Times: It's time to turn domestic abuse chatter into conversation — "Janay Rice is the pretty face of an ugly epidemic. And the question to ask isn't why she stayed but why it took us so long to get worked up about something that happens to a million women each year — including the wives and girlfriends of men we idolize. I guess we needed to see it to believe it."
This program aired on December 2, 2014.