With guest host Michel Martin.
From crossover hits to hip-hop to soul, we look at a big year in the wide world of Latin music.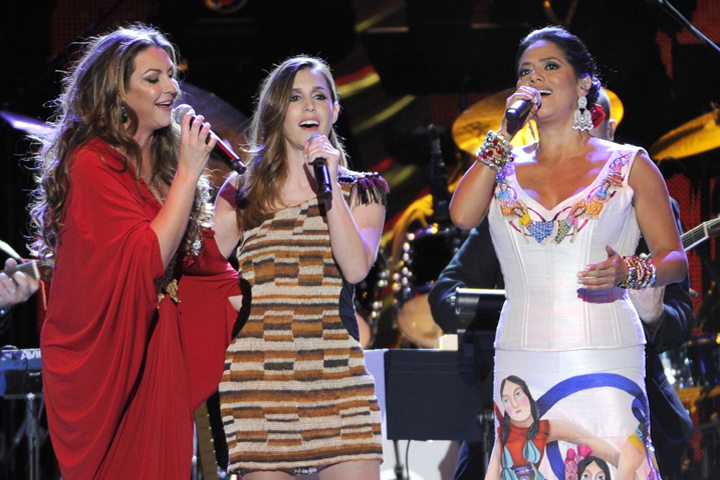 Two-thousand and fourteen was a big year in Latin music, from huge crossover hits like Enrique Iglesias' "Bailando"  – to some songs and artists that aren't on endless repeat on the radio, yet. Calma Carmona's soul. Kat Dahlia's rap. AJ Davila's rock. "La Dame Blanche" out of Cuba by way of Paris. And much more. Old favorites made big statements: salsa singer Ruben Blades picked up a Latin Grammy for his "Tango" album, and international superstar Juan Luis Guerra is topping the charts again. We're diving in. This hour, On Point: the year in Latin music.
-- Michel Martin
Guests
José Massó, longtime host of WBUR's Latin music program, Con Salsa! (@massojose)
Jasmine Garsd, co-host of NPR Music's Alt.Latino alternative Latin music show. (@jasgarsd)
From The Reading List
Billboard: The Latin Music Industry in 2014: Romeo Strikes Again as Streaming Breaks Through — "It was a year of optimism — yes, optimism — for Latin music as new revenue streams finally started to materialize in tangible ways. That, in turn, fueled new signings and expanded promotions. Here's a look at key events for Latin music in 2015."
NPR Weekend Edition: Warm Latin Music For The Chilly Holiday Season — "It's official, the holiday season is upon us. Maybe you've even been out to the shopping malls to scope out what you could buy for friends and family for the upcoming holidays. You know what makes a good present? Music."
Wondering Sound: 2014 in Latin Music: Romeo Santos, Regional Dance and Globalization — "2014 was a big year for the mainstream-crossover of Latin music in the United States: Pitbull, a.k.a. Mr. Worldwide, was omnipresent, appearing on songs by Jeremih, J. Lo, Enrique, and the soundtrack to Madagascar while he promoted his new single 'Fireball' from his recently released Globalization full-length. Enrique's 'Bailando' recruited Sean Paul to break the standing record for the most weeks at #1 on the Billboard Latin Charts. Bachata king Romeo Santos made history too, as he sold out two nights at Yankee Stadium, becoming the first Latin artist to do so."
Playlist
This program aired on December 19, 2014.