A Diverse Europe, On Edge
Resume
The New York Times' Roger Cohen and Oxford University's Tariq Ramadan on terrorism, Jews and Muslims in Europe, displacement, immigration and the way forward.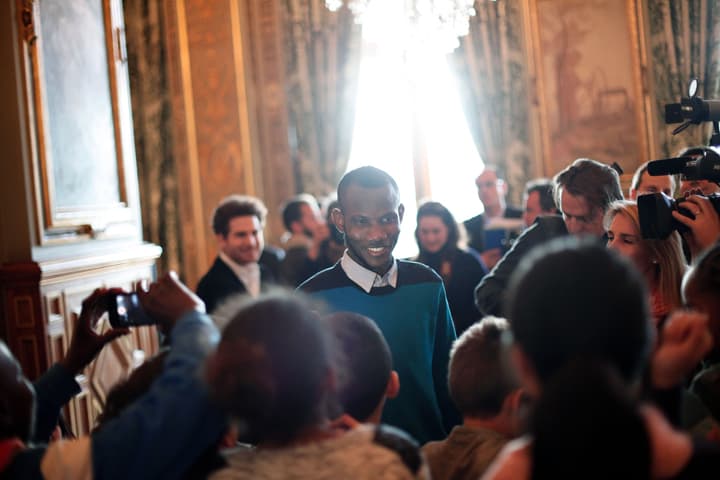 Europe is so on edge right now.  And in a way that is bigger than the Charlie Hebdo killings, as big as those are.  Years of immigration have not led to integration.  Unhappy native and immigrant populations are nervous, worried, angry.  Huge crowds march for unity.  Others march for separation, rejection.  We're talking today with two big thinkers with investments of past and future here.  Roger Cohen, whose Jewish family has walked the immigrant path.  And Tariq Ramadan, whose Muslim family has done the same.  This hour On Point:  Tariq Ramadan, Roger Cohen and Europe's future.
-- Tom Ashbrook
Guests
Roger Cohen, columnist for the New York Times. Author of the new book, "The Girl From Human Street: Ghosts of Memory in A Jewish Family." (@nytimescohen)
Tariq Ramadan, professor of contemporary Islamic studies at Oxford University. Author of "Islam and The Arab Awakening" and "The Quest for Meaning." (@tariqramadan)
From Tom's Reading List
New York Times: The Battle to Belong — "Never before have so many people been on the move. New opportunity, like a bright star, draws immigrants across the world. In every one of the past four generations my family has moved, hopping from Lithuania to what is now South Africa and on to Britain, Israel and the United States. Sometimes they have found success and happiness. But the other side of displacement, its black sun, is loss."
The Guardian: The Paris attackers hijacked Islam but there is no war between Islam and the west -- "The shootings have been described as an act of war. I can understand why some might characterise it that way. But they are wrong to do so, for isn't this exactly what the violent extremists such as Da'esh, so-called Islamic State, want? They want to say the west is at war with Islam, but if we are to take the action of marginal groups and use that as evidence that there is a war between Islam and the west, aren't we merely falling into a trap?"
New Yorker: Germany's Strange New Right Wing Meets Charlie Hebdo — "PEGIDA is small. The counter-demonstrations, again, have been bigger, and they have been passionate. But there are endless traps here. West Germans might use this as another moment to condescend to the East, as if the movement is only the East's problem; it is not, and rhetoric like that only contributes to Easterners' alienation. Spiegel pointed out that Dresden tends to attract neo-Nazis and right-wing nationalists in February, for the anniversary of the 1945 Allied firebombing, and wondered how their presence might play into thePEGIDA moment."
Read An Excerpt Of "The Girl From Human Street" By Roger Cohen
https://www.scribd.com/doc/252848749/Excerpt-From-The-Girl-From-Human-Street-By-Roger-Cohen
This program aired on January 19, 2015.