The Grateful Dead Comes Back
Resume
The Grateful Dead, reuniting. We look at the long strange trip of one of the most successful bands in history.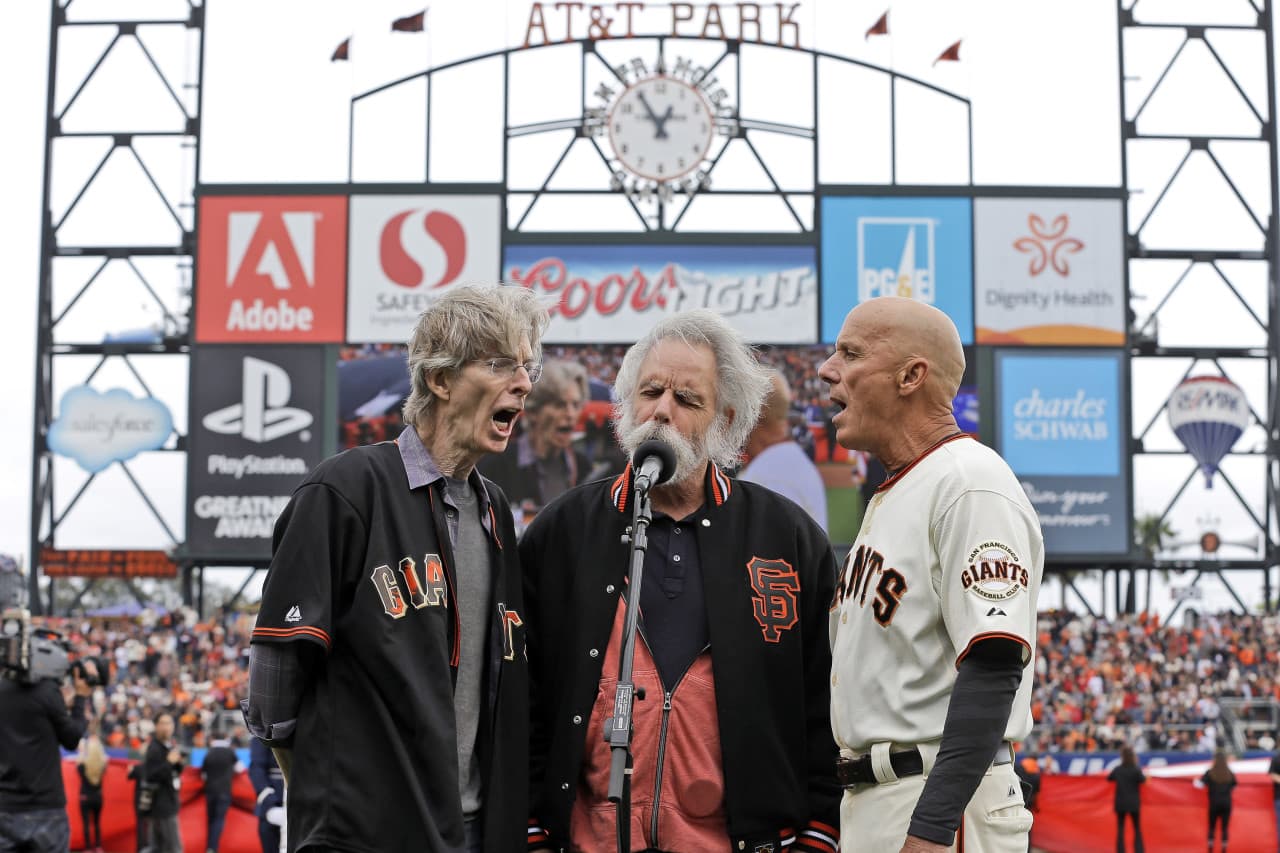 Huge news just out for Deadheads.  The Grateful Dead will play one more time, their last big blowout, in Chicago this summer.  A 50th anniversary finale, most guess.  And, of course, everyone will note what a "long, strange trip it's been."  It's more than that, says my guest Peter Richardson.  It's a classic American story of seeking rapture and utopia.  A deeper freedom.  He's out with a new telling of the story of the Dead.  And what a story.  This hour On Point:  a cultural history of the Grateful Dead.
-- Tom Ashbrook
Guest
Peter Richardson, lecturer in humanities and American studies at San Francisco State University. Author of the new book, "No Simple Highway: A Cultural History of the Grateful Dead."
From Tom's Reading List
San Francisco Chronicle: 'No Simple Highway: A Cultural History of the Grateful Dead' -- "No one who writes about the Dead and their music sympathetically can do so without some experience with psychoactive substances, and yet no one who wants to write about them coherently can afford to be tripping all or most of the time."
Billboard: Grateful Dead to Reunite, Jam With Trey Anastasio for Final Shows —  "In a match made in hippie heaven, Phish guitarist Trey Anastasio will join the four living original members of The Grateful Dead for three 50th-anniversary shows July 3-5 at Soldier Field in Chicago. The Dead's last performance with Jerry Garcia, who died in August 1995, was at the same 55,000-seat capacity venue on July 9, 1995."
Agence France-Press: Grateful Dead reunion delights senior US senator -- "Leahy said that both the Grateful Dead and Phish have promised him tickets, but that he would need to wait to see if the Senate schedule allowed him to head to Chicago. Leahy has kept his passion for music while maintaining an industrious schedule as a senator. A staunch liberal, Leahy has been key in fights to reform the immigration system, protect civil liberties and most recently to re-establish relations with Cuba. His seniority made him third in line of presidential succession until the rival Republican Party took control of the Senate this month."
Playlist
This program aired on January 20, 2015.