Shedding New Light On Lady Day
Resume
A meditation on the life and music of Billie Holiday. The lady who sang the blues.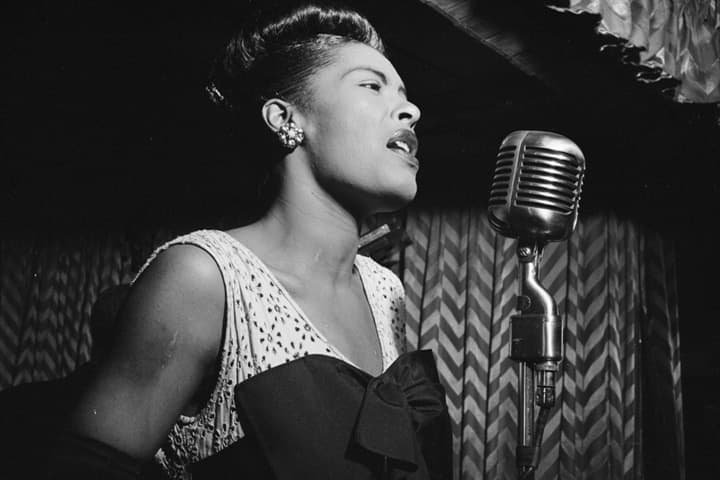 When Billie Holiday sang, it was like a soul opening up. Cautiously, enigmatically, powerfully. Her personal story – burnished and mythologized – had poverty and prostitution, racism, addiction, abuse, heartache. But in her music - says my guest today, jazz musician and scholar John Szwed – Billie Holiday was no victim.  She was a self-taught artist bringing a unique intimacy and emotion to song.  Breaking through to new terrain. This hour On Point: a meditation on the great Billie Holiday.
-- Tom Ashbrook
Guests
John Szwed, anthropologist and jazz scholar. Author of the new book, "Billie Holiday: The Musician and the Myth." Also author of "Alan Lomax" and "So What." Former professor of music and former director of the Center for Jazz Studies at Columbia University.
José James, contemporary jazz, blues and hip-hop artist His Billie Holiday tribute album, "Yesterday, I Had The Blues," was just released. (@josejamesmusic)
From Tom's Reading List
POLITICO Magazine: The Hunting of Billie Holiday — "One night, in 1939, Billie Holiday stood on stage in New York City and sang a song that was unlike anything anyone had heard before. 'Strange Fruit' was a musical lament against lynching. It imagined black bodies hanging from trees as a dark fruit native to the South. Here was a black woman, before a mixed audience, grieving for the racist murders in the United States. Immediately after, Billie Holiday received her first threat from the Federal Bureau of Narcotics."
Philadelphia Inquirer: Remembering Billie Holiday — "Lady Day's story often is told in terms of Baltimore (where she endured a young womanhood of physical and sexual abuse) and New York (where she was discovered and rose to world stardom). But for her, Philadelphia was a town of beginnings, betrayals, and second chances."
The Daily Beast: Happy 100th Birthday, Billie Holiday -- "She would have turned 100 on April 7. Of course, she didn't get anywhere close. She died in 1959 at the age of 44, wasted by years of heroin addiction, cirrhosis, and ultimately heart failure. But the medical report took no account of the hard life she'd lived, a life that included many bad choices—bad choices in men, bad choices about drugs and alcohol. But there was also hardship that she never asked for and was powerless to avoid as an African-American female artist in the first half of the last century. Indeed, the police hounded her on a possession rap right into the hospital, handcuffed her to the bed and put a guard at her door who was only removed one day before she died."
Read An Excerpt Of "Billie Holiday: The Musician And The Myth" By John Szwed
https://www.scribd.com/doc/260402685/Excerpt-From-Billie-Holiday-by-John-Szwed
Playlist
This program aired on March 31, 2015.