A Fast Track For The Trans-Pacific Partnership
Play
This article is more than 7 years old.
TPP. The Trans-Pacific Partnership is headed onto the fast track for a vote now. We'll look at the big trade-pact and big debate around it. Plus, the latest on the boat migrant crisis in Europe.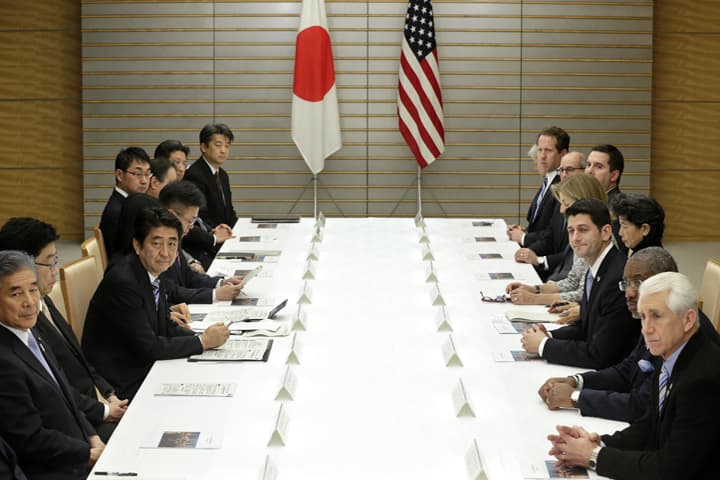 Americans have a lot of experience with trade deals and globalization. Think NAFTA and the rise of China and the exodus of US manufacturing jobs. Now the Obama administration is pushing its new Trans-Pacific Partnership, or TPP. New trade rules for a dozen nations around the Pacific. The White House says we've got to have it to prosper, to stay influential in the Pacific. Opponents, many of them Democrats, say no way. The rubber is hitting the road right now in Congress. It's a big deal. This hour On Point: American jobs, American power, and the Trans-Pacific Partnership.
-- Tom Ashbrook
Guests
Tim Fernholz, politics and economics reporter for Quartz. (@timfernholz)
Gordon Hanson, professor of economics at the University of California, San Diego. Director of the Center on Emerging and Pacific Economies.
Lori Wallach, director of Public Citizen's Global Trade Watch. (@wallachlori)
From Tom's Reading List
Quartz: Hillary Clinton explains the red flags for the left in the US fight over trade -- "Washington begins the week with some hope for the Trans-Pacific Partnership, an ambitious free trade deal that would span 12 countries, thanks to a bill ironed out by lawmakers from both parties that would give President Obama authority to finalize negotiations for a deal."
BuzzFeed News: Inside The White House's War On The Left Over Trade — "Unions, activists, and progressive lawmakers have united against the 'fast track' authority Obama seeks to put back into place — a provision that would allow the president to negotiate trade deals and give Congress a simple up-or-down vote. They also oppose the Trans-Pacific Partnership, the Asian trade deal that the administration believes would become a cornerstone of Obama's legacy. Another potential deal with the European Union has also rankled organized labor in the U.S."
The Nation: NAFTA on Steroids — "The TPP has been cleverly misbranded as a trade agreement (yawn) by its corporate boosters. As a result, since George W. Bush initiated negotiations in 2008, it has cruised along under the radar. The Obama administration initially paused the talks, ostensibly to develop a new approach compatible with candidate Obama's pledges to replace the old NAFTA-based trade model. But by late 2009, talks restarted just where Bush had left off."
European Boat Migrant Crisis Claims Hundreds Of Lives
James MacKenzie, chief Italian correspondent for Reuters. (@jmackreuters)
Reuters: Prosecutors blame captain for causing deaths in migrant shipwreck — "Prosecutors blamed the Tunisian captain of a fishing boat for causing the deaths of hundreds of migrants locked below decks when his vessel capsized in the Mediterranean, in the weekend shipwreck that has shocked Europe."
This program aired on April 21, 2015.