High Tensions In The South China Sea
Play
This article is more than 7 years old.
Showdown in the South China Sea as China pushes its claims and the US pushes back. We'll ask where this goes.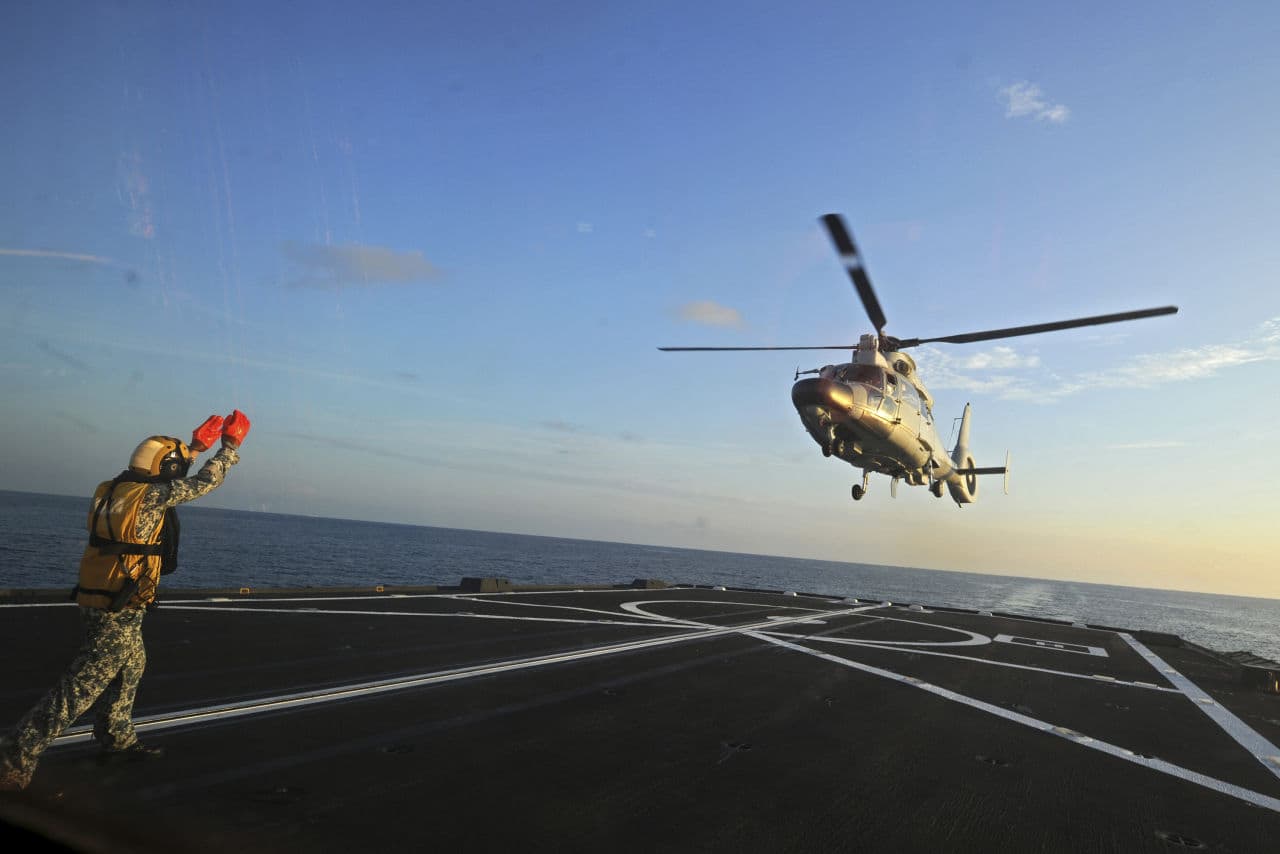 It's not easy for a great power to welcome a new great power on the world stage. When the US came up, Great Britain drifted down. Now China is rising, big time. And it's the United States that's trying to figure out how to deal. Latest venue: way down in the South China Sea. China is turning clumps of watery rocks into what they claim as Chinese islands. Turning sea into land. And warning the US to keep its distance. The US is saying no way. These are international waters. It's part of a bigger dance. A tricky, risky dance. This hour On Point: the US and China, jostling in the South China Sea.
-- Tom Ashbrook
Guests
Simon Denyer, China bureau chief for the Washington Post. (@simondenyer)
Mira Rapp Hooper, director of the Asia Maritime Transparency Initiative at the Center for Strategic and International Studies. (@mirarapphooper)
Patrick Cronin, senior director of the Asia-Pacific Security program at the Center for a New American Security. Co-author of "Cooperation from Strength: The United States, China and the South China Sea." (@pmcronincnas)
Jerome Cohen, co-director of New York University's US-Asia Law Institute.
From Tom's Reading List
Washington Post: Chinese military sets course to expand global reach as 'national interests' grow — "China said Tuesday that it plans to extend its global military reach to safeguard its economic interests, while defending its territorial claims at sea against 'provocative actions' by neighbors and "meddling" by the United States. A policy document setting out China's military strategy, issued by the State Council, or cabinet, underlined the dramatic growth of the country's defense ambitions — especially its naval ambitions — in tandem with its rapid economic rise."
The Wall Street Journal: China's Island-Building Poses Dilemma for U.S. — "China's refusal to curtail island-building in the South China Sea has sparked a debate in Washington between those who believe such muscle-flexing shouldn't go unchecked, and others who fear the wrong response could trigger a military confrontation or a new Cold War."
New York Times: Will China Close Its Doors? — "The slogan for the 2008 Beijing Olympics was 'Beijing Welcomes You.' Now, seven years later, a draft law targeting foreign institutions — including universities, museums, athletic and cultural groups, professional associations and all nonprofit social organizations established outside of mainland China — makes clear that Beijing has become much less welcoming."
This program aired on June 2, 2015.