Week In The News: Charleston Shooting, TPA Shuffle, Jeb Jumps In
Resume
Nine dead in a hate crime shooting in Charleston. Trade fight in Congress. Jeb is running for President. Our weekly news roundtable goes behind the headlines.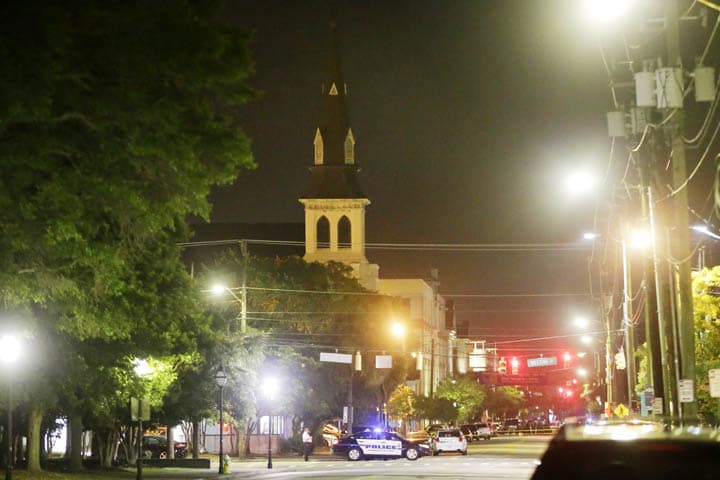 The regular news, and then the unbearable news this week. Out of Charleston. Nine killed at prayer. All black. A young white shooter confessing. A crime, authorities say, of hate. And a sickened nation asks, "Where's the progress? The path out of this?" Across the Atlantic, the Pope turns to look deeply at climate change and delivers a big, urgent encyclical. Says we must change to protect creation. We've got trade twists, Al Qaeda leaders killed, Hillary Clinton rallying, and Jeb Bush formally in the race for the presidency. This hour On Point: our weekly news roundtable goes behind the headlines.
-- Tom Ashbrook
Guests
April Ryan, White House correspondent and Washington Bureau Chief for American Urban Radio Networks. Author of the recent book, "The Presidency in Black And White." (@aprildryan)
John McCormack, senior writer at The Weekly Standard. (@mccormackjohn)
Jack Beatty, On Point news analyst. (@JackBeattyNPR)
From Tom's Reading List
Washington Post: In Charleston, the worst American traditions converge on one tragedy -- "The massacre in Charleston, S.C., on Wednesday night would appear to bring together a series of the most unfortunate American traditions and trends. Already declared a possible hate crime by local law enforcement and the U.S. Justice Department, it also involves a mass shooting inside a church that exists because of historical white resistance to treating black worshipers on equal terms — and a willingness to enforce those divisions with violence. That the shooting happened at Emanuel African Methodist Episcopal Church, a South Carolina institution founded in part by a man later hanged for planning a slave insurrection and led by a now-slain South Carolina state senator, the Rev. Clementa Pinckney, only adds to the complexity and extent of the tragedy."
Roll Call: House Passes Trade Promotion Authority Bill — "The House narrowly passed Trade Promotion Authority Thursday — the first step of many to resurrect President Barack Obama's trade agenda after his own party torpedoed a combined bill last week. The chamber voted 218-208 on TPA, which will give him the latitude to negotiate a 12-nation Pacific trade deal sought by most Republicans and a small number of Democrats."
The Weekly Standard: Clinton Boasts: I 'Stood Up' to Putin and 'Was in the Situation Room' When Bin Laden Was Killed — " Hillary Clinton's supporters have had a notoriously difficult time identifying a single significant achievement during her tenure as secretary of state, but during her 45-minute speech on Saturday, Clinton tried to name a few. 'I've stood up to adversaries like Putin and reinforced allies like Israel,' Clinton said. 'I was in the Situation Room on the day we got bin Laden.'"
This program aired on June 19, 2015.