The Path To Scrabble V-I-C-T-O-R-Y
Play
This article is more than 7 years old.
With guest host Michel Martin.
From the living room to world championships, Scrabble is fun—and fiercely competitive. We'll dig in.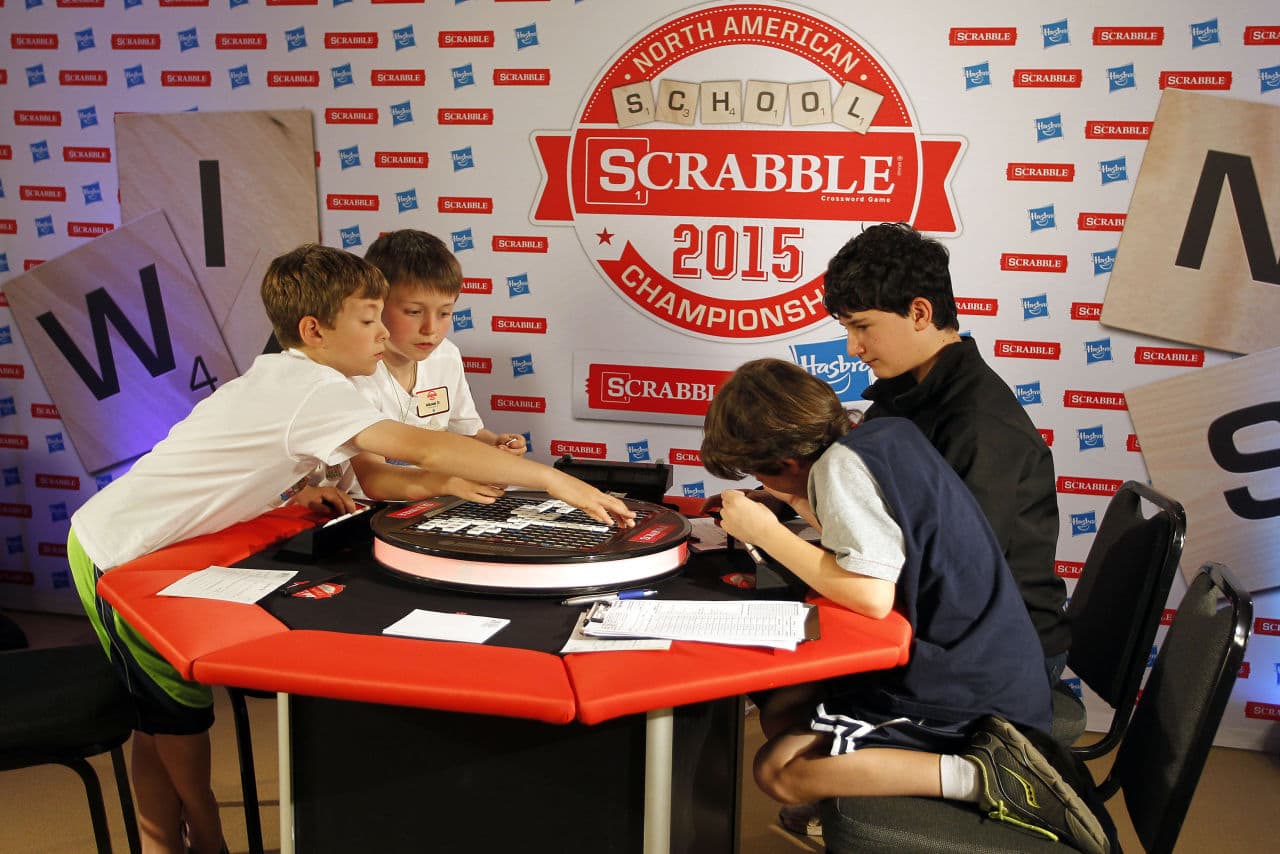 High-stakes negotiations, backroom deals, fisticuffs, even death threats? It is the world of competitive Scrabble. You heard me—Scrabble. The game you played on rainy days has a cut throat, competitive, obsessive side, where players memorize over a hundred thousand words, compete for thousands of dollars—and get so worked up over banned words they're willing to kill over them—or so they claim. Now the man who headed the National Scrabble Association for a quarter century is telling all. This hour On Point: digging deep into world of Scrabble.
-- Michel Martin
Guests
John D. Williams, Jr., author of the new book "Word Nerd: Dispatches from the Games, Grammar and Geek Underground." Former executive direction of the National Scrabble Association. Co-author of "Everything SCRABBLE."
Robin Pollock Daniel, one of the top-ranked Scrabble players in the world.
From The Reading List
The New Republic: Under a Spell — "If you play a lot of Scrabble, as I do with strangers and friends via my smartphone, reaching into my pocket like a pack-a-day smoker, then to play a great word—a killer word, a game-tilting whodathunkit word, a quantifiable bon mot—brings a waft of neurochemical bliss every time. Play this game enough, you start to see words not as units of language, per se, but as discrete ways to organize letters, molecules that structure otherwise unruly atoms, with a collocating power akin to poker hands. The joy of finding a sublime word in the alphabet soup—or, even better, cultivating your rack of letters and jockeying the board to set you up for that moment—is palpable, almost audible."
NPR News: Too Much 'Word,' Not Enough 'Nerd' In This Scrabble Story — "Like the game itself, Word Nerd has its ups and downs. Much of it somewhat tediously chronicles Williams's years of promoting the game through national and international tournaments and the National School Scrabble Program. It also spells out the loss of the job he loved, after the priorities of Scrabble's corporate owner Hasbro changed. Although Word Nerd features some of the same eccentric players introduced in Word Freak (including 'G.I. Joel' Sherman, so-called because of his gastrointestinal woes), Fatsis'sportraits are sharper."
Huffington Post: How To Win At Scrabble, According To Former Director Of National Scrabble Association — "When it comes to Scrabble chops, Williams says a 'good working vocabulary' and spelling abilities are no-brainers. But, he says, 'people often don't realize it's very much about math and spatial relationships as well. One has to assess the board, calculate all the possibilities in terms of both points and positioning, that sort of thing. And remember, a good Scrabble move is not always about the most points.'"
Read An Excerpt Of "Word Nerd" By John D. Williams, Jr.
https://www.scribd.com/doc/270713636/Excerpt-From-Word-Nerd-By-John-D-Williams-Jr
This program aired on July 7, 2015.