New Science On Same-Sex Attraction
Resume
What makes people gay? Evidence is mounting for nature over nurture. We'll look at the latest research on human sexuality.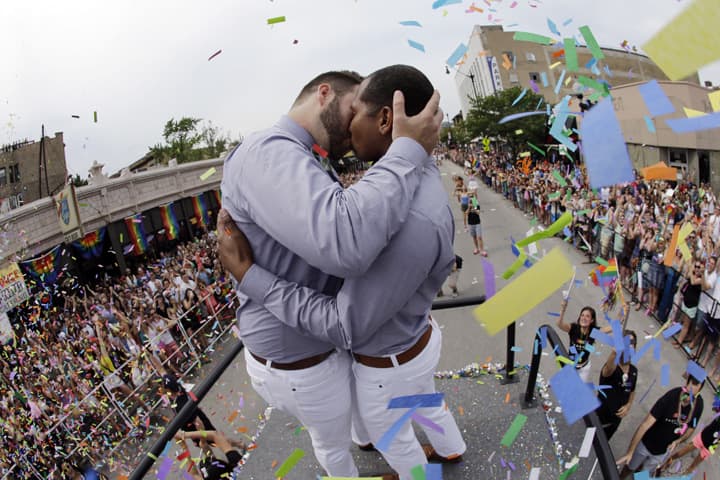 Ten years ago, reporter Neil Swidey with the Boston Globe set out to learn everything known – nature, nurture, the works - about why some people are gay. He wrote up his summary, and it was one of the most-read pieces the paper ever put online. For themselves, a friend, a child, a sibling — people want to know. The ten years since have only raised the profile of gay and lesbian Americans. Their rights. Their reality. The fluidity of sexuality. And Swidey has come back with an update on the latest research. This hour On Point: What makes people gay? What we know now.
-- Tom Ashbrook
Guests
Neil Swidey, reporter for the Boston Globe Magazine. (@neilswidey)
Lisa Diamond, psychologist and professor of developmental psychology and health psychology at the University of Utah. Author of "Sexual Fluidity: Understanding Women's Love and Desire." (@lisadiamondlab)
Qazi Rahman, senior lecturer in psychology at King's College, London. Researches on the biology of sexual orientation and LGBT mental health. Author of "Born Gay."
From Tom's Reading List
Boston Globe Magazine: What makes people gay? (An update) -- "The genetic explanation has always had the burden of overcoming the evolutionary paradox. Because gay men produce fewer offspring, why wouldn't a trait for homosexuality have been wiped out by now in the Darwinian process of increasing fitness? Then again, the gay population is small, and scientists have suggested multiple explanations for why homosexuality has endured."
The Guardian: 'Gay genes': science is on the right track, we're born this way. Let's deal with it. — "Some writers tend to wave off the scientific evidence by urging us to look to the history of sexuality or claim that homosexuality is a social construction (cue Michel Foucault and the like). But these accounts are mere descriptions at best and not scientific theories. Social constructionist accounts generate no hypotheses about sexual orientation and are not subject to systematic testing."
The Daily Beast: The Problematic Hunt for a 'Gay Gene' — "What is it that we're looking for when we seek out the elusive gay gene? At its best, the idea that sexual orientation has a genetic influence functions as a sharp rhetorical strategy in a homophobic world that demands proof that homosexuality is not 'a choice' in order to recognize its validity."
This program aired on August 24, 2015.