Martin O'Malley And The Race To 2016
47:41
Play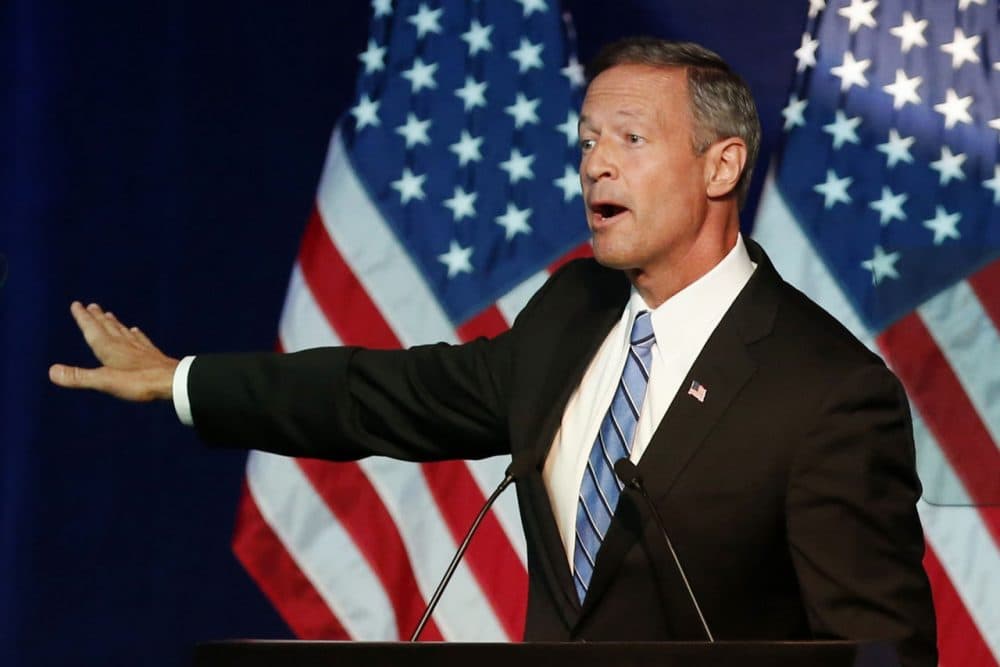 This article is more than 5 years old.
We talk to Martin O'Malley, former Maryland governor and now Democratic candidate for the presidency. He's been tough on Trump — and on his fellow Democrats.
Former Baltimore mayor and Democratic Maryland governor Martin O'Malley got into the 2016 race for the White House to go left of Hillary Clinton with more executive experience. Then came Bernie Sanders, going left of O'Malley and burning very bright. Now O'Malley's single digits in the polls in Iowa, but he's out there swinging. Against "racist hate," he says, in the GOP. Against a rigged campaign schedule in the Democratic Party, he says. Rigged for Hillary. And Sanders? He calls him a "protest candidate." This hour on On Point: a conversation with Democratic contender for the U.S. presidency, Martin O'Malley.
- Tom Ashbrook
Guests
Martin O'Malley, former Maryland governor and now a Democratic presidential candidate. (@MartinOMalley)
Lisa Lerer, a national political reporter for the Associated Press. (@llerer)
Howard Fineman, global editorial director of the AOL Huffington Post Media Group and a news analyst for NBC. (@howardfineman)
Tom's Reading List
Washington Post: O'Malley Blasts Democratic Leaders For 'Rigged' 2016 Debate Process - "Former Maryland governor Martin O'Malley effectively declared war on the Democratic Party leadership here Friday, blasting the party for what he called a 'rigged' debate process in the presidential nominating contest and demanding it sanction additional debates."
New York Times: Martin O'Malley Calls For Criminal Justice Overhaul Amid Racial Tensions - "Martin O'Malley, the former Maryland governor, gave a sweeping criminal justice reform speech at the event, using the appearance as a chance to regain whatever standing he may have lost after "Black Lives Matter" protesters interrupted him at the Netroots Nation conference in Nevada a few weeks ago."
Wall Street Journal: Jeb Bush Takes Gloves Off, Attacks Donald Trump Directly - "After weeks of enduring rival Donald Trump's attacks, Mr. Bush on Tuesday released an Internet video aimed at trying to muscle his way back to the front of the pack and undermine the celebrity businessman's fitness to be the GOP standard-bearer."
Washington Post: A Summer Of Clinton Stumbles Gives Way To An Uncertain Fall For Democrats - "Clinton's standing has been eroded both by her own shaky handling of the e-mail controversy and by the populist energy fueling the challenge of Sen. Bernie Sanders (I-Vt.). Her weakened position in the polls has stoked talk about a possible late entry from Vice President Biden, which could dramatically change the dynamic of the race."
This program aired on September 2, 2015.