The Republican Party After Boehner Bows Out
Resume
The GOP after John Boehner. We'll talk with Republicans on Capitol Hill and beyond.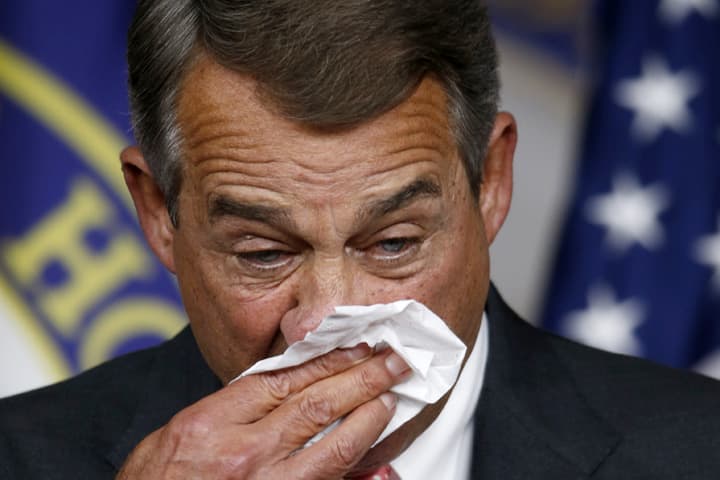 So John Boehner is headed out as Speaker of the House. Conservative critics within his own Republican party are cheering his resignation. Convinced and angry that he was never tough enough, never hardline enough, in spearheading hard right demands and confronting Democrats. Are they unrealistic? "Absolutely they're unrealistic!" said Boehner yesterday, warning of "false prophets" and frenzy. But he's headed out. Now the GOP will look to what it really wants to be and to champion. This hour On Point, the Republican party, after John Boehner.
-- Tom Ashbrook
Guests
Eliana Johnson, Washington editor for the National Review. (@elianayjohnson)
Molly Ball, national political correspondent for the Atlantic. (@mollyesque)
Steve LaTourette, president of the Main Street Partnership. Former Republican US Representative from Ohio's 14th Congressional District. (@latourette)
U.S. Rep. Walter Jones, Jr. (R-NC), Republican Congressman serving North Carolina's 3rd Congressional District. (@RepWalterJones)
From Tom's Reading List
National Review: Boehner Resigns as House GOP Turns Its Eyes to Kevin McCarthy — "Both men, House speaker John Boehner and House majority leader Kevin McCarthy, stood behind the pope on Thursday as he prepared to address a joint session of Congress. Boehner cried; McCarthy beamed. The external contrast reflects a deeper difference between the two most powerful Republicans in Congress. McCarthy is social, upbeat, and optimistic. Boehner, as recently as last week, characterized his job this way: 'Prisoners learn how to become prisoners, all right?'"
The Atlantic: John Boehner's Last Deal — "Who did John Boehner represent? Conservatives thought he was a sellout. Liberals thought he was a lightweight. His own deputies (first Eric Cantor, then Kevin McCarthy) disrespected him; his caucus was totally out of his control. He didn't have any particular juice back home in Ohio. If he had a constituency at all, it was the ever-more-powerless Beltway Establishment, its own isolated and isolating club. For a man whose position—speaker of the House—bespoke power, he often seemed like the loneliest man in American politics."
Washington Post: What John Boehner told me the night before he said he was quitting -- "About 14 hours later, in a morning meeting Friday, Boehner announced his coming retirement, stunning many of his colleagues. If they had seen him Thursday at twilight, vividly remembering a pope's simple request, maybe they wouldn't have been that surprised. Here was a man strikingly at ease after months of tumult in his ranks, a man who said he felt blessed. We didn't get the scoop, but we sensed something had changed. Boehner was at peace."
This program aired on September 28, 2015.