American Unions And A Steelworker Lockout
Resume
Twenty two-hundred union steelworkers in six states locked out since August. We'll look at the last-stand showdown, and the future of work and wages in this country.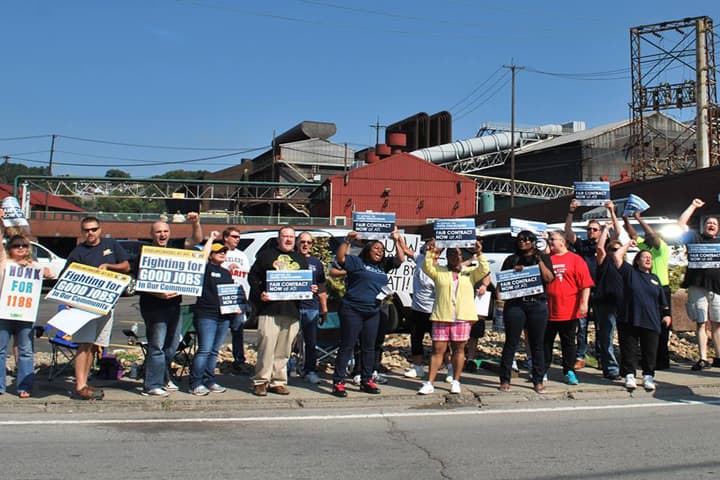 For two years, steelworkers in western Pennsylvania worked mountains of overtime, pushing to open a huge new state-of-the-art steel plant for Allegheny Technologies. Then in August, Allegheny locked them out. The company wanted big concessions in wages, health care coverage, retirement. The workers' union, the United Steelworkers, said no. Now it's getting cold. The workers are still locked out, almost four months later. And getting desperate. The company says it's necessary to compete. The workers say it's not. This hour On Point, a dramatic lockout, and the future of American wages.
-- Tom Ashbrook
Guests
Steven Greenhouse, visiting researcher at the Russell Sage Foundation. Former labor and workplace reporter for the New York Times. Author of "The Big Squeeze." (@greenhousenyt)
Kate Bahn, economist at the Center for American Progress. (@LipstickEcon)
Matthew Slaughter, dean of the Tuck School of Business at Dartmouth College, where he is also professor of international business. (@MattJSlaughter)
Tom Conway, international vice president of United Steelworkers, where he's overseen bargaining at Allegheny Technologies.
From Tom's Reading List
New York Times: In Pennsylvania, a Steel Mill and Its Workers at a Crossroads -- "As unions have weakened in recent decades, more corporations have turned to lockouts to wring givebacks from their workers. In this latest showdown, Allegheny has taken on the nation's biggest, most combative industrial union. If the steelworkers lose, it could prompt another wave of me-too concessions and represent a further humbling of organized labor just as it was starting to gain ground on other fronts."
Pittsburgh Post-Gazette: Allegheny Technologies mill reaches pre-lockout yield -- "Health care benefits for current employees, benefits for future employees, use of outside contractors and work schedules are the main issues in negotiations, where little progress has been made. The company locked out about 2,200 union workers Aug. 15 after failing to negotiate a new contract to replace one that expired June 30. The lockout affects 12 plants in six states, including the Alle-Kiski Valley and Midland, Beaver County."
The Wall Street Journal: U.S. Wages Show Signs of Breaking Out — "American workers are starting to see distinct wage growth after years of tepid gains, signaling that a tightening job market may be putting pressure on employers to sweeten pay packages. The gains could give Federal Reserve officials more confidence to begin raising short-term interest rates starting this month after holding them near zero for seven years."
This program aired on December 7, 2015.