Will Data Help Close The Gender Pay Gap?
Play
This article is more than 7 years old.
The gender pay gap is closing, but it's still got a long way to go. We look at big, new, innovative efforts to get women and men the same pay for the same job.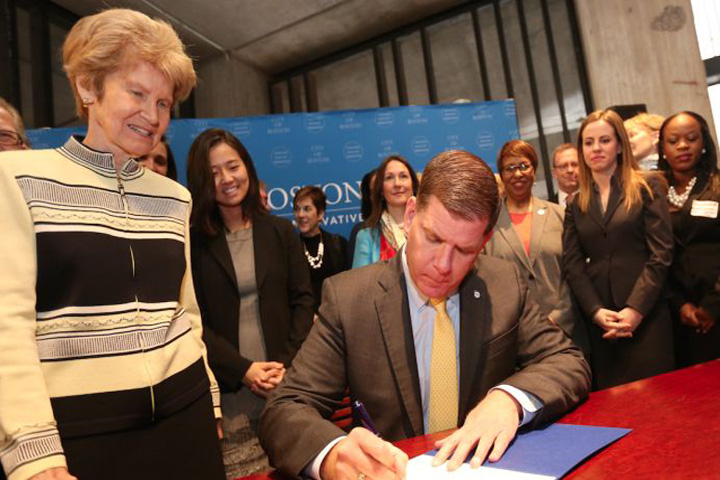 You can't argue that women don't deserve equal pay for equal work. And yet, we've got a persistent gender gap in pay. Seventy-nine cents on the dollar for women says the Census Bureau. Better for some. Worse for others. You can find all kinds of reasons, but a new wave of innovators is saying 'let's just close the gap." They're using new data, and new approaches to power, and more to get that done. This hour On Point, a new push on the gender wage gap in America.
-- Tom Ashbrook
Guests
Kate Bahn, economist focused on labor and gender at the Center for American Progress. (@LipstickEcon)
Natasha Lamb, director of equity research and shareholder engagement at the investment firm, Arjuna Capital, where she is also a portfolio manager. (@nllamb)
Evelyn Murphy, co-chair of the Boston Mayor's Women's Workforce Council and President of the Wage Project. Former Massachusetts Lt. Gov.
From Tom's Reading List
The Atlantic: One City's Quest to Erase the Gender Pay Gap — "Women make an average of 77 cents for every dollar a man makes on the job. And, while some Washington lawmakers want to address that gap via legislation, the city of Boston is trying a different method: a voluntary city compact, with specific practices that participating companies can implement."
Seattle Times: Amazon says there's no gender or ethnic pay gap in its ranks — "Amazon.com said Wednesday that there's no gender or ethnic imbalance in how it pays its employees, heading off pressure from activist investors who wanted the company to prepare a detailed report on the issue. A recent review of its 2015 compensation showed that women earned 99.9 cents for every dollar men earned in the same jobs, the company said. Minorities, it added, make 100.1 cents for every dollar made by white staffers in the same occupations."
Forbes: Meet The Woman Investor Pushing Amazon, Google, And More To Close Gender Pay Gap — "Within 24 hours last week, Amazon.com and Expedia, Inc. — two of the largest internet companies in the world — both announced their intentions to close the gender pay gap GPS +1.31% among their employees. Amazon, in fact, said they'd essentially closed it already, paying women 99.9% of what men working for the e-commerce giant make. Expedia, for its part, committed to disclosing its gender pay equity policies and goals by October."
This program aired on March 30, 2016.