Global Trade And The New Panama Canal
46:04
Play
This article is more than 4 years old.
The new, wider, deeper Panama Canal is open for business. We'll look at the ripples.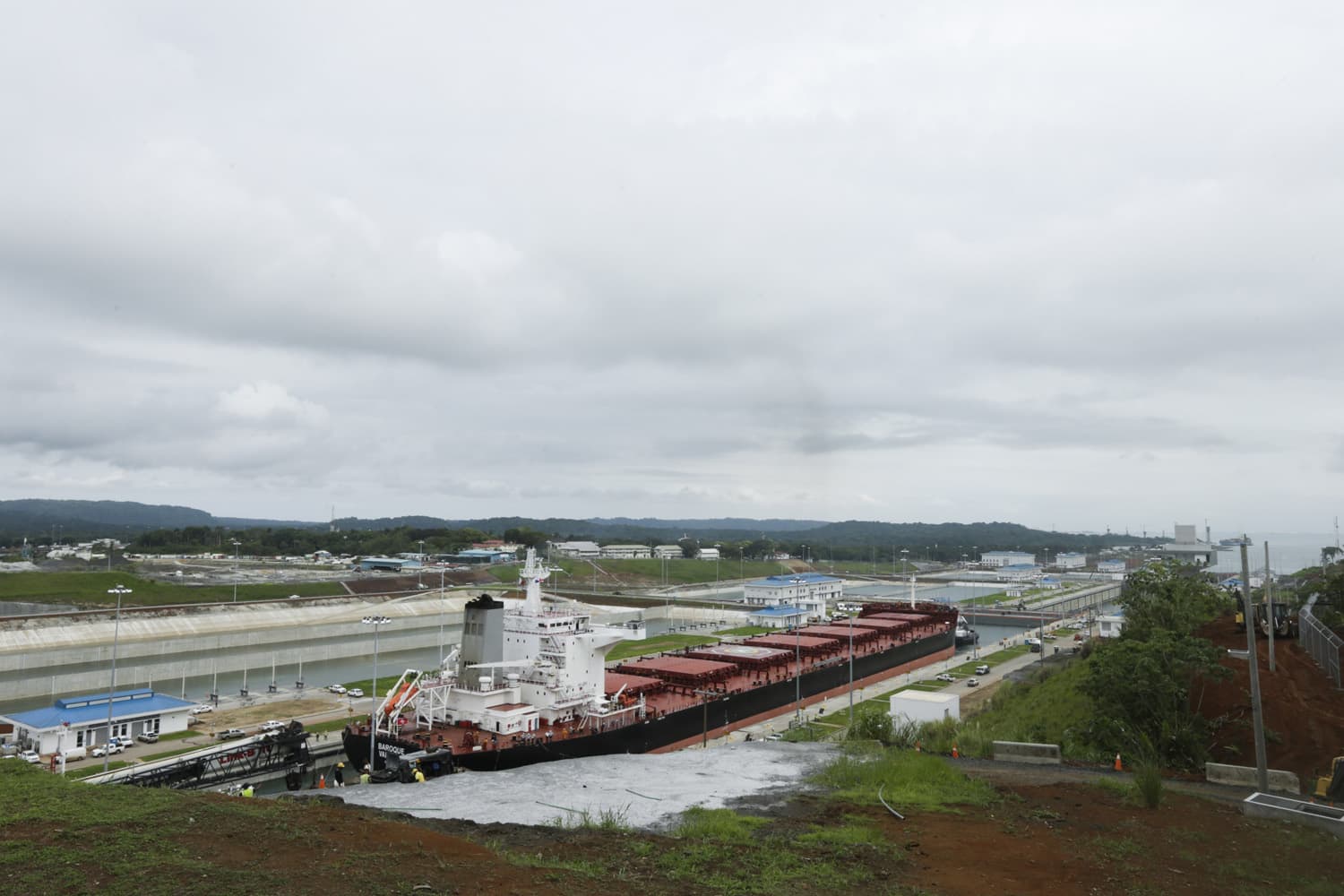 An expanded Panama Canal opened for business yesterday with a giant Chinese cargo ship making its way from the Atlantic to the Pacific. The new canal formation offers bigger locks for bigger ships – the so-called neo-Panamax class container ships. If it works, those ships and their capacity have big implications for ports and products, power and money. If it doesn't – and there are concerns about the design and the health of global trade – that's another story.  This hour On Point, the newly-expanded Panama Canal. -- Tom Ashbrook
Guests
Walt Bogdanich, assistant editor on the investigations desk of the New York Times.
Ana Graciela Mendez, Panamanian journalist. Worked on the New York Times' investigation into the Panama Canal extension. (@agMendezPty)
Paul Bingham, port and trade economist with the Economic Development Research Group, Inc.
Jim Newsome, President and CEO of the South Carolina Ports Authority (@jnewsome3)
From Tom's Reading List
New York Times: The New Panama Canal: A Risky Bet — "For more than 100 years, the canal has been a vital artery nourishing the world economy, a testament to American engineering and one of the signature public works of the 20th century. The new locks, built by Panama without help from other governments, were sold to the nation and the world as a way to ensure that the canal remained as much of a lifeline in the hyperglobalized 21st century as it was in the last."
Los Angeles Times: $5.4-billion expansion of Panama Canal could reshape world trade routes -- "The test of the new locks this month offered a glimpse into the canal's future, which begins this Sunday with the inauguration of a deeper, wider Panama Canal that can handle twice as much cargo."
The Wall Street Journal: The Panama Canal Expands -- "The giant Panama Canal expansion opens June 26 amid much fanfare and one of the worst shipping industry slumps ever. While it won't do anything to help the dire state of the industry near-term, the changes are critical to Western trade in the long run."
This program aired on June 27, 2016.