Best Books: Summer 2016
Play
This article is more than 6 years old.
"The Girls" "Some Possible Solutions" "The Sunlight Pilgrims"-- we're talking best summer reads of 2016.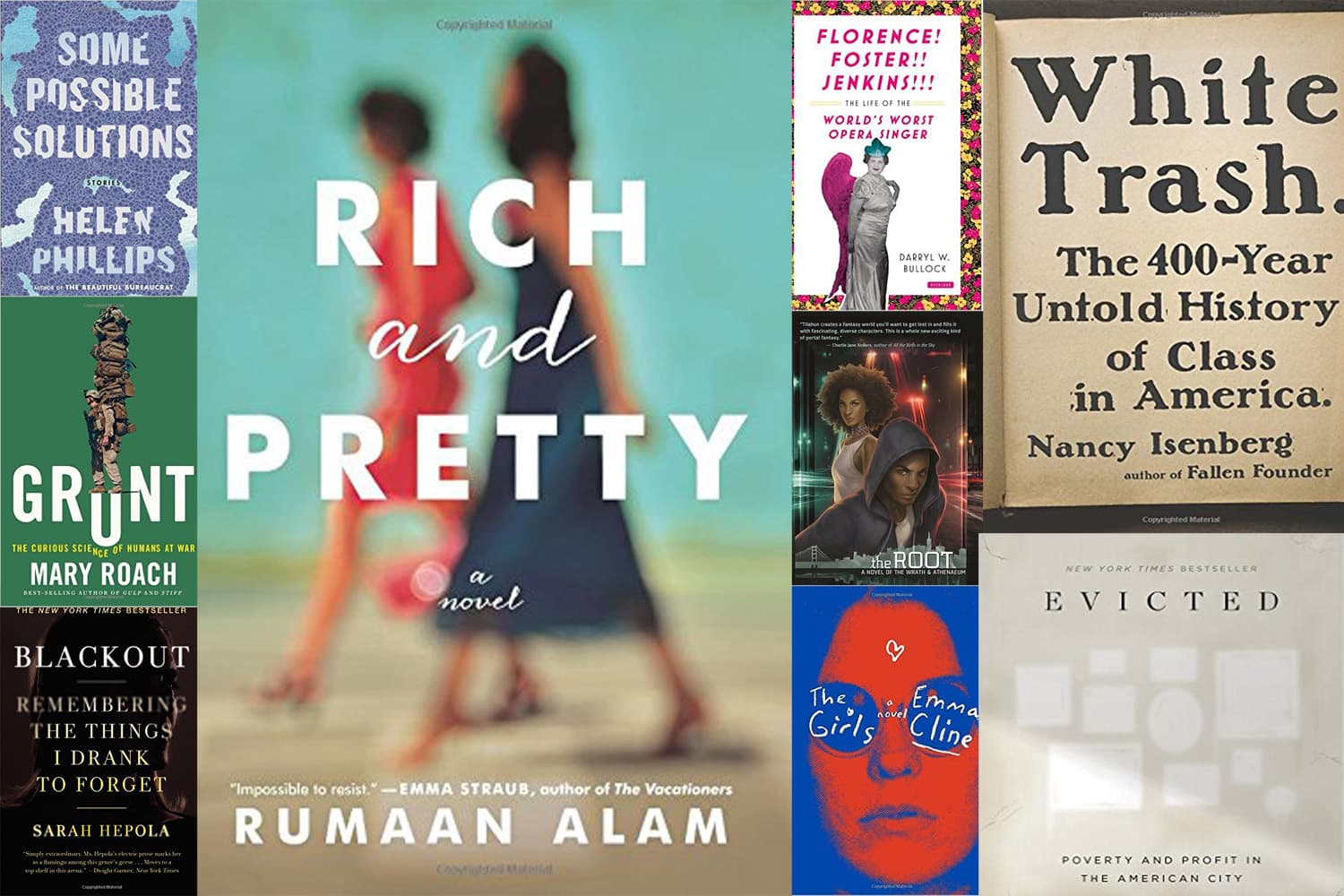 Ok, it's July. Full-on summer. There's lawn-mowing and lemonade-making and hot days ahead. And, if you're lucky and inclined, reading. Summer reading is a little different. A little slower maybe  Languid. Or maybe reading in great, delicious chunks because – again, if you're lucky – you've got the time. We've got recommendations for your reading list this summer. On good friends, cult life, Paris drinking, awful singing. This hour On Point, great summer reads, 2016. — Tom Ashbrook
Guests
Jaime Green, managing editor of Google Play Books and literary critic. Host of the podcast, The Catapult. (@jaimealyse)
Christin Evans, owner of the Booksmith, an independent bookstore in San Francisco, CA. Helps manage Keplers Books in Menlo Park, CA. (@christinevans)
Tony Norman, columnist and book review editor at the Pittsburg Post-Gazette. (@TonyNormanPG)
From Tom's Reading List
Pittsburgh Post-Gazette: Book review: Divisions along class lines have always existed in America — "Much has been said and written in recent years about the growing wealth disparity, the widening gap between rich and poor, the downward pressure on the middle class. But is the phenomenon new? Nancy Isenberg thinks not."
Washington Post: 37 Books We've Loved So Far in 2016 — "As summer approaches, here are some of our favorite reads – from thrillers to literary fiction, memoir, science and politics. And 10 novels we're looking forward to."
NPR Books: Pack These Pages: Three Must-Reads For Summer — "In honor of summer and our hope for some leisurely reads, we've been talking to booksellers across the country — and they have a lot of suggestions. So imagine your favorite summer reading spot, and get ready to 'Pack These Pages.'"
Tony Norman's List
"Underground Airlines" by Ben H. Winters
"The Sunlight Pilgrims" by Jenni Fagan
"White Trash: The 400-Year Untold History of Class in America" by Nancy Isenberg
"The Second Life of Nick Mason" by Steve Hamilton
"Invisible Man, Got the Whole World Watching: A Young Black Man's Education" by Mychal Denzel Smith
"Before the Fall" by Noah Hawley
"Four Later Novels" by Elmore Leonard
"The Nordic Theory of Everything: In Search of a Better Life" by Anu Partanen
"The Girls" by Emma Cline
"Florence! Foster! Jenkins! The Life of the World's Worst Opera Singer" by Darryl W. Bullock
"The Fireman" by Joe Hill
"Kill 'Em and Leave: Searching for James Brown and the American Soul" by James McBride
"Terror in the City of Champions: Murder, Baseball, and the Secret Society that Shocked Depression-Era Detroit" by Tom Stanton
Christin Evans' List
"Evicted" by Matthew Desmond
"Girls & Sex" by Peggy Orrenstein
"Blackout" by Sarah Hepola
"White Rage" by Carol Anderson
"Beast of No Nation" by Uzodinma Iweala
"Modern Lovers" by Emma Straub
"Sweetbitter" by Stephanie Danler
"The Crow Girl" by Erik Axl Sund
"The Root" by Na'amen Gobert Tilahun
"Mothering Sunday" by Graham Swift
Jaime Green's List
"Rich and Pretty" by Rumaan Alam
"Grunt" by Mary Roach
"Shrill" by Lindy West
"Some Possible Solutions" by Helen Phillips
"Another Brooklyn" by Jacqueline Woodson
"Little Labors" by Rivka Galchen
"Playing Dead" by Elizabeth Greenwood
"I Contain Multitudes" by Ed Yong
"The Sunlit Night" by Rebecca Dinerstein
"Moo" by Jane Smiley
This program aired on July 1, 2016.