These Third Party Candidates Want To Be More Than Just 'Spoilers'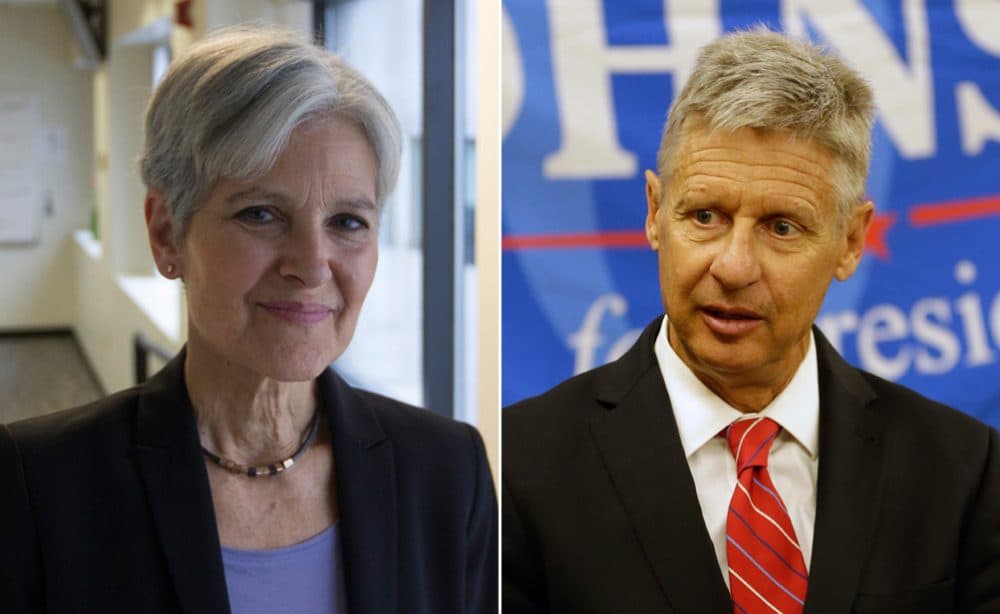 This article is more than 4 years old.
Sign up for our Week in the News Newsletter Here!
Former New Mexico Gov. Gary Johnson and Massachusetts physician Dr. Jill Stein are both running for president in 2016. They've both run before — for the Libertarian and Green parties, respectively — in 2012, and both hope to prove to be more than just the proverbial "spoilers" in the general election this November.
"Democracy is not what we don't want," Stein told On Point host Tom Ashbrook in an interview Wednesday. "Democracy needs an affirmative agenda."
Stein and Johnson both appeared as guests on NPR's On Point on Wednesday, and provided insight into their campaigns, platforms and vision for the country as presidential candidates.
---
On The Federal Government's Role In Daily Life
Johnson: "I think most of America recognizes that smaller government is a good thing ... Does anyone really not believe that government could be 20 percent more efficient?"
Stein: "I sympathize with the notion that people don't trust government and that there is fear and loathing out there. It's really important that we create a new kind of government that is not controlled by the corporations and the big banks."
On The Second Amendment
Johnson: "I do support the Second Amendment. Should we be open to a discussion on how we keep guns out of the hands of the mentally ill? Yeah we should be. We should also be open to having a conversation on how to keep guns out of the hands of would-be terrorists."
Stein: "I do not challenge the Second Amendment, I'm not looking to do away with it. But I am looking to implement common sense gun laws so that we can reign in this epidemic of violence."
On The Trans-Pacific Partnership And Free Trade
Johnson: "I am against crony capitalism ... Unfairly, I think the majority of Americans equate crony capitalism and free trade as one and the same, when in fact they are opposites ... Free trade is the way to really bring the world together ... Trans Pacific Partnership? Is it perfect? Well, no, but it absolutely advances free trade."
Stein: "NAFTA is sending our jobs overseas, and the Trans-Pacific Partnership."
On Being Seen As A "Spoiler Candidate" In The General Election
Johnson: "We wouldn't be doing this if we didn't think we had an opportunity to win. I'm running because there is no representation for what is coming out of my mouth ... I refuse to believe that my candidacy has a negative impact on this election."
Stein: "Democracy is not what we don't want. Democracy needs an affirmative agenda. We don't have to split the vote. We have the numbers and the power to flip the vote. Let's stand up with the courage of our convictions. The moment we do, we're unstoppable."