North Carolina's Senate Race Could Hinge On Presidential Candidates
08:43
Play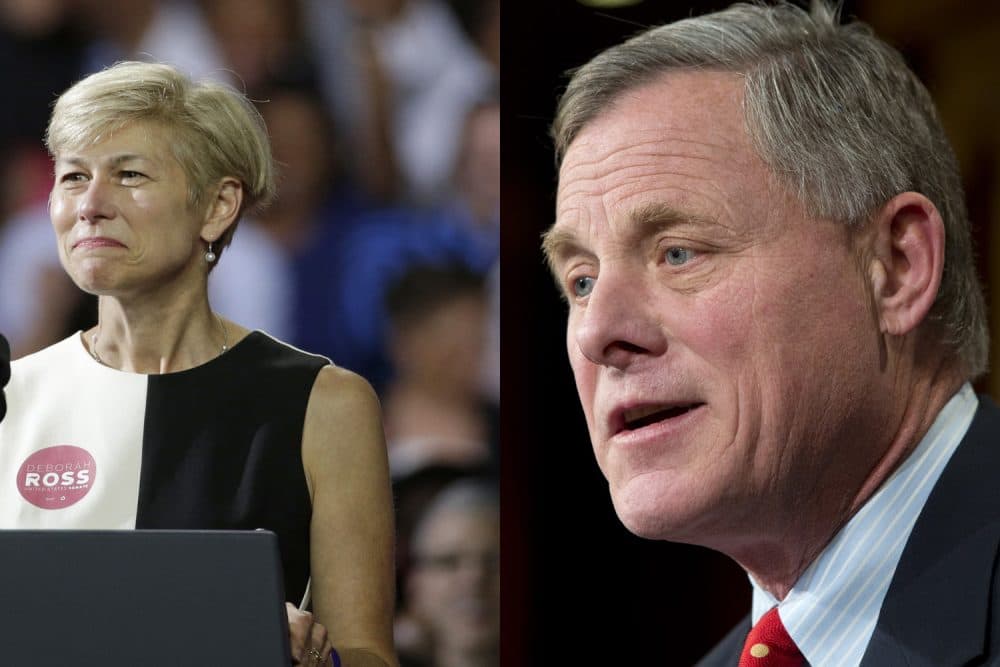 This article is more than 4 years old.
The U.S. presidential election is less than nine weeks away, and the historically unpopular presidential candidates at the head of each of the major political parties could bring down the rest of their respective party tickets.
With former Secretary of State Hillary Clinton and her Republican challenger, celebrity businessman Donald Trump, regularly scoring at record lows in general unpopularity, trustworthiness and more in national polls, U.S. Senate and U.S. House candidates around the country are seeking to tie their opponents to the presidential candidates in an attempt to gain an upper hand in close races.
The race for North Carolina's U.S. Senate seat is one such race where presidential ambitions could have an impact on the November finish line. Senator Richard Burr (R-NC), a popular two term incumbent from the increasingly purple Tar Heel State, is facing an unexpected challenge from former State Rep. Deborah Ross (D-NC). Recent polls have shown Burr leading Ross by an average of 2.2 points, with a few showing Ross in a small lead.
"Ever since I launched this campaign last fall, I've been focused on the people of North Carolina," Ross told On Point guest host John Harwood in an interview Monday. "I think that Donald Trump has made his mark in this country and in North Carolina, and his candidacy has made it much easier for Hillary Clinton to win in North Carolina."
But Burr — known in his state for attentive constituent service work — isn't giving up on the race just yet.
"Deborah Ross would like to do nothing but attack the Senator for the good work he's done for this state," Paul Shumaker, a senior strategist for Sen. Burr's re-election campaign, told Harwood in an interview Monday. "She has a very strong record of being weak."
And even though recent polls show Clinton putting in a strong effort — and investing a considerable amount of time and money — in North Carolina, Shumaker said he feels the increased national attention on his state will drive voters "in the middle" to split their tickets and vote for Clinton and Burr at the same time.
"At the end of the day, if you want to make the argument that Clinton benefits by Trump and that she's the likely winner, it's very easy to make the argument that voters in this state are gonna want a Senator who can keep an eye on her," Shumaker said.
This segment aired on August 29, 2016.