The Global Race To Stop And Cure Zika
Resume
With guest host John Harwood.
Forty one cases confirmed in Singapore. Calls to test all blood donations in the U.S. The latest global efforts to stop Zika.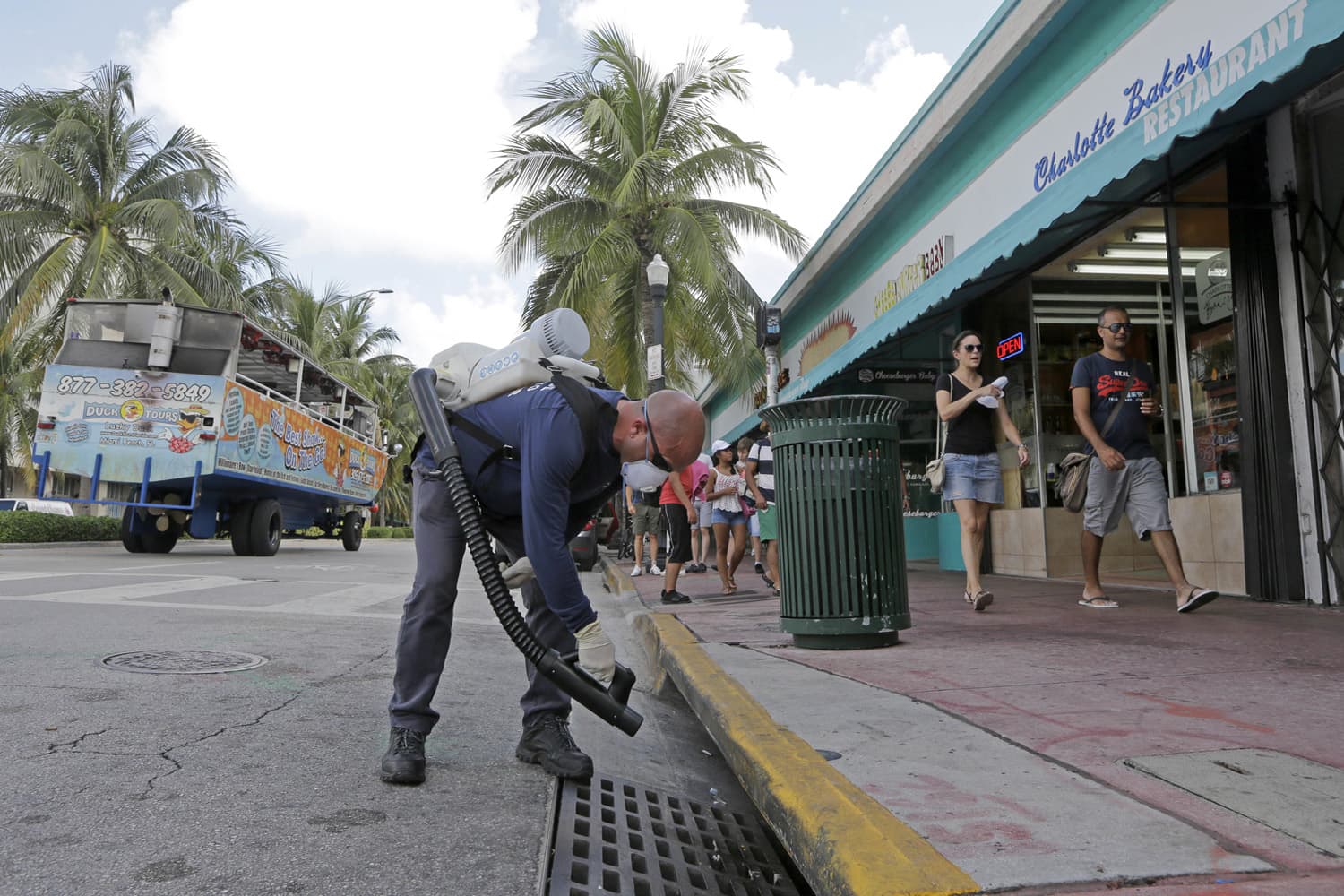 The more we learn, the more we know the Zika crisis is not receding. Dozens of cases now confirmed in Singapore. Evidence that the virus damages adult brains, not just fetal or infant ones. Transmission by people who don't display symptoms. More than 2,500 cases in the continental U.S. We'll talk to the US Surgeon General – and other experts - about what's next. This hour On Point, how can we protect ourselves from Zika? — John Harwood
Guests
Betsy McKay, senior writer covering global health for The Wall Street Journal. (@betswrites)
Dr. William Schaffner, chairman of the department of preventive medicine at Vanderbilt University, where he also is a professor in the division of infectious diseases.
Dr. Vivek Murthy, Surgeon General of the United Sates. (@surgeon_general)
Dr. David Heymann, professor of infectious disease epidemiology at the London School of Hygiene and Tropical Medicine. Chair of the Emergency Committee on the Zika Virus at the World Health Organization. Head of the Center on Global Health Security at Chatham House.
From The Reading List
The Wall Street Journal: Zika Virus Travel Caution Extends to All of Miami-Dade County — "Federal health officials advised pregnant women and their partners on Friday to consider putting off travel to any part of Miami-Dade County after the state confirmed a second area of mosquito-borne Zika transmission covering some of the most alluring tourist areas of Miami Beach."
New Yorker: The Race For A Zika Vaccine — "Even the most cautious estimates of harm rise with the incidence of infection. Teams of scientists, including Rehen's, are hunting for medicines that might work against Zika. And public-health experts have been dispatched to eradicate reservoirs of breeding mosquitoes. Those efforts might help—but there's little that can stop an epidemic in its tracks as effectively as a vaccine."
STAT News: Can scientists keep pace with Zika to develop a vaccine? — "If you're reading this, you probably know what Zika is, how it works in the body (at least what science understands at the moment), and how quickly it's spread throughout South and Central America (and that it's now arrived in Florida and is spreading through local transmission). What you probably don't know is just how fast epidemiologists and vaccine manufacturers are working to create and test a vaccine for Zika. And that DNA vaccines and horses are involved. (Without giving too much away, horse involvement has to do with their susceptibility to West Nile virus.)"
This program aired on August 30, 2016.