Paying Tribute To Mexican Musical Hero Juan Gabriel
Resume
We look back on the huge impact of Mexican pop icon, Juan Gabriel.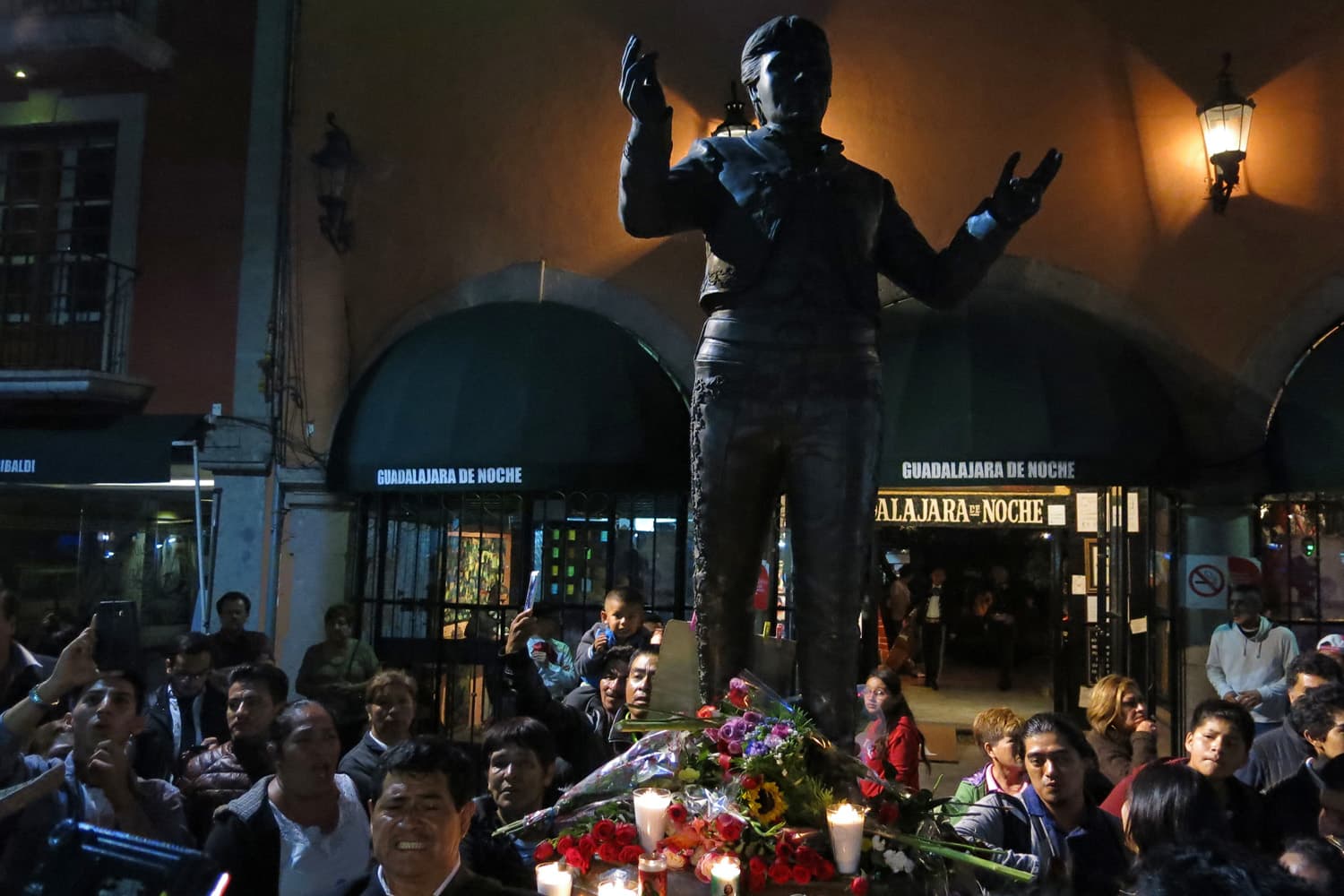 So many popular Mexican singers are macho. Juan Gabriel was not. And he was the bestselling Mexican musical artist of all time. A Latin American music icon.  A cross somehow between Elvis, Tom Jones and Liberace. Last week he performed for a sold-out crowd in Los Angeles, went home, and died. At 66. He grew up in an orphanage. He sang of simple things. And millions sang his songs. This hour On Point,  the story of Mexican superstar, Juan Gabriel.  -- Tom Ashbrook
Guests
León Krauze, anchor at Univison's KMEX in Los Angeles. Contributor to the New Yorker. Author of "La Mesa." (@LeonKrauze)
Leila Cobo, executive editor for Latin content and programming at Billboard magazine. (@leilacobo)
Mili Bermejo, professor of voice at Berklee College of Music. Advisor for Latin Culture Celebration at the Berklee College of Music. (@artedelduo)
From Tom's Reading List
New Yorker: Postscript: The Festive Genius of Juan Gabriel, 1950 - 2016 -- "Dressed in sequins and multicolored outfits, Juan Gabriel was the exact opposite of the other towering figure of late-twentieth-century Mexican vernacular music: Vicente Fernández, mustachioed charro and suave ladies' man. Despite his fame, Juan Gabriel rarely took himself too seriously, posting candid videos and, on occasion, staging tender interviews. While he never admitted to being gay or spoke openly about his sexuality, Juan Gabriel was flamboyant onstage, channelling both Liberace and Elvis Presley."
Billboard: Juan Gabriel's Last Day: 'Full of Joy, Laughter and Love'  -- "But that's the kind of thing he would do, suddenly, with people he liked and loved. He'd surprise them just like that. One time, I was with him in Cancun, and he told me, 'I'm going to surprise Paulina Rubio in her wedding tomorrow.' He called his mariachi at midnight and asked them to arrive at the reception, all dressed in white. 'Don Alberto,' they said, 'We don't have white mariachi outfits.' 'Find them,' he said. 'We're going to Paulina's wedding.'"
Los Angeles Times: To his fans, Juan Gabriel was their 'godfather,' their family, their home — "Nancy Cortes learned two things growing up: Respect your mother. And respect your mother's love for Juan Gabriel.  Her family woke up to the Mexican singer's smooth, raspy voice every morning, his love ballads playing on a loop. To badmouth Juan Gabriel was to risk punishment by shoe."
Playlist
This program aired on September 2, 2016.