The State Of Play Two Months Before The General Election
Resume
Two months until Election Day.  We'll check in with top political watchers across the United States on where the race really stands, and what they see coming.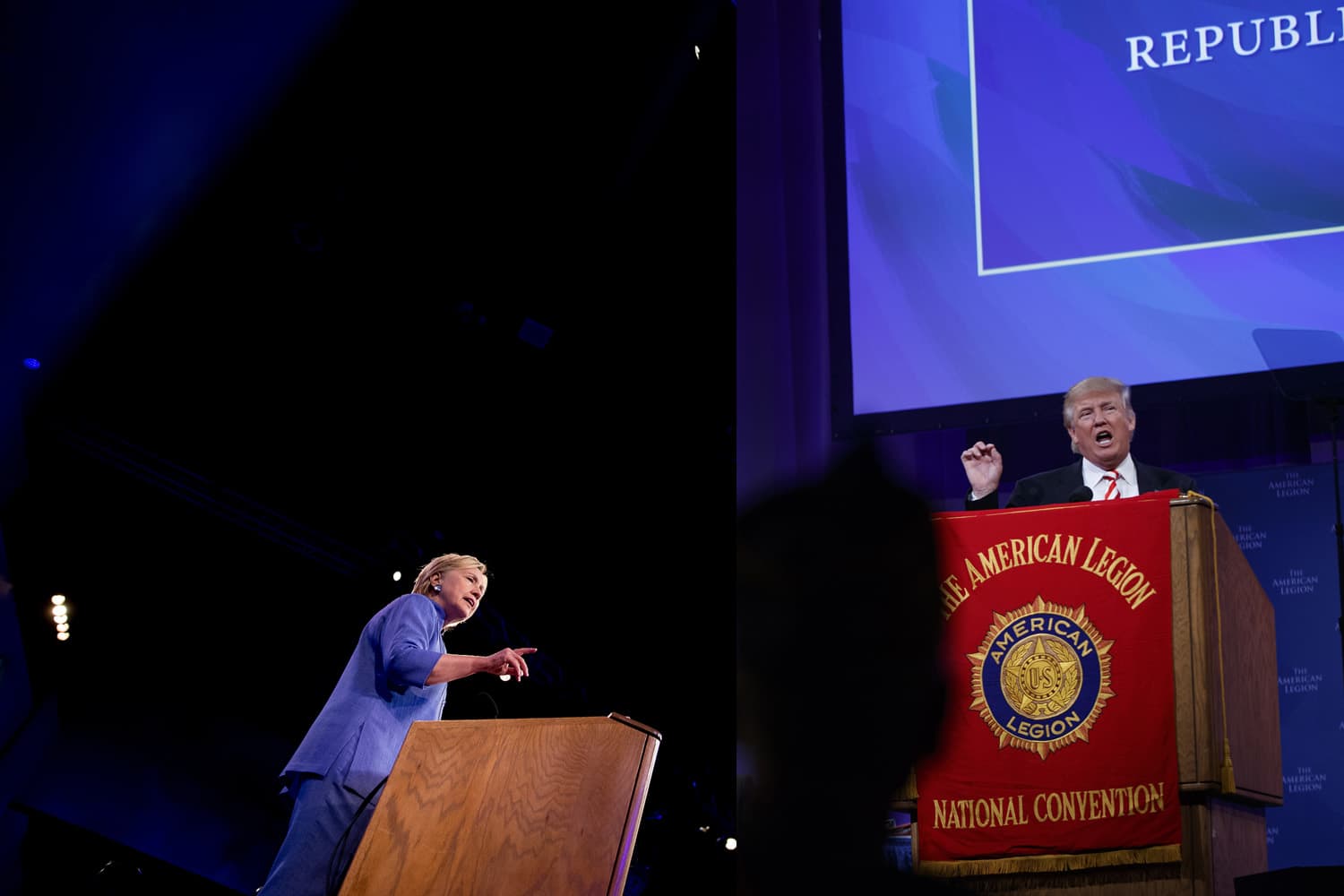 Sixty-two days now until the presidential election that will determine whether Hillary Clinton or Donald Trump will take the White House.  Clinton is favored in the polls, but this contest is not over.  We've got three debates, two months, and a lot of room for unpredictability ahead. White, college-educated voters turning away from Trump.  Clinton, low-profile on the campaign trail but signaling a change.  This hour On Point:  the home stretch of a very unusual campaign.
-Tom Ashbrook

Guests
Eli Stokols, national politics reporter for POLITICO, covering the Donald Trump presidential campaign. (@EliStokols)
Jennifer Duffy, senior editor at the Cook Political Report. (@jennifereduffy)
Adam Smith, political editor at the Tampa Bay Times. (@adamsmithtimes)
Henry Gomez, chief political reporter for Cleveland.com and the Cleveland Plain Dealer. (@HenryJGomez)
From Tom's Reading List
Washington Post: A new 50-state poll shows exactly why Clinton holds the advantage over Trump -- "To win the election, Trump must quickly consolidate the Republican vote. With prominent Republicans declaring they will not support Trump and some even announcing they will back Clinton, this represents a major challenge for the GOP nominee. In the Post-SurveyMonkey poll, Clinton is winning 90 percent or more of the Democratic vote in 32 states, while Trump is at or above that level in just 13."
Tampa Bay Times: While Hillary Clinton touts 51 Florida field offices, Donald Trump still has just one -- "On Aug. 8, the Donald Trump campaign said its first two dozen campaign field offices would open across Florida within two weeks.  Since then, not a single new Trump office has opened in America's biggest battleground state, but Hillary Clinton's campaign added another 32."
Cleveland Plain Dealer: 6 Labor Day takeaways: Hillary Clinton and Donald Trump kick off their fall campaigns in Cleveland -- "Trump drew some stray local union chiefs – such as Steve Loomis of the Cleveland Police Patrolmen's Association – to his roundtable in Brook Park. Clinton and Kaine drew an all-star team of warm-up acts at Luke Easter Park, including several national labor leaders."
This program aired on September 6, 2016.