The U.S. And Russia, At Odds On The Global Stage
Play
This article is more than 6 years old.
The U.S. and Russia get very testy. From hacking to Syria to NATO, we look at the new face-off with Moscow.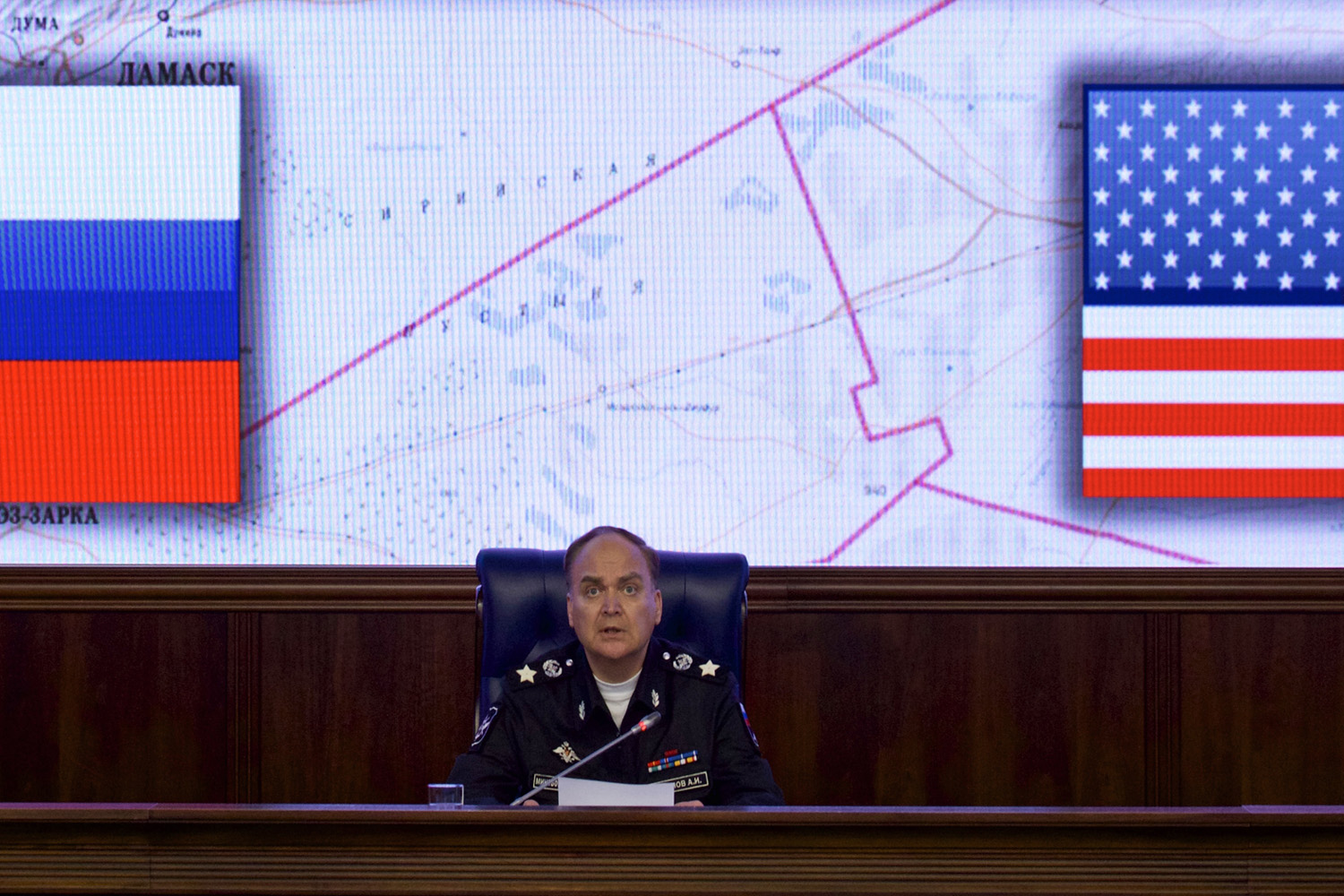 The pile-up of sharp tensions and potential flash points between the United States and Russia is getting unnervingly high. In the Baltic Sea, Russian warplanes zoom within feet of American forces. In Syria, a thin cooperation breaks down and Russian missiles move in. At home, American officials accuse Russia of hacking at the heart of American presidential politics. This hour On Point, we're looking at this fraught US-Russia moment, and what it means. — Tom Ashbrook
Guests
Josh Meyer, senior reporter for NBC News' investigative unit. (@JoshMeyerDC)
Angela Stent, director of the Center for Eurasian, Russian and East European Studies at Georgetown University. Senior fellow at the Brookings Institution. Author of "The Limits of Partnership." (@angelastent)
John Kornblum, senior adviser for the Europe Program at the Center for Strategic and Intnernational Studies. Former U.S. ambassador to Germany and to the Organization for Security and Cooperation in Europe.
From Tom's Reading List
NBC News: Trump Told Russia To Blame for Hacks Long Before Debate — "During Sunday's debate, Donald Trump once again said he doesn't know whether Russia is trying to hack the U.S. election, despite Friday's statement by the U.S. intelligence community pointing the finger at Putin — and despite the fact that Trump was personally briefed on Russia's role in the hacks by U.S. officials."
The Wall Street Journal: U.S. Blames Russia for Recent Hacks — "The U.S. intelligence community took the extraordinary step Friday of directly accusing the Russian government of trying to interfere in the coming U.S. elections by purposefully leaking emails hacked from the Democratic National Committee and other entities."
Russia in Global Affairs: What Makes A Great Power War Possible — "The technological sophistication of military power has continued to increase while the thresholds for the use of force among states have declined visibly. Besides, numerous international competitors see the use of force as a solution to their challenges. In relations between Russia and NATO, China and Japan, Iran and Saudi Arabia, and most recently between Russia and Turkey, power plays are unfolding with unpredictable repercussions. The world must once again concern itself with major interstate conflicts, together with new military capabilities that have been developed largely in times of peace."
This program aired on October 11, 2016.