Caller: 'I Am A Woman. I Am An Immigrant. And I'm In Complete Fear.'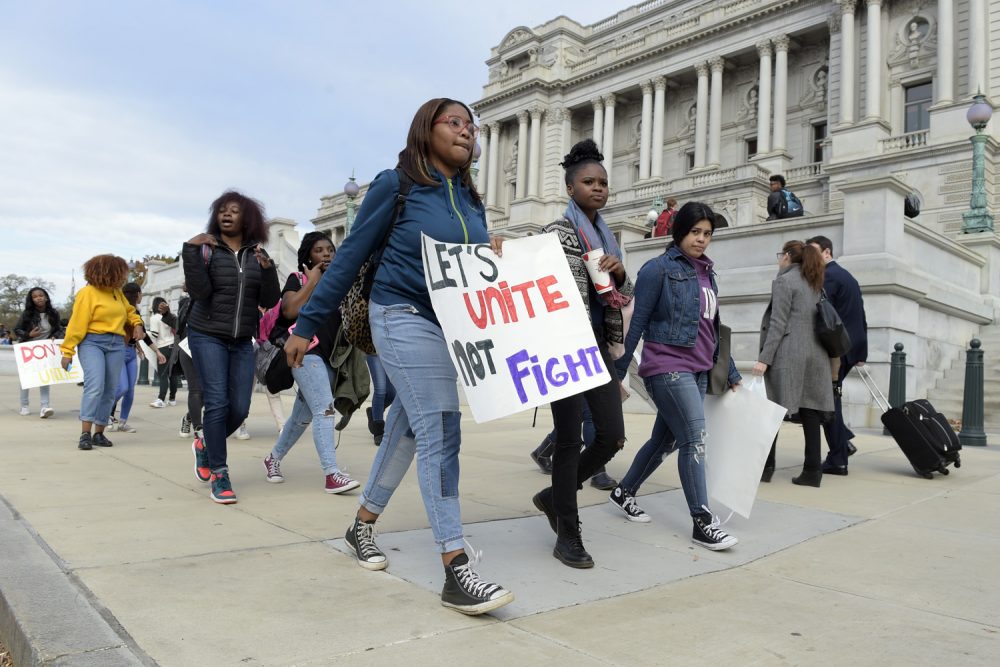 This article is more than 4 years old.
In our conversation with Washington Post reporter Wesley Lowery today, we received a few memorable, meaningful calls from our listeners. (Sure, callers call in every single day, but today felt especially relevant.)
Many other listeners responded to the story of Cecilia, who described her fears as an immigrant woman living here in Boston.
"I just wanna say that I am in so much fear — I have a knot in my stomach as I'm speaking to you. I am a woman. I am an immigrant. I have an accent, I'm brown, and I'm in complete fear...I moved to this country thinking it was a beacon of freedom and now I am in fear. I am in fear of speaking out. I was at the City Hall with my father the other day, my father is 82 years old, he speaks Spanish. He speaks English, too, but he speaks Spanish to me and it was the first time I had to tell, 'Please do not speak Spanish, Pappi, don't speak Spanish....At the gym, I was leaving and a guy with a lot of Trump logos on his car said something very racist to me."
But caller John, in Statesville, North Carolina, pushed back against the fear that listeners like Cecilia feel, calling for national unity in the face of ongoing protests against the president-elect.
"Why is the left-side rhetoric drumming up this fear to push against the Trump presidency when you see more hatred against the conservative side? If our country is gonna move forward, we can't fight against the conservative values that lead this country to greatness...hatred toward Trump isn't going to move this country forward. We have to unite together again as a country...follow the money trail and see who promoted some of these riots."
And caller Gina from East Greenwich, Rhode Island, described her participation in a protest in New York City last weekend, and her concerns around reproductive rights in the incoming presidential administration.
I went to  my first protest on Saturday in New York City with my college-aged daughter, who is 19. She wanted to go to a protest and I said 'Well I'm coming down to visit you, so instead of lunch, we'll go to a protest'...I have to tell you, I didn't see one professional protester. There were people of all ages there...it was very organic."
Our callers come from all over the country and from all walks of life — and we're always happy to hear from them!