Best Books Of 2016: Staff Picks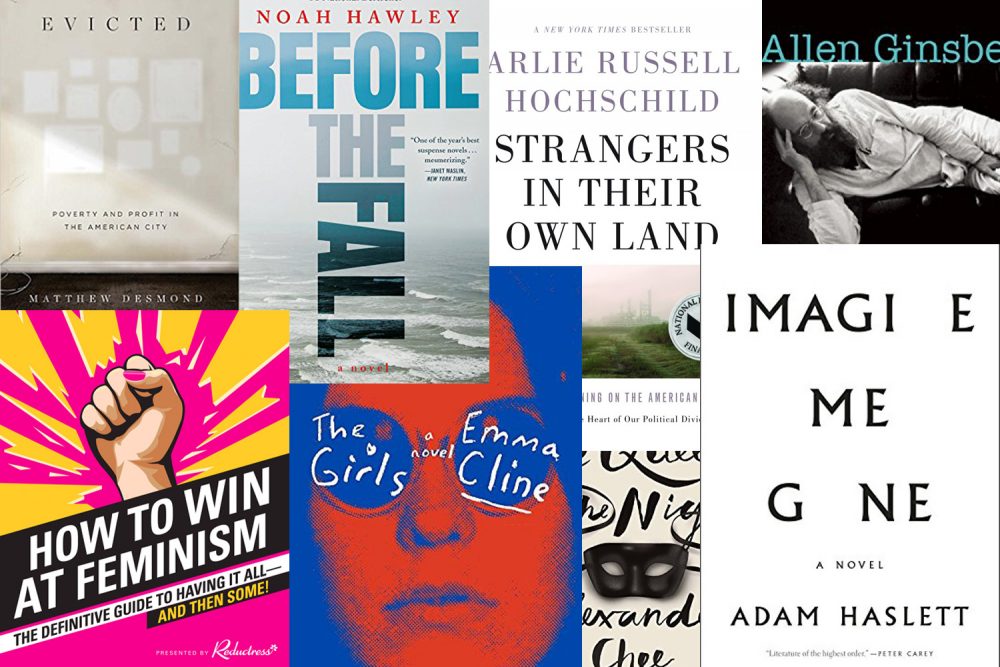 This article is more than 5 years old.
The On Point staff reads scores of books each year, for work and for pleasure. Here, the staff shares their favorite books of 2016, and explains why you should maybe follow their lead and pick up one the assembled volumes before December 31 rolls around at the end of the month.
"Lab Girl" by Hope Jahren and "Wild By Nature" by Sarah Marquis — Ok, I'm going to cheat.  I'm picking two books as 2016 favorites. It's not really fair to pick — I read so many, and so many very good books. These two were not literary masterpieces. Rather, they richly took me places I was gratified to know. The first, by Hope Jahren, is "Lab Girl."  It's her account of growing up and into the life of one of the world's top plant science researchers. She's a geobiologist with a killer sense of the inner life of plants, and the inner music of a life in science. Wonderful. My other fave was "Wild by Nature: From Siberia to Australia, Three Years Alone in the Wilderness on Foot," by Sarah Marquis. The title tells the story, but reading this French adventurer's tale of her step-by-step journey put me in the mind of a living Buddha on the road - completely present, and way out there.  Some days this year that's exactly where I wanted to be. -- Tom Ashbrook
"The Girls" by Emma Cline -- Evie Boyd wants a new life. Her parents just split up and she's bored with high school and her friends. Typical teenager angst takes a dark turn in this 1960s California-centered story. Evie gets drawn into a Manson like-cult, where something very bad is about to go down. We all know what happened to the Manson Family, but "The Girls" is not a rehash for a new generation — this book stands boldly on its own. Cline's characters are a personality cocktail of two parts evil and a splash of humanity. The more you drink them in, the more the line between who's good and whose evil blurs. I couldn't put this book down.  What would happen to Evie? To everyone else?  Even on a hot summer's day, I shivered as I turned the pages. The heart-stopping ending won't disappoint. — Karen Shiffman
 "Before the Fall" by Noah Hawley — A private plane, bound to New York from Martha's Vineyard, falls into the sea. Nine of the eleven people on board are killed. A forty-something painter of disaster scenes and a four year-old boy are the only survivors. Skillfully, the multi-talented Noah Hawley (showrunner of the FX series "Fargo") blends survival narrative, intrigue, and the back stories of characters ranging from the head of a right-wing cable news network to his Israeli bodyguard to a Wall Streeter who launders money for terrorists in a leisurely plot with a loose grip on your curiosity about what happened, and why. Some readers, however, will feel that "Before the Fall" justifies its 390 pages with touches like this one. Scott Burroughs, the artist, and the boy are in adjoining beds in a hospital emergency room. Their ordeal at sea has bonded them: 'Hey buddy," Scott tells the boy, "the doctor needs to put a needle in your arm, okay?..." "No needles," the boy says, fear in his eyes. He is one wrong word away from losing his mind.  "I don't like them, either," says Scott. "But you know what? I'll get one, too, okay? We'll do it together. How about that?"  The boy thinks about this. It seems fair. He nods. That pitch-perfect rendering of the man-boy connection suggests that Mr. Hawley has found time in his laurelled life (Emmy, PEN, Peabody, Critic's Choice, and Golden Globe Award-winner) — to raise a son. -- Jack Beatty
"Imagine Me Gone" by Adam Haslett -- There's a special sort of wonder in reading a work of fiction largely set in the place where you yourself live. Haslett's careful, nuanced picture of family life in greater Boston would be a pleasure to read for that element alone, even if the family in question wasn't a complicated and beautifully drawn collection of authentically flawed human beings. Haslett shuffles his narrative among the members of a family struggling with mental health issues in a manner that can confuse even as it illuminates. I finished this book on a plane as I flew back to Boston earlier this year, and I felt myself swell with gratitude for the place and the people who make this place home. You'll feel that way, too, after reading this book — and you don't even have to live in Cambridge to make it so. — Nick Andersen
"How to Bake Everything" by Mark Bittman --  If a recipe involves sugar, butter and flour, I'm in. So when Mark Bittman came out with his cookbook, "How to Bake Everything", I both jumped at the chance to produce our hour with him and to read and bake through what I imagine will become a sacred text for bakers everywhere. It has beautifully detailed charts and illustrations, advice on what flavors go best together and descriptions of exactly how to adapt recipes to make something vegan or gluten-free. If you know someone who bakes or wants to get into baking, you can't go wrong with this one. -- Sarah Platt
"Strangers in Their Own Land" by Arlie Hoschild -- Sometimes it's hard for me to read a Best Book of the Year before winter break in December. (One thing to envy about all you subway commuters!) So the book on my "must read" list in 2016 is aspirational: Arlie Hochschild's "Strangers in Their Own Land: Anger and Mourning on the American Right". If you're like me and listen to On Point shows about books more than read them, Tom has a fascinating conversation with her in October. Hochschild is a sociologist from Berkeley, California who goes deep into Louisiana to talk with people on the Tea Party Right. Her outreach to understand the "emotion in politics" resonated with me. Now I just need to get it back from my mom, who borrowed it after the show. — Eileen Imada
"How To Win At Feminism" by Beth Newell, Sarah Pappalardo and Anna Drezen — Good satire hits you with a tinge of truth. If you grew up reading glossy women's magazines with insane diet tips and photoshopped models and iffy relationship and sex advice, you'll enjoy this book. Best for your best friend, your sister, the "nice girl," the vixen, the saint, the Damsel in Distress, the brainy brunette, the shrinking violet, the good wife, or the manic pixie dream girl. — Abbie Ruzicka 
"Evicted" by Matthew Desmond -- Desmond's book is a searing and personal look at grinding poverty in the United States. Desmond, a Harvard sociologist and recipient of a MacArthur 'genius' award, lived in some of Milwaukee's most impoverished neighborhoods for two years, first in a trailer park, then a rooming house.  He paints a vivid picture of how a few simple decisions can turn into a cascade of tragedies.  Landlords exploit the most vulnerable, who are forced to pay most of their money for shelter – filthy and rundown homes most people would find unacceptable – and have nothing left over for food or necessities. Desmond makes it plain that to talk about poverty in the United States today, we need to address the crisis of providing stable homes to the most vulnerable citizens. It's a book I could not put down and cannot forget. — Tania Ralli
"Wait Till I'm Dead: Uncollected Poems" by  Allen Ginsburg -- "This is a series of uncollected poems which spans the entirety of Ginsburg's writing career. It amazing to see the way his voice and style evolved while still maintaining the Beat themes. If you are a fan of the Beat Era this collection is a must read." — Maeve Pagès 
"The Queen of the Night" by Alexander Chee --  Alexander Chee's epic novel, "The Queen of the Night" traces the fictional rise of Lilliet Berne from the American Midwest to the elaborate opera world of 19th-century Paris. The well-researched and historically situated book results in a scandalous and dramatic picturing of Verdi's opera world. Admittedly, I enjoyed and indulged in Chee's lengthy descriptions of gowns and jewelry as much as I appreciated the European history recap. -- Halima Gikandi
"Weapons of Math Destruction" by Cathy O'Neil -- Originally, I bought this book as a gift for a math major, but I ended up reading the whole thing and never gave it away. For people who are somewhat intimidated by math but want to take a stab at Big Data, this is a great introduction into how modern society is regulated by the algorithms. Cathy O'Neil, an academic-turned-Wall-Street mathematician, was an activist in the Occupy Wall Street movement. In her book, O'Neil gives an engaging account on how much Big Data has integrated with our daily lives, and why that can very easily go wrong. — Weihua Li