Are You On Board With Cellphones On Airplanes?
Play
This article is more than 5 years old.
A heads-up for all travelers. In-flight phone use is back on the table, and a new bare-bones economy class is moving in. We catch up with air travel.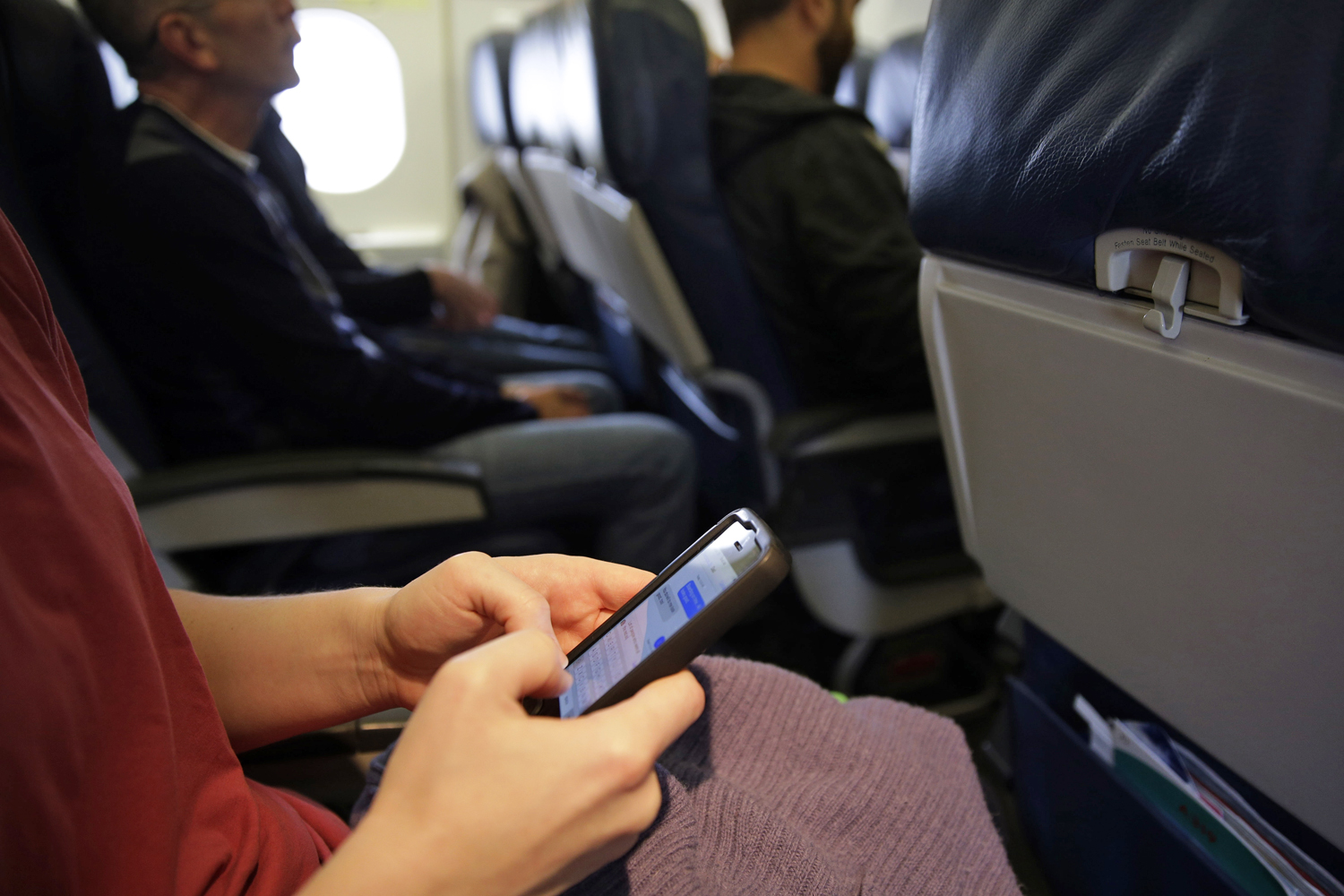 Things are changing in the air. With air travel. More fliers. More airline profits. More bad passenger behavior. And then this: A new "basic economy" class is spreading. With a cheaper fare and amenities so Spartan it could be called "bare bones." No reserved seat. No overhead bin space. Nothing. And this: after repeated popular rejection, in-flight calls are edging back on the table. An end to the ban. Yakking in your ear. This hour On Point: Hard and loud. Air travel takes a turn. — Tom Ashbrook
Guests
Henry Harteveldt, travel industry analyst and founder of Atmosphere Research Group. (@hharteveldt)
Bart Jansen, covers transportation for USA Today. (@ganjansen)
Charles Leocha, chairman and founder of Travelers United, a consumer advocacy group. Sits on the Department of Transportation's Advisory Committee for Aviation Consumer Protections. (@leocha)
Sara Nelson, international president of the Association of Flight Attendants. (@FlyingWithSara)
Matthew Klint, writer of the airline blog, "Live and Let's Fly." Founder of awardexpert.com. (@LiveandLetsFly)
From Tom's Reading List
The Wall Street Journal: Transportation Department Weighs Allowing Phone Calls During Flights — "Airline travelers already upset about shrinking seats and rising fees should steel themselves for a potential new cabin reality: listening to another passenger yakking on a mobile phone."
Live And Let's Fly: Here's Why I Support In-Flight Cell Phone Calls — "For years, carriers in Europe, the Middle East, and Australia have allowed onboard mobile phone access and we have not seen fights break or even tempers flare. This argument I hear all the time – we cannot allow cell phones because there is always "that guy" who won't shut up and will eventually aggravate "that other guy" and lead to cursing and the exchange of blows."
The Atlantic: Why Flight Attendants Hate Your Cell Phone — "On my flight, the businessman was screamed at and threatened by fellow passengers, mainly those in his row. Hobica believes passenger tensions over mobile devices and phone calls will grow exponentially if the use of electronic devices during takeoff becomes the standard. "I would want to say, 'Put that down.' I think if we start having cell phone talks on planes, it'll just lead to fisticuffs. I think most passengers don't want it." Considering brawls over legroom already disrupted two flights, trips like mine may become more common, except the option to turn the bird around will be far less likely."
News Observer: Free Airplane Meals May Be Coming Back — "Delta is testing free (free!) meals on transcontinental flights between New York's JFK Airport and Los Angeles and San Francisco. The airplane said it's collecting feedback from customers to see what "impact on the in-flight experience" the meals have."
Weigh In
Learn more and leave a comment on the proposed rulemaking, "Use of Mobile Wireless Devices for Voice Calls on Aircraft" here.
This program aired on December 14, 2016.