Chuck Todd, moderator of Meet the Press, on fact and fiction in the Trump era and the rise of Steve Bannon.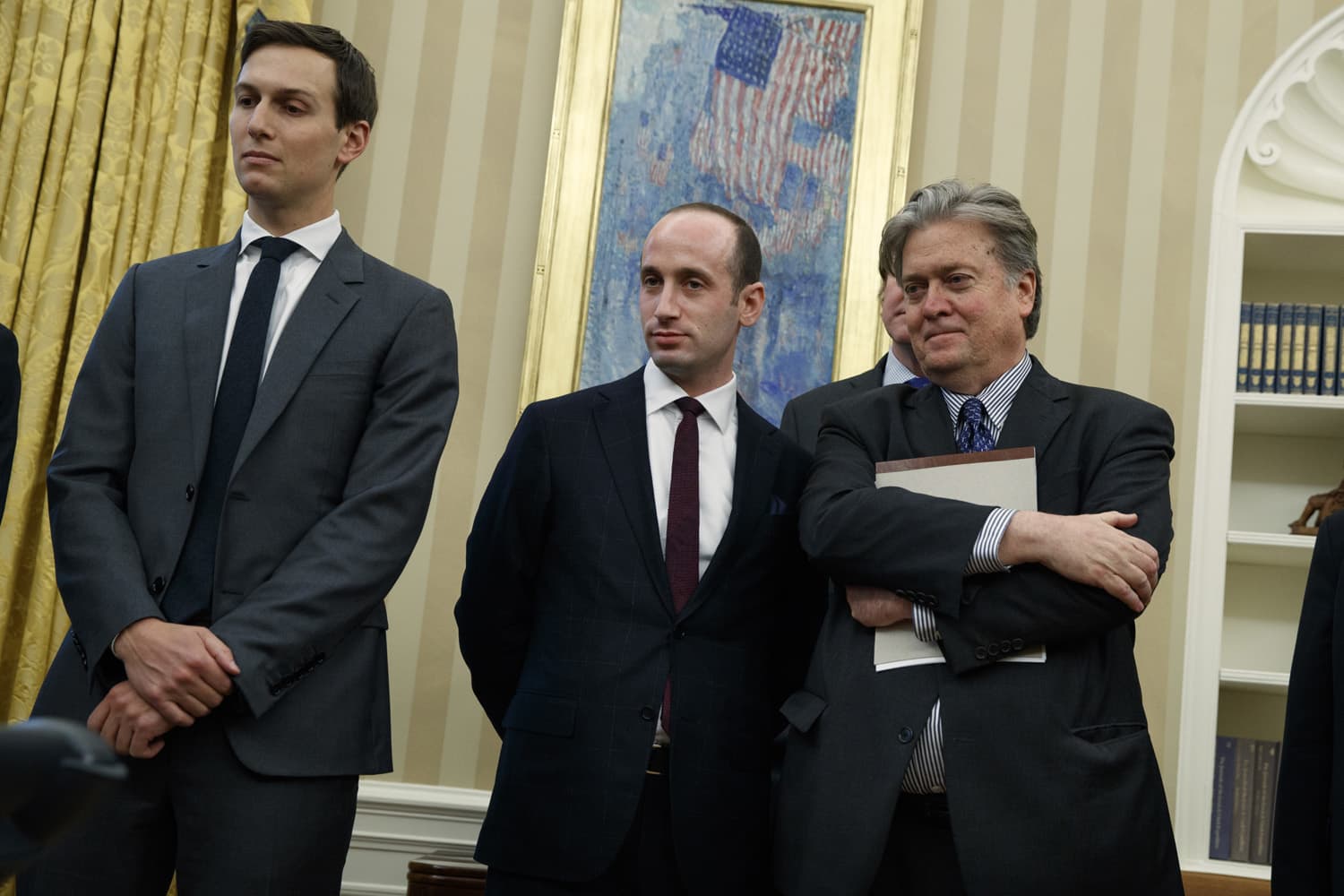 Steve Bannon, top strategic adviser to President Donald Trump, came to the Trump campaign straight out of the alt-right, white nationalist hothouse of Breitbart News. Now he's directly at the ear of the President of the United States. Drafting speeches – the Inaugural. Drafting executive orders.  In the heart of the National Security Council.  His sway appears enormous. This hour in our On Point 100-Day Spotlight, Chuck Todd, host of Meet the Press joins us, and we turn to look closely at Steve Bannon. — Tom Ashbrook
Guests
Chuck Todd, moderator and host of NBC's Meet the Press and MSNBC's Meet The Press Daily. NBC News political director. (@chucktodd)
Joshua Green, national correspondent for Bloomberg Businessweek and Bloomberg Politics. (@JoshuaGreen)
Josh Dawsey, White House reporter for POLITICO. (@jdawsey1)
From Tom's Reading List
POLITICO: The man behind Trump? Still Steve Bannon — "In the 10 days since Trump's inauguration, Bannon — the former head of Breitbart News — has rapidly amassed power in the West Wing, eclipsing chief of staff Reince Priebus, who was among those at the Alfalfa Club event. Along with charting the early direction of the Trump administration, he's been named to a seat on the National Security Council, giving him a part in the nation's most sensitive intelligence operations."
BuzzFeed News: How Steve Bannon Took Charge Of The Trump Administration -- "Bannon rose by using Breitbart for fierce attacks on more moderate Republicans and by embracing racist and white nationalist elements of the party — though he has disavowed white nationalist views. Bannon and his close White House ally Stephen Miller have cast themselves as plain-old nationalists instead. And in one week, they have built a clear power center in the White House. Bannon did not respond to a request for comment for this story."
Bloomberg Businessweek: This Man Is the Most Dangerous Political Operative in America — "To succeed, Bannon will need to activate the anger and disgust with cronyism that's as powerful among supporters of Sanders as it is among fans of Trump. In Tallahassee, as GAI's phone keeps ringing, the vehicle for achieving this is clear. Editors and reporters at prominent magazines and newspapers, including ones that had passed when approached with Clinton Cash revelations, are calling to ask when the next salvo will arrive—and might they arrange an exclusive?"
This program aired on January 31, 2017.