American Tech And Education, Behind Trump's Wall
Play
This article is more than 6 years old.
American higher-ed and high tech are looking with dismay at President Trump's view of borders and the world. We'll listen.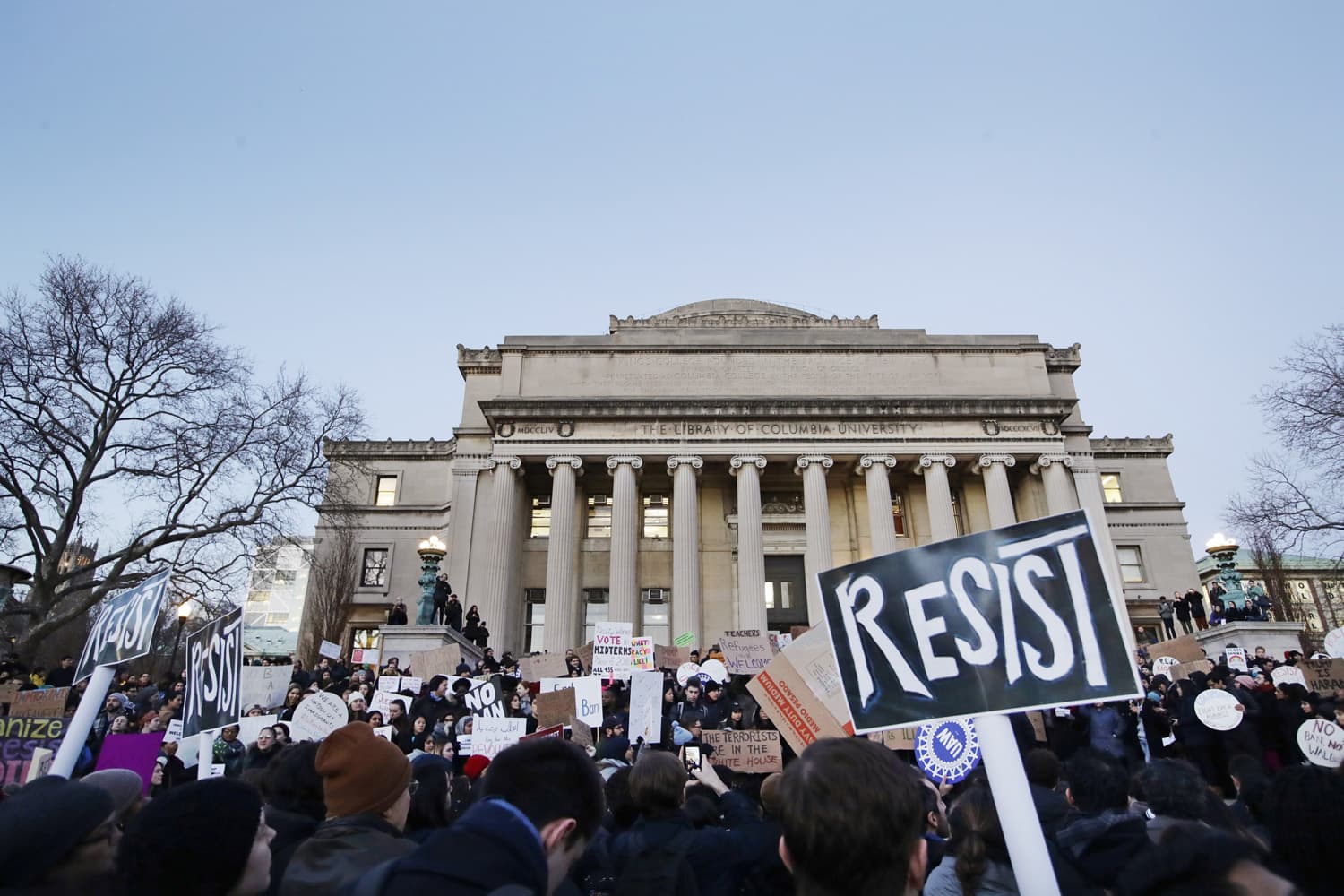 Donald Trump talks about "America first" and walls and tighter borders, and shows a harder face to the world. American high tech and higher education have thrived by doing just the opposite. American universities brim with the brains and money of international students. American high tech giants are decidedly global and often founded by immigrants. These two sectors are American jewels. Global leaders. Will they stay that way? This hour in our On Point 100-Day Spotlight, high tech and higher-ed in the time of Trump. -- Tom Ashbrook
Guests
Karin Fischer, senior reporter at the Chronicle of Higher Education. (@karinfischer)
Davey Alba, staff writer for WIRED. (@daveyalba)
Dwayne McCay, president of the Florida Institute of Technology, where he is also a professor of physics and space sciences and mechanical and aerospace engineering.
Vivek Wadhwa, distinguished fellow and professor at Carnegie Mellon University Engineering at Silicon Valley. Director of research at the Center for Entrepreneurship and Research Commercialization at Duke University. Co-author of "The Immigrant Exodus" and "Innovating Women." (@wadhwa)
John Miano, fellow at the Center for Immigration Studies. Co-author, with Michelle Malkin, of "Sold Out."
From Tom's Reading List
Chronicle of Higher Education: An 'America First' Presidency Clashes With Higher Ed's World View -- "For colleges, the last week has been a mad rush, as they have sought to intervene on behalf of those stuck overseas and to reassure students that, despite the executive order, they would be able to continue their studies uninterrupted."
WIRED: Tech Had to Lash Out Against Trump's Ban. It's Personal -- "Any thought that Silicon Valley might work with President Trump ended when the tech industry took a decisive stand against his Muslim ban. It simply had no other choice."
Washington Post: Why Trump's travel ban is so harmful to the tech economy — "Let there be no doubt that immigrants are essential to our economic present and future. These newcomers start a disproportionate number of U.S. businesses, particularly in advanced technologies. Immigrants and foreign-passport holders occupy a growing majority of places in graduate education programs in computer science, mathematics, physics and other hard sciences. They play an outsize role in U.S. research and innovation."
This program aired on February 2, 2017.