With Mo Willems, Let The Callers Drive The Show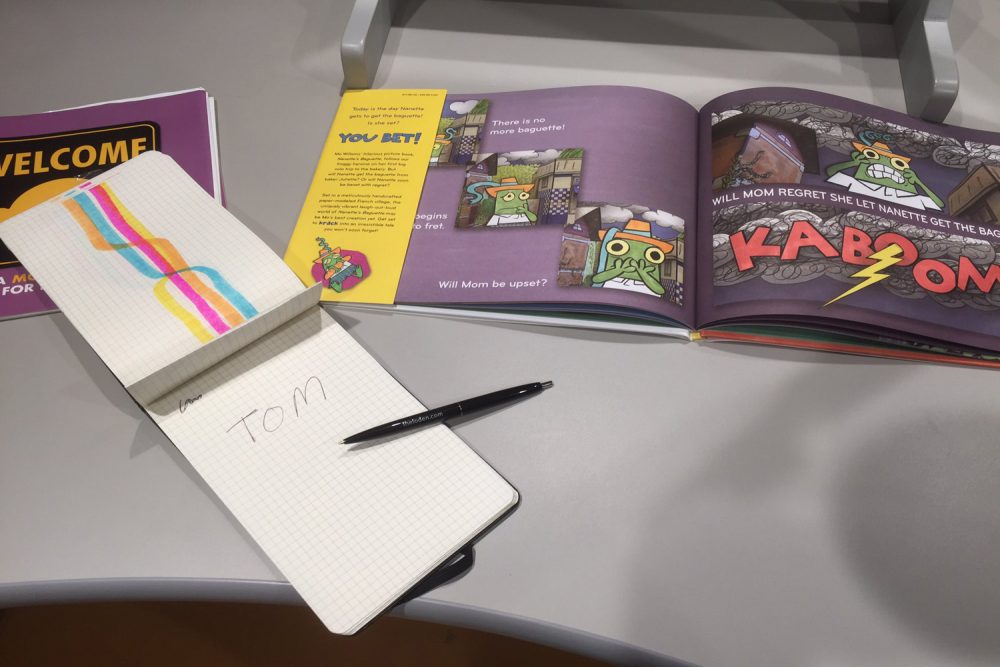 This article is more than 3 years old.
Mo Willems writes and illustrates children's books that delight both kids and adults. Today on our broadcast, he relished the opportunity to chat with them, too.
Callers showered Willems with praise – from a librarian in New Orleans who uses Willems' books at every chance she gets, to a six year-old boy who said all of this author's books are his "favorite."
Kevin, who is six, spoke to us from the car has he rode home from school. (He was sick today, his mother told our call screener). He insisted that he loves all of Willems' books equally.
Willems was pleased. "You are going to be my PR agent!" Willems said. "I like this Kevin guy."
While Kevin has advanced to some weightier reading material, he said he still enjoys Willems' books.
The author encouraged Kevin to draw the character's from his books and use them to make his own stories.
"You can do something which is called infringing on my copyright," Willems joked. "It's really fun."
Kevin declined, but Tom and Willems both encouraged him to keep on reading, regardless.
Another caller Dennis, rang in from Sandy Hook, CT. His call suggested that Willems' books can mean a lot to adults, too.
Dennis told us about his son, who was one classroom down from the devastating shooting in Sandy Hook Elementary School in December 2012. In the wake of this tragedy, Willems was invited to give a reading at the school.
"The effect on the children was one thing," Dennis said. "But the parents and the teachers ... it was so uplifting on so many different levels."
It was one of the hardest school visits Willems had ever done, he said, and he wasn't sure he would be able to make it through. But he understood it was his job to share the happiness of his books.
"They were so open and there and real and responsive that it turned out to be just a beautiful experience for me," Willems said. "I went in with this sense of dread, I don't know if I can handle it, and I didn't have to — because the kids made it joyous."
Dennis and his son still read Willems' books, he said. But for the author, it's the simple act of reading together that's most important.
"I appreciate that it's my books, but to be honest it could be the phone book," Willems said.