Week In The News: Alexandria Shooting, Trump Under Investigation, Sessions Hearing
Play
This article is more than 5 years old.
Political violence. The president under investigation. Jeff Sessions testifies. Manslaughter charges in Flint, Michigan. Our weekly news round table goes behind the headlines.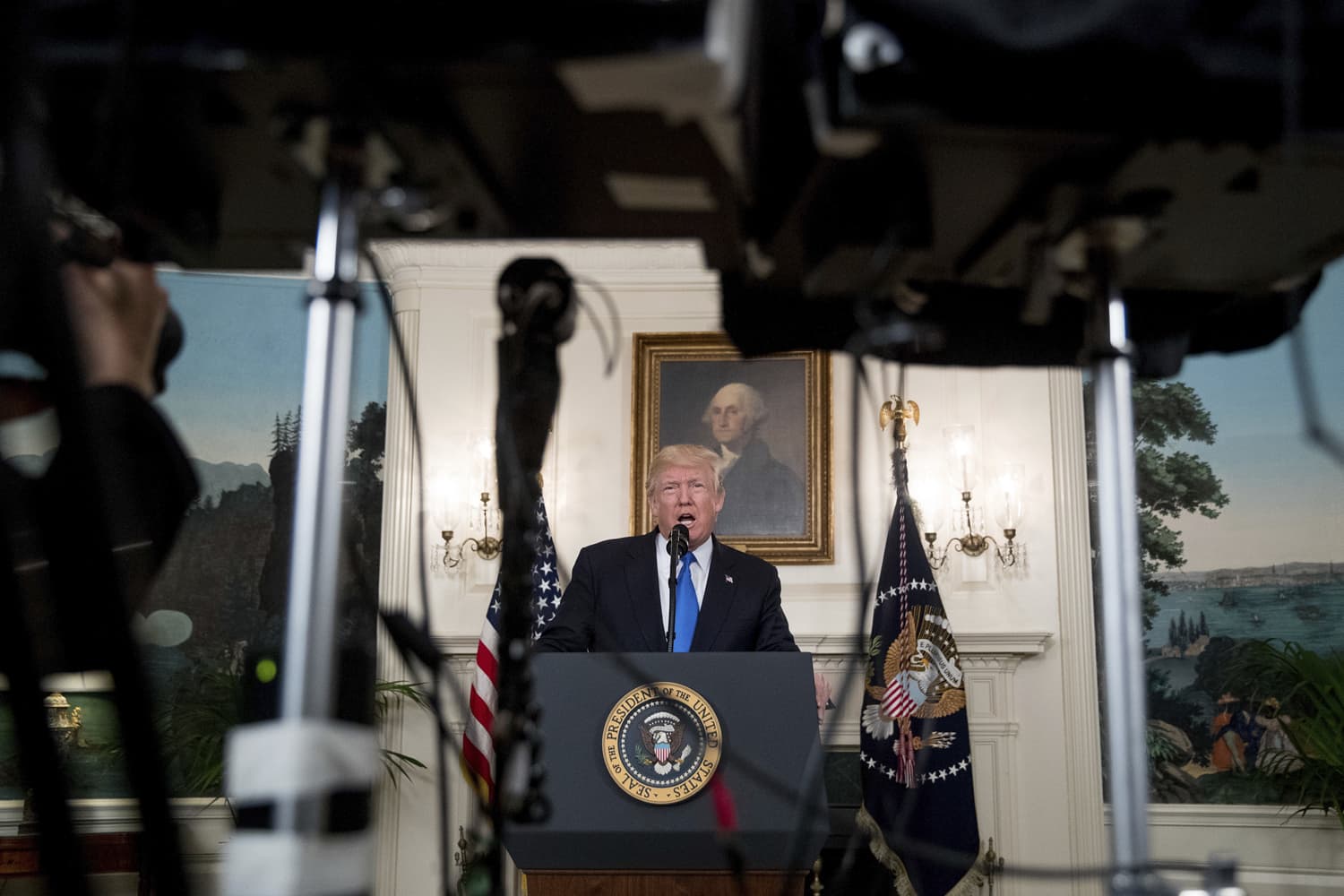 A baseball field shooting took over the news this week. Congressmen down. Bullets flying. Promises to tone down the vitriol. We'll see. In Washington, word that special counsel Robert Mueller is investigating the president, his circle, Jared Kushner. The president tweets, "Witch Hunt." Jeff Sessions testifies. We've got secret health care plans in the U.S. Senate. A Trump clampdown on Cuba. Indictments in Flint. This hour On Point: Our weekly news roundtable goes behind the headlines. -- Tom Ashbrook
Guests
Nancy Cordes, Congressional correspondent for CBS News. (@nancycordes)
John McCormack, senior writer at The Weekly Standard. (@McCormackJohn)
Jack Beatty, On Point news analyst. (@JackBeattyNPR)
From Tom's Reading List
POLITICO: Trump faces first big domestic moment -- "President Donald Trump's first domestic mega-moment has arrived, and his measured reaction to Wednesday's shooting in Alexandria, Virginia, is being praised by all sides as they gauge his temperament in a time of crisis. Trump touched on all the key notes in the immediate hours after the shooting at a congressional GOP baseball practice that sent five people to the hospital, including House Majority Whip Steve Scalise."
Washington Post: Special counsel is investigating Trump for possible obstruction of justice, officials say — "The move by special counsel Robert S. Mueller III to investigate Trump's conduct marks a major turning point in the nearly year-old FBI investigation, which until recently focused on Russian meddling during the presidential campaign and on whether there was any coordination between the Trump campaign and the Kremlin. Investigators have also been looking for any evidence of possible financial crimes among Trump associates, officials said."
New York Times: Explaining Executive Privilege and Sessions's Refusal to Answer Questions — "Attorney General Jeff Sessions repeatedly refused to answer senators' questions on Tuesday about his conversations with President Trump, even though Mr. Trump had not asserted executive privilege to keep them secret. That raises questions about whether Mr. Sessions had any legal basis to stonewall Congress."
This program aired on June 16, 2017.