What's Going On With White Supremacy?
46:48
Play
This article is more than 4 years old.
White supremacists think they have a president who understands them. We dig deep into the supremacist movement in America today.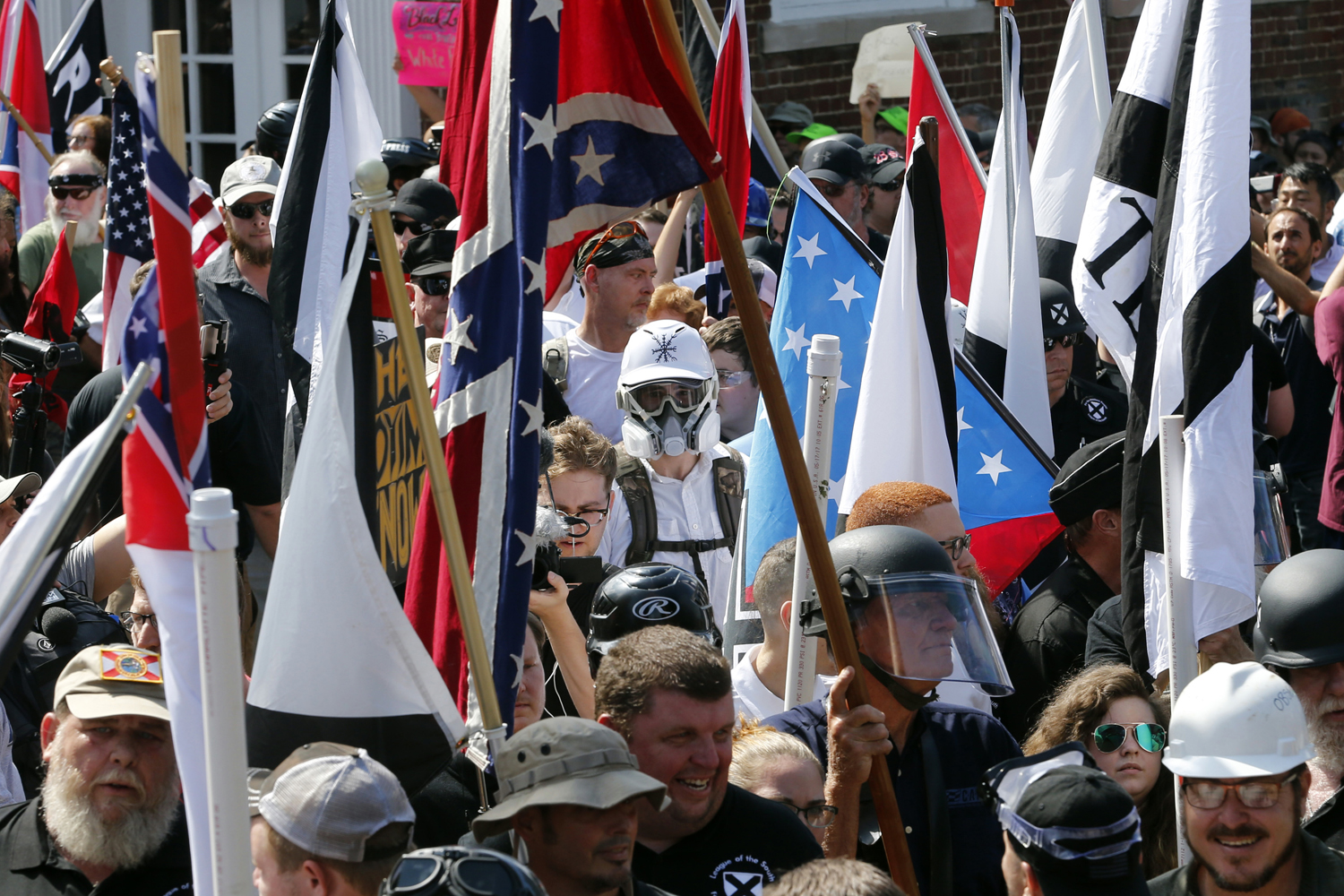 Charlottesville was rough enough. Now, far-right rallies are planned for nine more cities across the country this weekend. White supremacists have expressed gratitude for and encouragement from President Trump's remarks this week. Steve Bannon has now called them clowns, but he's encouraged them in the past. Who are they? Charlottesville saw old-fashioned swastikas and KKK regalia. But also polo shirts and chinos. This hour On Point: Who is the white supremacist movement now? -- Tom Ashbrook
Guests
A.C. Thompson, investigative reporter with ProPublica, covering the rise in hate crimes in America as part of the Documenting Hate project.
Brian Levin, director of the Center for the Study of Hate and Extremism at California State University, San Bernardino. (@proflevin)
From Tom's Reading List
ProPublica: A New Generation of White Supremacists Emerges in Charlottesville — "The white supremacist forces arrayed in Charlottesville, Virginia, over the weekend — the largest gathering of its sort in at least a generation — represented a new incarnation of the white supremacy movement. Old-guard groups like the Ku Klux Klan, the Aryan Nations and the Nazi skinheads, which had long stood at the center of racist politics in America, were largely absent.  Instead, the ranks of the young men who drove to Charlottesville with clubs, shields, pepper spray and guns included many college-educated people who have left the political mainstream in favor of extremist ideologies over the past few years. A large number have adopted a very clean cut, frat-boyish look designed to appeal to the average white guy in a way that KKK robes or skinhead regalia never could. Interviews show that at least some of these leaders have spent time in the U.S. armed forces."
Washington Post: White identity politics isn't just about white supremacy. It's much bigger. — "At the same time, white identifiers share some of the same views associated with supremacist groups. Even after accounting for age, gender, education and partisanship, white identifiers are more likely to think that the growth of racial or ethnic groups in the United States that are not white is having a negative effect on American culture than are whites who don't feel strongly attached to their racial group. They are much more likely to rank illegal immigration the most important issue facing the U.S. today, relative to the budget deficit, health care, the economy, unemployment, outsourcing of jobs to other countries, abortion, same-sex marriage, education, gun control, the environment or terrorism."
Chicago Tribune: How white supremacy morphed into white victimization — "A sense of victimization is a powerful organizing force, especially in the age of Twitter. Vast audiences of otherwise alienated individuals can be reached and inspired and rallied to a cause — or inspired to take things into their own hands."
This program aired on August 17, 2017.