#MeToo: Women Share Stories Of Sexual Harassment, Assault
Play
This article is more than 5 years old.
With two short words, women around the world are shining a light on the pervasive nature of sexual harassment and assault.
"Me too."
The social media hashtag, stemming from a movement that began 10 years ago, shows that the problem isn't just the big names we've been reading about in the news. Harvey Weinstein. Bill Cosby. Roy Price. It's a problem that women around the world face, every day. We're listening.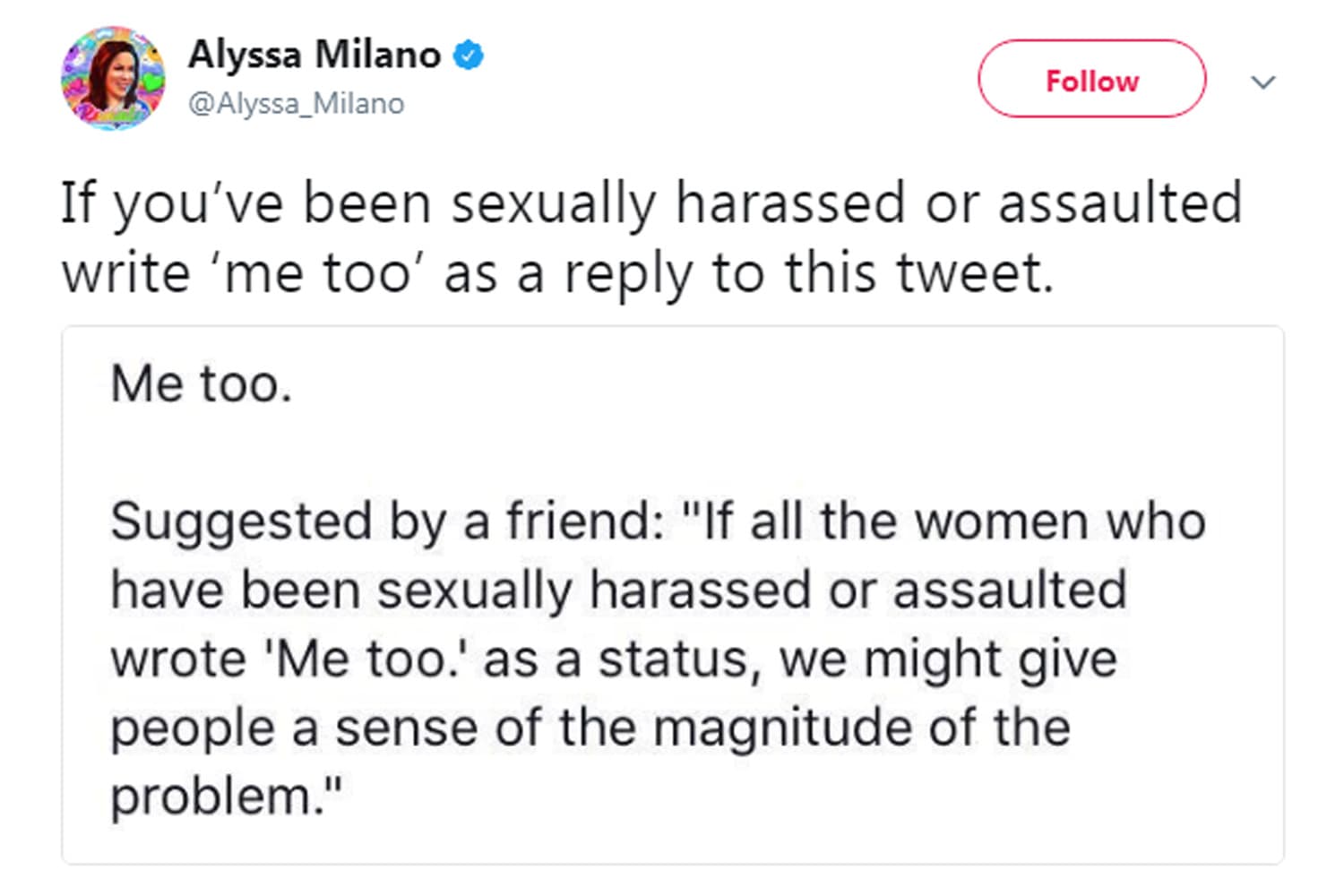 Guests:
Leigh Gilmore, distinguished visiting professor of women's and gender studies at Wellesley College and author of "Tainted Witness: Why We Doubt What Women Say About Their Lives."
Alyssa Rosenberg, opinion writer at the Washington Post. (@AlyssaRosenberg)
Fatima Goss Graves, president and CEO, National Women's Law Center.
From Tom's Reading List:
CNN: An Activist, A Little Girl, And The Heartbreaking Origin Of 'Me Too' — "The hashtag caught fire over the weekend when actress Alyssa Milano tweeted a call-out to victims 'so we might give people a sense of the magnitude of the problem.' But the online movement didn't start with Milano on Sunday. It started more than 10 years ago with activist Tarana Burke."
PBS Newhour: As Survivors Say #MeToo, What Will It Take To Stop Widespread Sexual Harassment? — "It was first used in 2007, but when actor Alyssa Milano tweeted it Sunday night to talk about sexual harassment and assault in the wake of the Harvey Weinstein story, it went viral. The hashtag was tweeted nearly a million times in just 48 hours. Facebook reported 45 percent of its users have friends who posted #MeToo, as women wrote about their experiences about the workplace and culture, and what should change."
Washington Post: Why I Thought Twice Before Saying '#MeToo' --  "When someone insists that you haven't, in fact, lived through what you've lived through, it's easy to vacillate between rage at that person's denial and destabilizing doubt. But it's also an essential conversation: Unless a lot of us can agree on the basic fact that widespread sexual harassment exists, we're going to have trouble moving on to the next, vital phase — which involves figuring out what to do about it."
This program aired on October 18, 2017.