Questions Swirl After 4 U.S. Troops Die In Niger
Resume
The four American Green Berets who died in Niger. We'll look at the mission, and the uproar over President Trump's comments on their deaths.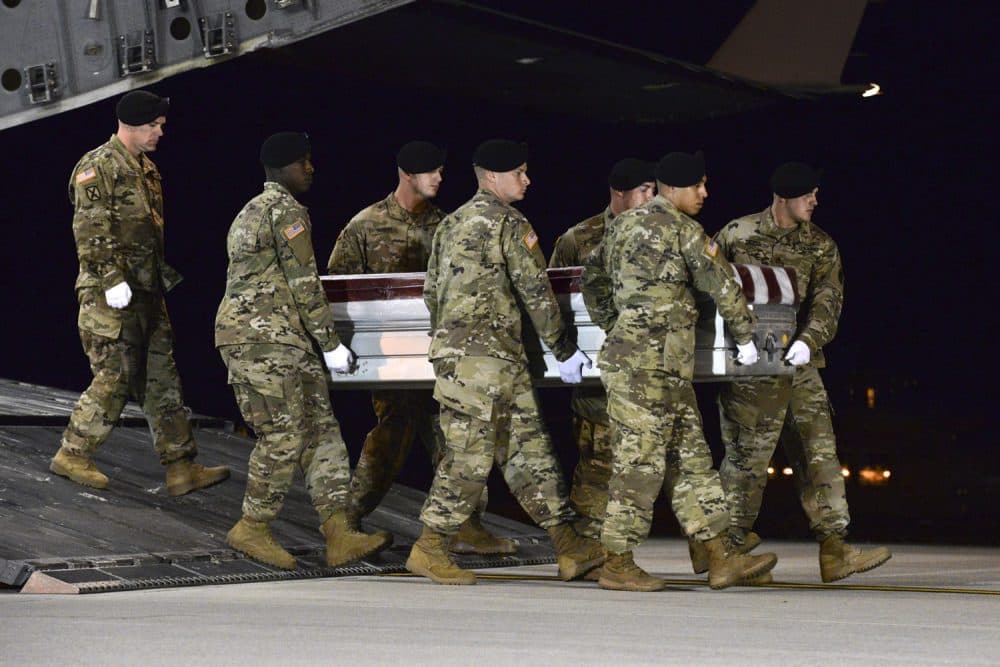 Two weeks ago, in a remote part of North Africa you probably never think about, in Niger, a dozen US troops were wrapping up a meeting with village leaders when all hell broke loose.  An ambush, we're told.  By ISIS-linked fighters.  It got fierce in a hurry.  When it was over, four American Green Berets were dead.  For twelve days, there was silence on the deaths from President Trump.  When he did speak, all hell broke loose, again. This hour, On Point:  What happened in Niger, and the President on military deaths. --Tom Ashbrook

Guests:
David Graham, staff writer for the Atlantic covering politics. (@GrahamDavidA)
Christopher Chivvis, associate director of the Rand Corporation's International Security & Defense Policy Center. (@CChivvis)
Eric Schmitt, senior writer for The New York Times. (@EricSchmittNYT)
Jon Meacham, presidential historian and author of "Destiny and Power," a biography of President George H.W. Bush. (@jmeacham)
From Tom's Reading List:
CNN: U.S. Has Drones And Hundreds Of Troops In Niger — Here's Why -- "The killing of four American soldiers in Niger has drawn attention to the role of US troops in western Africa, where several terror networks roam freely. In the region, the US has enemies all around. Niger shares a border with Mali, where an al Qaeda affiliate and other Islamist groups thrive in the vast desert. It also borders Libya, where ISIS and other extremists are regrouping, and Nigeria, where Boko Haram is a major challenge."
The Atlantic: Why Trump Accused Obama Of Not Consoling The Families Of Fallen Soldiers — "Those comments join Trump with many of his predecessors, who have also spoken publicly about the burden of sending troops into battle, and the wrenching process of speaking with the families of slain servicemembers. But then Trump went on to suggest that other presidents hadn't done what he did."
Washington Post: Fallen Soldier's Mother: 'Trump Did Disrespect My Son' -- "Sgt. La David T. Johnson's mother, Cowanda Jones-Johnson, told The Washington Post that she was present during the call from the White House on Tuesday to Johnson's widow, Myeshia Johnson. Johnson's mother also stood by an account of the call from Rep. Frederica S. Wilson (D-Fla.) that Trump told Johnson's widow that her husband 'must have known what he signed up for.'"
This program aired on October 19, 2017.