A Way To Stop Mass Shootings: Stop Naming The Shooters
Play
This article is more than 5 years old.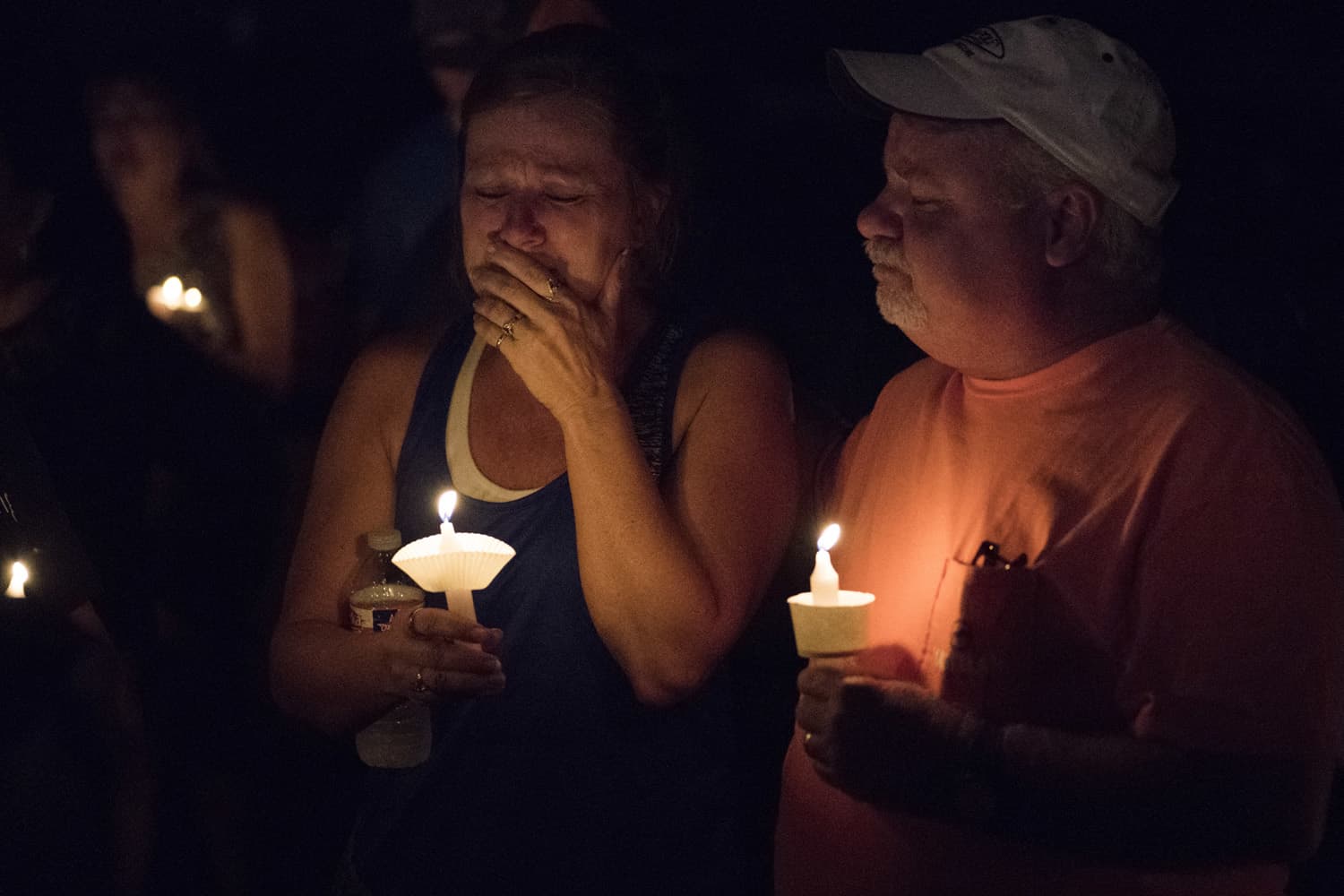 People around the country are grasping for answers after yet another deadly mass shooting, this one at a church in Texas on Sunday that left 26 people dead.
How do we stop the bloodshed?
One group of academics and law enforcement officials has a suggestion beyond gun control and mental health that they say could prevent the "contagion" effect and deny mass killers the attention some of them seek: They're asking the media to stop using the shooters' names or pictures.
"What we're asking for is a pretty small change that could have big benefits," said Adam Lankford, an associate professor in criminology at the University of Alabama.
Lankford appeared on the NPR show On Point with Tom Ashbrook Monday to discuss the Texas shooting.
He expanded on the subject in an interview after the show. In October, he was one of 149 academics and experts that signed an open letter to the media outlining the request: "Don't name them, don't show them."
By not using pictures of mass killers or their names, the media could deprive future would-be killers from seeking the same fame, cut down on the copycat or contagion effect, and reduce "competition" among killers to maximize the death toll, proponents say. In doing so, that could reduce mass killings.
If it followed the no-names, no-pictures policy, the media would still be able to explore "why," Lankford said, and could offer biographical details of the shooter. The media could report that the Texas shooter, for example, was a white male, had a history of domestic violence, and served in the Air Force.
But no pictures of the shooters' faces, and no names. Including of past shooters.
As a quick look at Google search suggestions shows — "Texas shooter" is the second one that comes up Monday — people clearly want to know the identity of mass killers. But in other examples, the media uses its discretion to withhold certain information, Lankford notes. For example, sports networks generally don't show streakers – people who shed their clothes and run onto the field at sporting events.
Viewers say they want to see that. But TV networks don't want to encourage copycats.
Some mass killers are, by their own testimony, inspired and influenced by others. The Sandy Hook shooter, for example, was keenly interested in other school shooters, Lankford says.
A "clear example of the contagion and copycat effects" occurred in 2015, Lankford and Eric Madfis of the University of Washington Tacoma write in an article in American Behavioral Scientist.
"The June 2015 Charleston church shooter, who made national headlines, was cited by the August 2015 Roanoke television shooter, who also made national headlines, who was then cited by the October 2015 Umpqua Community College shooter, who also made national headlines," they write.
The idea of holding back basic biographical information goes against a bedrock principle of the media: to report what people want to know about a significant news story. But a name and a picture don't add enough to justify the potential cost, Lankford argues.
After all, there's another bedrock principle of the media, as outlined by the Society of Professional Journalists' ethics guide: minimize harm.
Another study showed that mass shooters can get more attention than huge celebrities in the months the shootings occurred.
"There's hard evidence that says, well, a mass killer got more attention than Kim Kardashian this month, and you know how many people are influenced by Kim Kardashian," Lankford says. "So it's not surprising that a tiny, tiny percentage of people with significant problems would be influenced by that mass killer."
This segment aired on November 6, 2017.