Trump's Flurry Of Judge Appointments Will Reshape Judiciary
Play
This article is more than 5 years old.
President Trump is remaking the federal bench. Naming judges in record numbers. Some called unqualified. We dive in.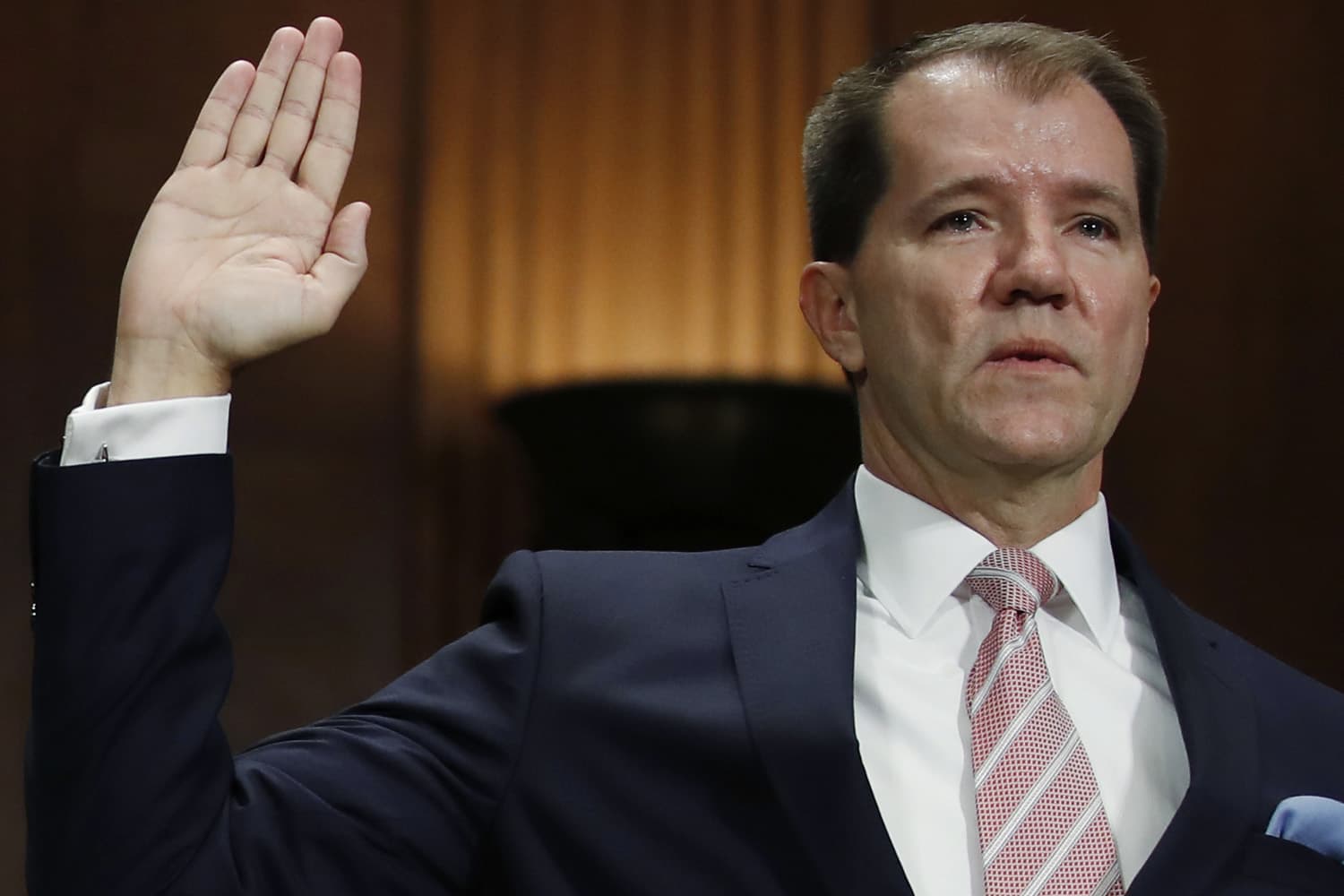 The U.S. Supreme Court hears the tip-top cases, but federal appeals courts rule on many more. Thousands. They shape American life. And at that tier of the federal judiciary, President Donald Trump is pushing through appointees at a rate not seen in half a century. Deeply conservative, quite young appointees with lifetime appointments as judges. Some with deeply disputed qualifications. It may be his deepest stamp. This hour, On Point: The fast, deep Trump stamp on America's federal courts. --Tom Ashbrook
Guests:
Jonathan Adler, law professor at Case Western Reserve University. (@jadler1969)
Kristine Lucius, executive vice president for policy at The Leadership Conference.
Cogan Schneier, reporter for the National Law Journal. (@CoganSchneier)
From Tom's Reading List:
National Law Journal: Cruz Rails Against ABA Vetting Amid Confusion About 8th Circuit Nominee — "After the American Bar Association gave President Donald Trump's U.S. Court of Appeals for the Eighth Circuit nominee an 'unqualified rating,' Sen. Ted Cruz questioned the organization's vetting methods and political bias in a Senate hearing Wednesday."
National Review: Ongoing Democratic Obstruction Aided By The ABA — "Although the nomination filibuster was largely eliminated at their own hands when they were in the majority, Senate Democrats have indiscriminately forced the Senate to take 47 cloture votes on judicial and executive nominations since Trump took office. For an idea of how unprecedented this is, consider that there were a total of only six such votes at this point in the previous four presidential administrations combined. The gratuitous nature of this obstruction is highlighted by the substantial number of nominees many Democrats did not even oppose, going on to vote for their confirmations after the cloture votes were behind them."
The Daily Beast: Before He Was Tapped By Donald Trump, Controversial Judicial Nominee Brett J. Talley Investigated Paranormal Activity — "Brett J. Talley, nominated by President Donald Trump to the Federal District Court in Montgomery, Alabama, has never tried a case, is married to a White House lawyer, and has been dubbed as unqualified by the American Bar Association.
He also has a fervent interest in investigating and writing about paranormal activities."
Politico: ABA Deems Another Trump Judicial Nominee 'Not Qualified' — "Another one of President Donald Trump's judicial nominees — this time, to the powerful appellate courts — has been deemed "not qualified" by the American Bar Association."
This program aired on November 16, 2017.