Week In The News: Flynn Charged, Matt Lauer Fired, 'Pocahontas' Slur
46:20
Play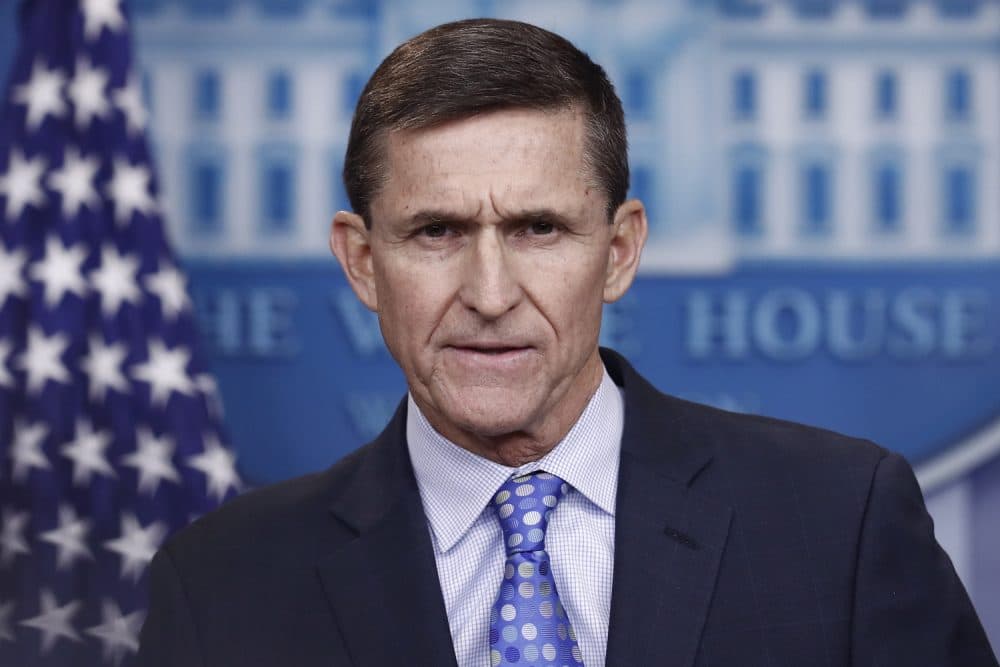 This article is more than 1 year old.
Michael Flynn, charged with lying to the FBI. Matt Lauer fired from the Today show. The GOP tax bill nears a vote. Trump's anti-Muslim retweets spark international condemnation. North Korea's new nuclear reach — New York, D.C. in sight. Our weekly news roundtable goes behind the headlines.
This show airs Friday at 10 a.m. EST. 
Guests:
Mary Bruce, congressional correspondent for ABC News. (@marykbruce)
Eliana Johnson, national political reporter for Politico. (@elianayjohnson)
Jack Beatty, On Point news analyst.
From Tom's Reading List:
ABC News: Trump Predicts Success Of Senate Tax Plan — "President Donald Trump evaluated Tuesday the prospects of the Senate passing the Republican's long-desired tax overhaul, predicting a victory for the Republican-backed Senate bill and lambasting Democrats for being 'all talk.'"
Politico: Inside The Tweet That Broke Trump's Day, Again — "The days of bipartisan dealmaking over plates of sesame crispy beef are over, for now at least, at the White House.
Nearly three months after Sen. Chuck Schumer and Rep. Nancy Pelosi left a Chinese food dinner at the White House gloating about an immigration deal, the Democratic leaders on Tuesday abruptly canceled a follow-up sit-down in response to a tweet warning that President Donald Trump was more interested in playing to his base than playing ball."
New York Times: Matt Lauer Offers Apology (With A Caveat) "Matt Lauer expressed "sorrow and regret for the pain I have caused" in a statement on Thursday morning, his first public comments after NBC News fired the star "Today" show anchor amid allegations of inappropriate sexual behavior with colleagues."
Tax bill time in the Senate this week, and uproar all over.  On Navajo code talkers and Pocahontas.  On presidential retweets and British dismay.  On a North Korean missile that can now, apparently, reach Washington.  On Matt Lauer and John Conyers and the drumbeat of harassment news.  We've got charges against Michael Flynn. A busted sting at the Washington Post.  Tillerson dangling.  A royal engagement.  This hour, On Point:  Our weekly news roundtable goes behind the headlines. --Tom Ashbrook
This program aired on December 1, 2017.