Psychiatrist: Trump Shows Signs Of 'Unraveling'
03:04
Play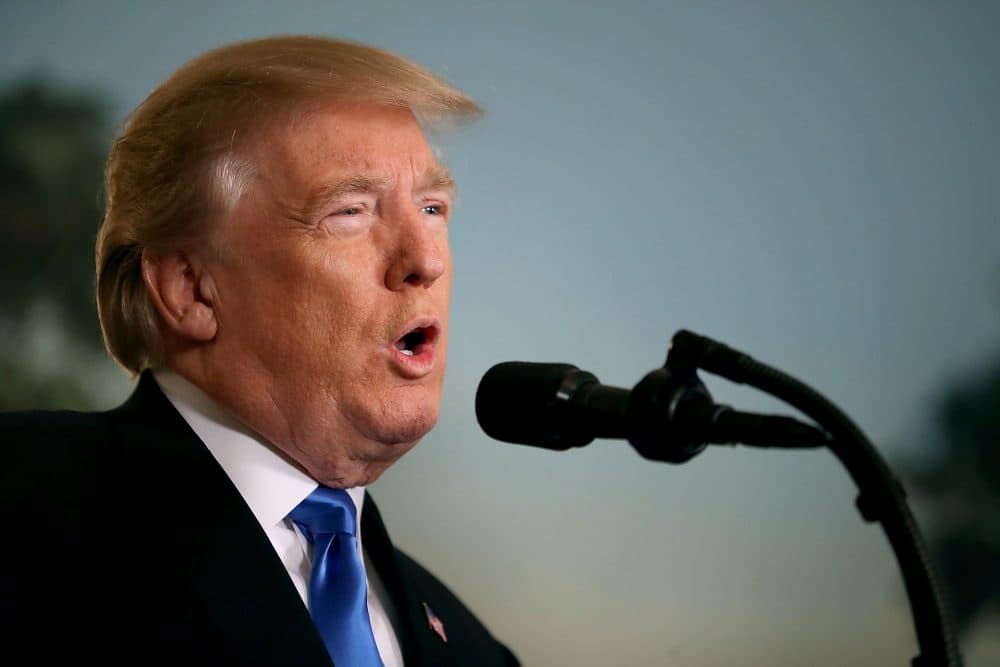 This article is more than 3 years old.
A psychiatrist who edited a provocative book about President Trump's mental health said Monday that there were signs he was "unraveling" as pressure from the Russia probe increases on his administration.
Dr. Bandy Lee, who has also briefed congressional Democrats about the president, told NPR's On Point Monday that "we are seeing some of the signs of a crisis mode" amid indictments of Trump associates like Paul Manafort.
"I've been using the word unraveling," Lee, on the faculty at the Yale School of Medicine's Law and Psychiatry Division, told guest host Ray Suarez. "What happens is that one's ability to keep oneself together is falling apart."
Those signs include a loss of touch with reality and impulsiveness — see, for example, claims that his recorded voice in the Access Hollywood tape wasn't his voice, and retweeting violent imagery.
Lee's book, "The Dangerous Case Of Donald Trump," came out in October 2017, and featured 27 mental health professionals "assessing" the president.
Story continues below
Subscribe to the podcast
The book has received newfound attention after a second controversial book, "Fire And Fury" by Michael Wolff, relayed troubling allegations about the president's fitness for office — many in Trump's inner circle doesn't think he's mentally fit for the job, Wolff writes. (The White House has aggressively pushed back on the veracity of the Wolff book.)
To be sure, diagnosing someone without meeting them, much less treating them, is a taboo in the medical profession. The American Psychiatric Association's so-called "Goldwater Rule" prevents psychiatrists from offering a professional opinion on someone they haven't treated.
"They don't like Donald Trump. They want to get rid of Donald Trump. And I don't think it's going to happen."

John Feehery, GOP consultant
But Lee said she was merely warning the public, as people in the medical profession have the obligation to do.
"We are not stating that Mr. Trump has a certain condition or that any of these are definitive conclusions," Lee said. "We are stating that we see signs of danger and we need to educate the public."
Supporters of Trump, on the other hand, have a diagnosis of their own: sour grapes. The people who have raised warnings about the president's emotional stability, mental acuity or age-related illnesses are upset that he won. That victory itself by a political novice was a measure of brilliance, defenders of the president say.
"I think this is all nonsense, I really do," John Feehery, a GOP political communications strategist who was also a guest on the show, said. "You can have these psychiatrists from Yale — if you're from Yale, there's very little chance you voted for Donald Trump. They don't like Donald Trump. They want to get rid of Donald Trump. And I don't think it's going to happen."
The president himself, meanwhile, pushed back forcefully on the Wolff book, saying he was a "very stable genius."
He tweeted: "Actually, throughout my life, my two greatest assets have been mental stability and being, like, really smart."
This segment aired on January 8, 2018.